DIANE'S CORNER ... Celebrate Darwin Day
We must, however, acknowledge, as it seems to me, that man with all his noble qualities… still bears in his bodily frame the indelible stamp of his lowly origin.
– Charles Darwin
There was a pivotal moment in history when we began to look at ourselves, and at life, in a new way. It changed not just how we perceived ourselves, but how we were related to all the other life and species on Earth. We came to realize, along the way, that we were kin, however distant, of every lifeform on Earth, and that moment was both aggrandizing and humbling, all at once. That moment was when Charles Darwin brought the idea of Law of Natural Selection into the limelight of the scientific world, and we began to see with clear eyes how everything, absolutely everything, was connected.
Darwin was absolutely fundamental to the understanding of life and the species of the world as we know it today. Charles Robert Darwin was born in 1809, and grew to become a naturalist and geologist who would come to change the world. He was fascinated by the number and variety of fossils from around the world, and the species in their great diversity, and so set out on a five-year voyage on the Beagle to sail around the world to study life in all its forms.
While his theories were originally rejected by the science of his day, it came to be seen as incontrovertible fact as more and more data was collected and more species were discovered. DNA research pushed it even further, as we started to see the connections between species in the very genes that composed them. It was impossible not to see that some species originated from other species, and that even man itself had a shared ancestor with the primates. Science would never be the same.
The best way to celebrate Darwin Day is to really study evolution and familiarize yourself with the concept of 'Natural Selection'. It's an often misunderstood concept, with people mistaking 'Survival of the Fittest' for 'Survival of the Best', and failing to grasp that 'fittest' is for a certain set of circumstances. The heart of it is, if a member of a species survives to pass on its genes, then those genes are the ones that survive to shape the new species. Eventually, with enough beneficial mutations, it can go on to become an entirely new species suited for its environment. Read up! It's only the ancestors of everything you have to learn about!
John Brooker, originated topiary (part 3)
Word of the Day
Definition:

(noun) A period of 10 years.

Synonyms:

decade

Usage:

The first decennary of the century was marked by revolutionary movements and general social unrest.
Idiom of the Day
—

To be in a state of severe deterioration such that one is approaching inevitable ruin, failure, or death. Usually used in the continuous form.
History
Santiago, Chile, Founded (1541)
Santiago is the capital and the largest city of Chile. Just months after it was founded on the banks of the Mapocho River by Spanish conquistadors, the settlement was nearly wiped out by the indigenous Mapuche peoples. Today, it is one of the largest cities in South America, having survived the 1647 earthquake that leveled the city, frequent flooding from the Mapocho, and a number of other calamities.
William Roscoe Estep (1920)
Estep was an American Baptist historian, author, and professor of church history. He was considered one of the world's leading authorities on the Anabaptist movement, a Christian sect that rejects infant baptism and practices the ritual of believer's baptism only after a person has made a declaration of faith. Estep wrote numerous works, including books on subjects such as Baptist and Anabaptist history, religious liberty, and world missions.
A Martian Volcano May Have Continuously Erupted for Billions of Years
While humanity may have to a wait few more decades to set foot on Mars, researchers are already getting a glimpse of the Red Planet's geology.
READ MORE:
A Martian Volcano May Have Continuously Erupted for Billions of Years
1733 - Savannah,
GA
, was founded by English colonist James Oglethorpe.
1878 - Frederick W. Thayer patented the baseball catcher's mask.
1879 - The first artificial ice rink opened in North America. It was at Madison Square Garden in New York City, NY.
1892 - In the
U.S.
,
President Lincoln
's birthday was declared to be a national holiday.
1909 - The National Association for the Advancement of Colored People (NAACP) was founded.
1924 - "The Eveready Hour" became radio's first sponsored network program. The National Carbon Company was the first sponsor of a network show.
1956 - Screamin' Jay Hawkins recorded "I Put a Spell On You."
1985 - Johnny Carson surprised his audience by shaving the beard he had been wearing on "
The Tonight Show
."
1989 - Tiny Tim declared himself a New York City mayoral candidate. He did not win in the election.
2001 - The space probe NEAR landed on the asteroid Eros. It was the first time that any craft had landed on a small space rock.
1.
Thanks for volunteering to take care of feral cats in your community, Sheri.
2.
Zinfandel Experience
Feb 23-25, 2017
San Francisco, CA
Experience Zinfandel at Zinfandel Experience, an annual event celebrating the diversity of the popular varietal. Taking place over three days in February, the event brings renowned wine producers and emerging wineries to San Francisco, providing wine enthusiasts with an opportunity to sample various Zins and learn about the grape's evolution. In addition to the tastings, the festival offers creative food pairings and seminars with professionals, and a special dinner features a carefully curated menu showcasing farm-to-table cuisine. Rare wines, one-offs and winery experiences are auctioned at the event, and sommeliers lead workshops focused on California's various Zinfandel regions.
Events Schedule: Zinfandel Experience
Tickets: Zinfandel Experience
Pictures of the day
AWESOME COUPLE ON SKATE USE AXE TO RESCUE MOOSE
THAT FELL
THROUGH ICE
The heroic couple took turns chopping a pathway
to shallower water until the moose was finally able
to pull itself back on land
knit - VALENTINE'S DAY
Lace Heart Cushion
thanks, Connie

knit
thanks, Linda
knit
While I was growing up, one of my uncles
(not Simon)
l
ived in Dobbs Ferry, NY!
---
knit
Devotion
rovingcrafters
a wrap-around shawl created to show off the colors created by just picking any two colors!
Devotion is a triangle, quite a long triangle. After blocking it measures 6 feet (1.8 meters) in length. You start at the small end with three stitches. The wrap grows by one stitch every other row.
To make the wrap you'll need:
the Yarn

: two skeins of fingering weight yarn. (Color A) and (Color B).

the Needle:

36 inch long Size 8 (5mm) needle
k = knit

kfb = knit into both the front and back loop of the next stitch (an increase)

YO = yarn Over (and increase)

k2tog = knit the next 2 stitches together (a decrease)
This wrap is made by repeated sections of garter stitch and sections of open-work mesh. In mine,
all garter stitch sections are made with Color A
and
all open work sections are made with Color B
.
The
garter stitch sections
are made by repeating these two rows:
Row 1 (RS): k1, Kfb, k to end
Row 2 (WS): k1, k2tog, k to one st before the end, kfb
The
open-work sections
(always begin these when you have an even number of stitches on your needle)
are made by repeating these four rows:
Row 1: k1, kfb, k1 *YO, k2tog* until 1 st left, k1
Row 2: k1, k2tog, k1,*YO, k2tog* until 1 st left, kfb
Row 3: k1, kfb, k1 *YO, k2tog* to end
Row 4: k1, k2tog, *YO, k2tog* until 1 st left, kfb
You can use these sections to knit a wrap of your own creation, combining sections until your wrap is long enough to suit you.
Or you can follow my template:
With Color A, work 37 repeats of garter stitch rows (40 sts)

With Color B, work 2 repeats of open-work rows (44 sts)

With Color A, work 2 repeats of garter stitch rows (46 sts)

With Color B, work 4 repeats of open-work rows (54 sts)

With Color A, work 20 repeats of garter stitch rows (74 sts)

With Color B, work 10 repeats of open-work rows (94 sts)

With Color A, work 6 repeats of garter stitch rows (100 sts)

With Color B, work 1 repeat of open-work rows (102 sts)

With Color A, work 28 repeats of garter stitch rows (130 sts)
Bind off loosely and enjoy!
crochet
thanks, Doris
Crochet Snuggle Up Throw with Sleevest
crochet
crochet
crochet
crochet
- VALENTINE'S DAY
thanks, Helen
BE MY VALENTINE
I used
Sugar 'n Cream cotton yarn
and an
H hook
. (I find it rather amusing that all but one of these colors has "hot" in the name.)
Pattern Notes
This is not a tested pattern. It also presupposes a basic knowledge of crochet. I'd rate this as an advanced beginner pattern.
Free Crochet Heart Pattern
Round 1 (Hot Pink)
Chain 4. Join. Start like a basic granny square: chain 2, 2 dc, chain two, three dc. chain two, three dc.chain two, three dc. chain two, three dc. Chain two, join.
Round 2 (Beach Glass)
3 dc, ch 2, 3dc in each corner, chain one between each corner.
Round 3 (Hot Purple)
Slip stitch to join in a corner. 10 triple crochet stitches into the chain one space. Slip stitch in corner. 10 triple crochet stitches into the chain one space.
Round 4 (Hot Blue)
Single stitch around.
Note: Chain 2 at heart point.
Note: On purple, single crochet in each stitch but chain one between each stitch.
Round 5 (Hot Orange)
Slip stitch in back loop of the blue.
Note: Chain two at the point.
Weave in your ends and enjoy!
RECIPE
thanks, Shelley
CROCKPOT RECIPE
SWEETS
thanks, Gloria
Creme Brulee

Ingredients:
2 egg yolks

2 tablespoons sugar

4 fl oz (120 ml) whipped cream (33% fat)

seeds of one vanilla pod (you can replace this with vanilla sugar)
Beat the egg yolks and sugar together by hand using a whisk.

In a saucepan, combine cream and vanilla, bring to a boil, and immediately strain the mixture through a fine sieve.

Combine cream and egg yolks together, stir quickly, and divide the mixture between the molds.

Preheat oven to 250 degrees F (120 degrees C). Place the molds in a deep baking dish. Pour hot water into the baking dish to come partway up the sides of the molds.

Bake for about one hour until done (they should tremble slightly in the middle).

Remove from the oven, let them cool, and put in the refrigerator for 3 hours.

If you want to add even more of a French touch to your dessert, decorate it with caramelized sugar. For that, sprinkle the tops of each creme brulee with one teaspoon of sugar and brown them under the broiler for about 1-2 minutes.
ADULT COLORING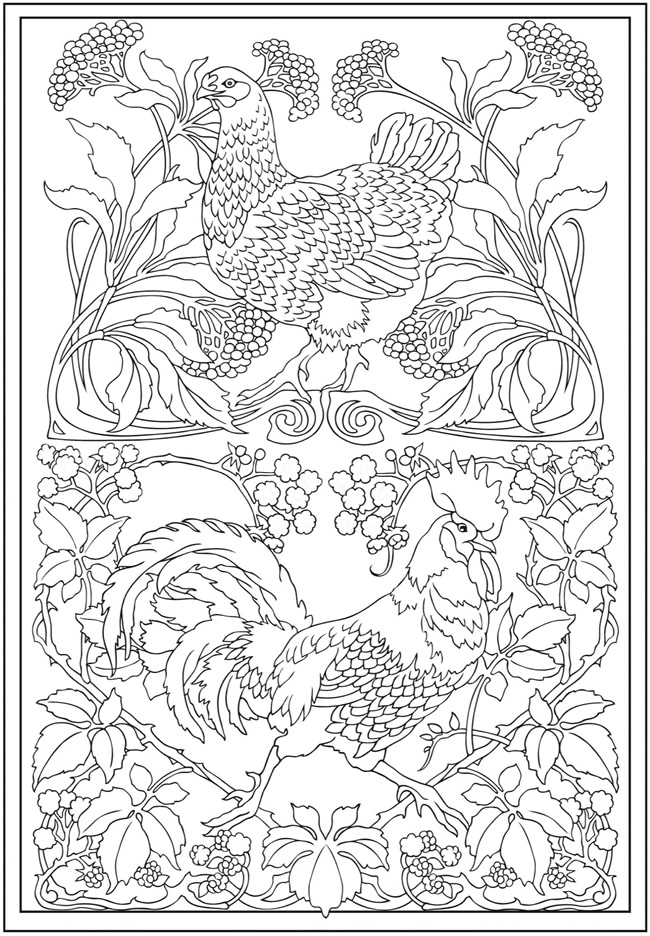 CRAFTS
thanks, Jeri
FRIENDSHIP BRACELET CHEVRON RUG
CHILDREN'S CORNER
... Spot the Difference (answers below)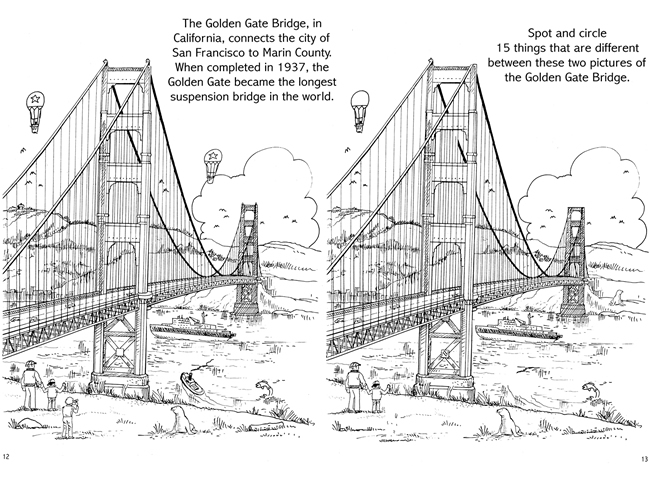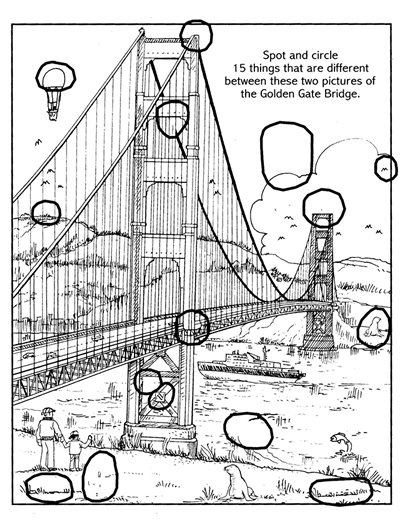 PUZZLE
Pebble Heart Jigsaw Puzzle
QUOTE
CLEVER
Poke a hole in your coffee cup lid for unrestricted caffeine intake.
EYE OPENER
The Most Jaw Dropping Photos From History (Part 1)
edgetrends
These days you have to go out in to the woods to get away from seeing photographs, or being on some kind of camera. But 50, 70, 100 years ago that was not the case. The few photos we do have from that time carry a huge level of intrigue. From the historical events, to the everyday, these photos will transport you back to a time that seems almost ancient.
1. Underwater detonation of 15 kiloton nuclear weapon
Known as the Baker Test, this detonation occurred in 1946 as part of Operation Crossroads. It took place in Bikini Atoll in the Pacific, and was a test of the same type of bomb used on Nagasaki. The detonation occurred ninety feet underwater in the midst of a fleet of decommissioned vessels in order to simulate the effects of nuclear weapons in naval scenarios.
2. Lucky British soldier shows off his damaged helmet, 1917
Helmets during this time period were mostly to protect from shrapnel, and this soldier is demonstrating how his helmet did just that! His head is bandaged from the wound, but his helmet still saved his life.
3. Soldiers raising the Soviet flag over the Reichstag, Berlin 1945
This photo, a famous moment from 1945 in which the Soviets finally captured the Reichstag, was staged and doctored. It was inspired by the famous Iwo Jima photo taken by Rosenthal. Khaldei, the photographer of the Reichstag photo, was instructed to take this photo in order to symbolize Soviet victory over Germany.
4. Two German soldiers and their mule wearing gas masks in WWI, 1916
Mules were vulnerable to poison gas during WWI, just like humans, so they were equipped with gas masks over their muzzles. These gas masks helped prevent poison gas inhalation, keeping the animals safe during war.
5. Spectators standing upon tables to get a glimpse of the Versailles Treaty being signed, France, 1919
In this photo, spectators watch as the Versailles Treaty is signed. The Versailles Treaty put the full responsibility of the war on Germany's shoulders, which ultimately led to Hitler's rise to power.
6. Abandoned boy holding a stuffed toy animal amid ruins following German aerial bombing of London, 1940
This famous image, taken by Toni Frissell, is of an abandoned boy in 1945 London after a German air raid. He is sitting outside what used to be his home, clutching a stuffed animal. His parents and brother died in the bombing.
7. Gadget, the first atomic bomb
The very first atomic device was nicknamed The Gadget. It was named that because it wasn't a deployable weapon. Words like "bomb" were avoided during the project in order to lessen the risk of espionage. The design was similar to that of Fat Man, the bomb used on Nagasaki.
8. A dog being posed by a German soldier
In the early 1940s, before WWII had really exploded into the full fledged conflict it would become, soldiers had a little more fun. In this photo, a German soldier is posing a German Shepherd dog with a few props to entertain the other soldiers!
9. The end of WW2 is celebrated in Moscow's Red Square, May 9, 1945
After hearing the news that WWII was over, citizens crowded into Red Square to celebrate. Searchlights illuminated the city, and cannon-fire and fireworks were set off over the Kremlin. Citizens were up late partying in the square, relieved by the end of war.
10. Nine Kings in one photo
In 1910, European royalty gathered together for the funeral of King Edward VII in London. In this photograph, nine reigning kings posed together while in London for the funeral. Of the nine monarchies represented, only five still exist.
11. A US soldier offers his hand to a woman leaving a cave where she had hidden with her child during the battle between Japanese and U.S. fighters
During WWII, the Japanese told their citizens that Americans would rape and murder them if they were captured. They also told their citizens that in order to become a United States Marine, soldiers had to murder their own parents. Most Japanese citizens were too terrified to accept aid from Americans. This photo is of a US soldier offering help to a woman and her child who had hidden in a cave.
12. U-118, a World War One submarine washed ashore on the beach at Hastings, Sussex, England
The residents of Hastings awoke to a surprise when a U-boat washed up on their beach. People flocked to the beach to see it, and the Admiralty even allowed the town clerk to charge a fee for people to climb up on the deck. Ultimately people had to stop visiting it because of leaking chlorine gas.
13. Gas masks for babies tested at an English hospital, 1940
In this photo, the hospital is running a drill to ensure they can properly protect the children in case of poison gas. Nurses tested infant gas-masks, which could protect children up to two years old.
14. Control room of the UB-110 German submarine, 1918
This picture is of a German submarine that was sunk in 1918. It was rammed after it attacked a merchant shipping convoy, and was eventually sunk by a torpedo boat destroyer. It was salvaged two months later, and eventually sold as scrap after WWI ended.
15. Samuel Reshevsky, age 8, defeating several chess masters at once in France, 1920
Having learned to play chess at four years old, Samuel Reshevsky was a well known child chess prodigy. In the years following WWI, he played over 1,500 simultaneous chess games against adults, only losing eight games.
16. The Eiffel Tower during the Nazi occupation, 1940
In this photo, the banner reads, "Germany is victorious on all fronts." The giant V stood for victory, a slogan Germany was forced to adapt due to the popularity of the "V-for-victory" campaign used by the Allies.
17. Using banknotes as wallpaper during Hyperinflation, Germany 1923
Between 1921 and 1924, hyperinflation in Germany, then the Weimar Republic, was so bad that at one point it would take one trillion Marks to equal one dollar. The German Mark lost all value, one of the financial consequences of WWI.
18. Japanese Archers circa 1860
In this colorized photograph, Japanese archers from the 19th century prepare to loose their arrows upon a target. This photo is originally black and white, and was colorized to give a better idea of what the moment would have looked like.
19. Unemployed lumber worker, circa 1939
Another colorized photograph, originally black and white, this photo depicts a lumber worker named Thomas Cave and his wife. At the time of this photo, he would have been 27 years old. His social security number is tattooed on his arm.
20. Audrey Hepburn
In this colorized historical photo of legendary actress Audrey Hepburn, she's shown in a flirty dress preparing to take a dish out of the oven.