DIANE'S CORNER ... Celebrate Paper Airplane Day
Word of the Day
Definition:

(adjective) Lacking a backbone or spinal column; not vertebrate.

Synonyms:

spineless

Usage:

The sixth grade class groaned in unison as the students learned that they would be dissecting worms during their study of invertebrates.



Idiom of the Day
—

To progress or develop as planned, scheduled, or expected.
History
Vauxhall Bridge Opens in London (1906)
Vauxhall Bridge is an arch bridge over the River Thames in central London. Despite its public garden and location, the Vauxhall area was sparsely populated before the 19th century, and a plan for a bridge there was hatched in 1809 to help develop the area. The resulting bridge was in terrible shape by the end of the century, however, and construction on a new, richly decorated, steel-and-granite replacement began in 1898.
Al Jolson (1886)
J
olson was one of the most popular entertainers in the US in the 1930s. The son of a rabbi, he had planned to be a cantor but instead became a singer and comedian. By the age of 15, he was touring in vaudeville and minstrel shows. His 1909 blackface performance of "Mammy" was a hit, and he performed on Broadway and the radio. In 1927, he starred in the first feature-length "talkie,"
The Jazz Singer
.
Who First Farmed Potatoes? Archaeologists in Andes Find Evidence
Who First Farmed Potatoes? Archaeologists in Andes Find Evidence
1864 - The Territory of
Montana
was organized.
Charles Dow, who created the DJIA, and business partner Edward Jones.
1896 - The Dow Jones Industrial Average appeared for the first time in the "Wall Street Journal."
1913 - Actors' Equity Association was organized in New York City.
1959 - The word "Frisbee" became a registered trademark of Wham-O.
1977 - George H. Willig was arrested after he scaled the South Tower of New York's World Trade Center. It took him 3 1/2 hours.
1998 - The
Grand Princess
cruise ship made its inaugural cruise. The ship measured 109,000 tons and cost approximately $450 million, making it the largest and most expensive cruise ship ever built.
DAILY SQU-EEK
1.
Venice Biennale (La Biennale di Venezia) 2017
May 13 - Nov 26, 2017
Venezia, Italy
The Venice Biennale, one of international art's biggest events, is where art lovers and the "who's who" of the art world flock to see new trends and ground-breaking works by the greatest artists of our time and others whose names are barely known outside their home countries.
The result can be inspiring and overwhelming: shows scattered throughout one of the world's most awe-inspiring cities and in the Biennale's two main venues, often on a grand scale, focusing on painting, sculpture, experimental media, photography and the latest forms of artistic expression.
further information:
La Biennale di Venezia - 57th International Art Exhibition
2.
Phoenix Comicon 2017
May 25-28, 2017
Phoenix Convention Center
100 N 3rd St
Phoenix, AZ
Let your geek flag fly at the annual Phoenix Comicon in Phoenix, Arizona. This four-day extravaganza brings fans together with their favorite comic book and pop-culture artists, actors, writers, directors and personalities. Attractions include autograph sessions, meet and greets, film trailer previews, Q&A discussions, debuts of new works, cosplay contests, concerts and dance party raves.
further information:
Phoenix Comicon – Discover Your Inner Geek
3.
Arlington Art on the Greene 2017
May 26-28, 2017
Richard Greene Linear Park
1601 E Randol Mill Rd
Arlington, TX
Trees and sculptures provide a perfectly artistic backdrop for Art on the Greene, as artists from around the country bring their work to add to the beauty of Arlington's Richard Greene Linear Park. Guests can take in the creativity of a variety of media including photography, painting, jewelry and more! Local bands and good food go along with the eclectic artwork to complete this event.
further information:
Festival Information
thanks, Shelley
Pictures of the day
The
National Press Monument
is a monument and museum to the national Indonesian press. Established in 1978, the monument is located in
Surakarta
,
Central Java
, and operated by the Ministry of Communications and Information. The complex consists of an old society building as well as several subsequent expansions. It has a collection of over a million newspapers and magazines, as well as a variety of exhibitions and artifacts related to the history of the
press in Indonesia
. Facilities include a multimedia room, free-to-read newspapers, and a library.
knit
knit
knit
knit
thanks, Amber
knit
crochet
thanks, Nicky
crochet
Desi Girl Kolahpuri Style Slippers
crochet



crochet




crochet

thanks Marge

RECIPE

thanks, Shelley

SWEETS

thanks, Carol

ADULT COLORING




CRAFTS

thanks, Kay

CHILDREN'S CORNER

.

..

help kids learn a specific language

thanks, Patty

PUZZLE
Dog Wet Towel Jigsaw Puzzle
WORD SEARCH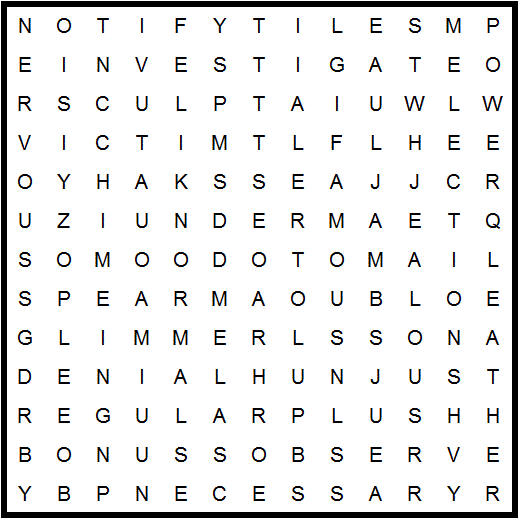 alert

bonus
boss

chime

denial

election
famous
feed

glimmer

immoral
investigate

jambs
jealous
leather

mail
mood

necessary
nervous
normal
notify
observe
onstage

plush
power
pull

regular
ruler
sails
sale
scandal
sculpt
spear

tiles

under
unjust

victim
QUOTE
CLEVER
thanks, Virg
EYE OPENER
This Artist Splits Two Photos in Half and Combines the Results