DIANE'S CORNER ... Celebrate I Need a Patch for That Day
Henri Rousseau
Word of the Day
Definition:

(adjective) Characterized by abject fear; cowardly.

Synonyms:

recreant

Usage:
The cowardly shopkeeper angered the revolutionaries with his craven proposal to raise the white flag and surrender.



Idiom of the Day
—

To quash or suppress something; to control something so as to keep it from flourishing, increasing, or succeeding.
History
World's Tallest Roller Coaster Opens in New Jersey (2005)
Reaching a height of 456 feet (139 m) and with a top speed of 128 mph (206 km/h), the Kingda Ka roller coaster at Six Flags Great Adventure theme park in Jackson, New Jersey, became the tallest and the fastest roller coaster in the world when it opened in 2005. It took both titles from Cedar Point park's Top Thrill Dragster, which was designed by the same company and is nearly identical.
Henri Rousseau (1844)
Rousseau was an entirely self-taught French painter. He held a minor post as a tax collector in Paris for more than 20 years before retiring to paint at the age of 49. His work remained consistently naive and imaginative and was often ridiculed. It was only after his death that Rousseau gained recognition as an artistic genius. Though he never left France or saw a jungle, he is best known for his paintings of lush, tropical scenes and wild animals.
Kingsburg Swedish Festival
This festival pays tribute to the Swedish heritage of Kingsburg, California. The event began in 1924 as a luncheon to commemorate the midsummer celebration of the harvest in Sweden. Today it's a full-fledged festival running from Thursday through Sunday of the third weekend in May and attracts about 25,000 visitors. Traditional Swedish costumes are worn, and Swedish food is eaten—Swedish pancakes, Swedish pea soup, a smorgasbord. Events include a Parade of Trolls, raising of the May Pole, folk dancing, arts and crafts displays, a horse trot, and live entertainment.
Morbidly Obese Monkey Put on Strict No-Junk-Food Diet
A morbidly obese wild monkey who gorged himself on junk food and soda left behind by tourists has been rescued and placed on a strict diet of lean protein, fruits and vegetables.
READ MORE:
This was kinda the same situation when we got Rosko. Trimming him down a lot, he now runs around, where before he would waddle. He is so much more healthy nowadays!
Morbidly obese monkey put on strict no-junk-food diet
1688 - The English poet Alexander Pope was born.
1819 - Bicycles were first seen in the
U.S.
in New York City. They were originally known as "swift walkers."
1832 - In the
U.S.
, the Democratic Party held its first national convention.
1881 - The American branch of the Red Cross was founded by Clara Barton.
1904 - Fédération Internationale de Football Association (FIFA) was founded.
1922 - The cartoon, "On the Road to Moscow," by Rollin Kirby won a Pulitzer Prize. It was the first cartoon awarded the Pulitzer.
1929 - William Henry Storey registered the trademark for the board game
Sorry!
in the U.K. (U.K. number 502898)
1959 - The musical "Gypsy" opened on Broadway.
1969 -
John Lennon
and
Yoko Ono
began a ten-day "bed-in" in Montreal's Queen Elizabeth Hotel.
1980 - The movie "The Empire Strikes Back" was released.
DAILY SQU-EEK
1.
Brighton Festival 2017
May 6-28, 2017 | Brighton, United Kingdom
Brighton Festival is England's biggest curated mixed arts festival. The three-week event is a celebration of music, theatre, dance, circus, art, film, literature and debate and has outdoor and family events. A unique aspect of this festival is the Artists Open House where artists open up their homes for the public to view and buy their work.
further information:
Brighton Festival
2.
Head On Photo Festival 2017
May 5-28, 2017 | Sydney, NSW
Head On Photo Festival is an annual multi-faceted photography festival in Sydney, Australia. It features over 600 nationally and internationally acclaimed and emerging artists across all genres of photography, numerous free events, exhibitions, awards and low-cost workshops and talks led by Australian and international professionals. It lasts for three weeks, so there's plenty of chances to check it out!
further information:
Head On Photo Festival | The best of Australian and international photography - Sydney 2017
3.
Art Sanctuary Philadelphia Celebration of Black Arts Festival 2017
May 1-31, 2017 | Philadelphia, PA
Rather than one measly day, the Art Sanctuary of Philadelphia devotes an entire month to celebrating the country's extraordinary black talent. Black artists of all styles and disciplines are under the spotlight in a series of live music performances, colorful art galleries, live book readings and presentations. An awards ceremony honors the most brilliant minds for their contributions to the arts community.
further information:
Celebration of Black Arts
Pictures of the day
Westerlund 2
is an obscured compact young star cluster in the
Milky Way
with an estimated age of about one or two million years. It contains some of the hottest, brightest, and most massive stars known. The cluster resides inside a
stellar breeding ground
known as
Gum 29
, located 20,000 light-years away in the constellation
Carina
. It is half a degree from the
Cepheid variable
V399 Carina
Dengding Rui Yao led a team of 20 assistants on a 3-year journey to complete this amazing wooden lion sculpture
knit
knit
knit
thanks, Judith
knit
knit
crochet
thanks, Helen
crochet
crochet
crochet
crochet
thanks, Doris
RECIPE
thanks, Shelley
CROCKPOT RECIPE
thanks, Joanne
SWEETS
thanks, Vicky
ADULT COLORING
CRAFTS
thanks, Kris
CHILDREN'S CORNER
... weaving
thanks, Patty
PUZZLE
WORD SEARCH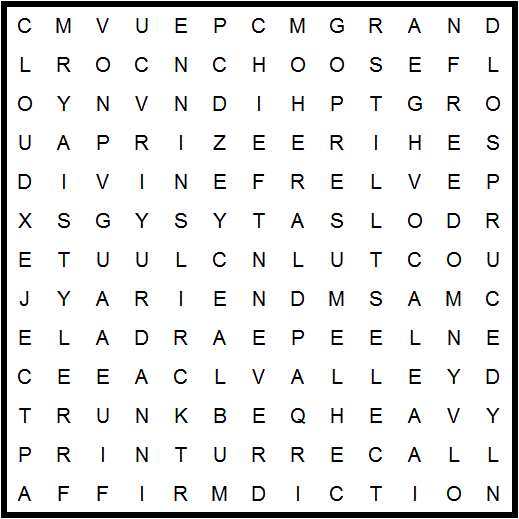 affirm
album
arena

chief
choose
clause
cloud
cool
dale
dance
diction
divine

early
eject

freedom

grand
heavy
herald
hire

lent

mother
movie

never
pear
peel
predict
presume
print
prize

recall

select
sold
spruce
still
style

toes
trunk

understand

valley
vocal
QUOTE
CLEVER
EYE OPENER