DIANE'S CORNER ... Celebrate Int'l Day for Biological Diversity
Balancing Artist Rocky Byun
Word of the Day
Definition:

(adjective) Showing lack of emotional involvement.

Synonyms:
detached, uninvolved
Usage:

Mrs. Smith was not easily impressed by excuses, and she adopted a degage pose on the arm of the easy chair as her son tried to explain why he missed dinner.
Idiom of the Day
—

To do as was promised in an agreement or bargain; to carry through with what one agreed to do. Also worded as "keep one's end of the bargain up."
History
Farmer Discovers Howe Caverns (1842)
Sir Arthur Conan Doyle (1859)
Conan Doyle was a Scottish writer noted for his tales about fictional detective Sherlock Holmes. Originally a doctor, Conan Doyle studied under the sharp-eyed Dr. Joseph Bell, who was noted for his ability to draw accurate conclusions about people through observation. Bell was thus the model for Holmes, who appeared for the first time in 1887. Conan Doyle "killed off" Holmes in 1893 but was forced by public demand to resurrect him
.
Scientists Glued Fake Caterpillars on Plants Worldwide. Here's What Happened
Dozens of scientists recently glued fake green caterpillars onto plants around the world in an unusual study to see how the caterpillars' risk of getting eaten varied from pole to pole.
READ MORE:
Scientists Glued Fake Caterpillars On Plants Worldwide. Here's What Happened
1570 - Abraham Ortelius published the first modern atlas in Belgium.
1761 - In Philadelphia, the first life insurance policy was issued in the
U.S.
1841 - Henry Kennedy received a patent for the first reclining chair.
1849 -
Abraham Lincoln
received a patent for the floating dry dock.
1892 - Dr. Washington Sheffield invented the toothpaste tube.
1900 - Edwin S. Votey received a patent for the pianola (a pneumatic piano player). It could be attached to any piano.
1955 - Jack Benny did his last live network radio broadcast after a run of 23 years. He devoted his time fully to TV.
1967 - "Mister Rogers' Neighborhood" premiered on PBS.
1969 - A lunar module of
Apollo 10
flew within nine miles of the moon's surface. The event was a rehearsal for the first lunar landing.
1977 - Janet Guthrie set the fastest time of the second weekend of qualifying, becoming the first woman to earn a starting spot in the Indianapolis 500 since its inception in 1911.
1992 - Johnny Carson hosted NBC's "Tonight Show" for the last time. He had been host for 30 years.
2012 - In Japan, the Tokyo Skytree tower opened.
DAILY SQU-EEK
1.
Knit, grow, hammer
2.
Rooster Walk Music and Arts Festival 2017
May 25-28, 2017
Pop's Farm
675 Hobson Rd
Axton, VA
Held each year over Memorial Day weekend, Rooster Walk is a community arts and music event that raises money for various charitable organizations. The festival draws a crowd of thousands who come to enjoy arts and crafts, camping, live performances and a variety of children's activities. With something for attendees of all ages, this event is a fantastic way to enjoy a holiday weekend with family and give back to the community.
further information:
Rooster Walk Music & Arts Festival
3.
Lightning in a Bottle 2017
May 24-29, 2017 | Bradley, CA
Take a creative powerhouse like
Burning Man
, with the same mind-warping musical talent, and trade the desert for lush greenery, rolling hills and a scenic lake, and you have the fairy tale that is the
Lightning in a Bottle
festival (LIB). This 4-day celebration of art, sustainability, music, performance and life aims to spread the proverbial lightning beyond the bottle and into the daily lives of all its participants.
further information:
Lightning in a Bottle - May 24 - 29, 2017 - Bradley, CA
Pictures of the day
Wells Cathedral
is an
Anglican
cathedral
in
Wells
, Somerset, dedicated to
St Andrew the Apostle
. The seat of the
Bishop of Bath and Wells
, it is the
mother church
of the
diocese
and contains the bishop's throne (
cathedra
). It was built between 1175 and 1490, replacing an earlier church built on the same site in 705. The cathedral's architecture is entirely
Gothic
and mostly in the
Early English style
of the late 12th and early 13th centuries. The cathedral is a
Grade I listed building
.
knit
knit
knit
knit
knit
thanks, Helen
crochet
crochet
thanks, Nicki
crochet
crochet
thanks, Bertha
crochet
RECIPE
thanks, Shelley
CROCKPOT RECIPE
SWEETS
thanks, Lesley
ADULT COLORING
CRAFTS
thanks, Jeri
CHILDREN'S CORNER
... crafting
PUZZLE
Flamingo Olive Jigsaw Puzzle
WORD SEARCH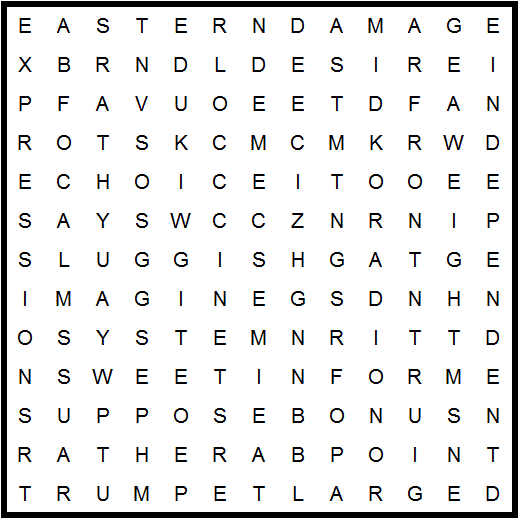 basic
bonus
booth

choice

damage
demon
desire
dominant
eastern
elect
expression

focal
front

goon
ground
grown
imagine
independent
inform
insane

large

music

nets
point

radio
rather
rots

says
shop
sirs
sluggish
suppose
sweet
system

tape
tars
trumpet

weight
QUOTE
CLEVER
thanks, Patty
In a Kolkata Market, the Flower Men Wear Their Wares