DIANE'S CORNER ... Celebrate Make a Friend Day
Make a Friend Day
is the perfect way to break out of the overworked and just plain stressed out state of mind. We are busy leading such hectic lives, we barely have time for ourselves, much less maintaining old friendships. Whether old or new, friends serve an important role in our lives. Friends are our confidants. Real friends love us and like us for who we really are – the good, the bad and the ugly. And the older we get, the more valuable those friendships become.
Make a Friend Day
is the perfect opportunity to begin a new friendship.
Word of the Day
Definition:
(noun) Defiant or swaggering behavior.
Synonyms:
bluster
Usage:

In a moment it was hand-to-hand fighting, and Trent was cursing already the bravado which had brought him out to the open

.


Even if the joy of winning Wimbledon was written all over Rafael's face, Natalie couldn't tell because
History
As a young man, Mandela was an active opponent of South Africa's apartheid regime. Initially committed to non-violent struggle, he became the leader of the armed wing of the African National Congress after the 1960 Sharpeville Massacre, when police opened fire on several thousand protesters. He was sentenced to life in prison in 1964, but international pressure led to his release in 1990.
| Canes and Walkers May Increase Fall Risk | |
| --- | --- |

Many elderly people use canes and walkers to get around, but a new study reveals how dangerous these aids can be when used without proper training. Untrained users tend to drag the cane or walker, thus creating a dangerous gait pattern that increases the risk of falling. The study focused on 43 older adults in an assisted living facility and found that those using walking aids were nearly four times more likely to fall than those without aids. Experts recommend training individuals to use such devices as well as instructing them in balance recovery and gait exercises.
1752 - The Pennsylvania Hospital opened as the very first hospital in America.
1858 - A French girl, Bernadette Soubirous, claimed to have seen a vision of the Virgin Mary near Lourdes.
1937 - General Motors agreed to recognize the United Automobile Workers Union, which ended the current sit-down strike against them.
1958 - Ruth Carol Taylor was the first black woman to become a stewardess by making her initial flight.
1960 - Jack Paar walked off while live on the air on the "Tonight Show" with four minutes left. He did this in response to censors cutting out a joke from the show the night before
1975 - Margaret Thatcher became the first woman to head a major party in Britain when she was elected leader of the Conservative Party.
1989 - Rev. Barbara C. Harris became the first woman to be consecrated as a bishop in the Episcopal Church.
1993 - Janet Reno was appointed to the position of attorney general by U.S. President Clinton. She was the first female to hold the position.
2002 - The six stars on NBC's "Friends" signed a deal for $24 million each for the ninth and final season of the series.
2006 - In Texas, U.S. Vice President Dick Cheney accidentally shot and wounded a companion during a quail hunt.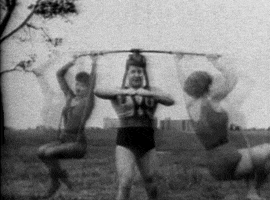 If You Were Born Today, February 11
Strong, success-oriented, and possessing tremendous personal presence and appeal, there is very little that can stop you from achieving your dreams in life. You also have the power to influence and inspire others. Your perspective is unique, sometimes to the point that you rarely feel understood. You possess the courage to take some risks and to experiment in life, and you are always aware of the need to go through transformations and periodic renewals in order to better yourself. You are extremely creative and imaginative. Famous people born today: Thomas Edison, Jennifer Aniston, Sheryl Crow, Burt Reynolds, Leslie Nielson, Eva Gabor, Taylor Lautner, Damian Lewis.
Arcadian Oasis
Photograph by Stefano Unterthiner, National Geographic
A placid pond high in the Graian Alps mirrors the snow-crowned peaks of Italy's Gran Paradiso National Park—the oldest protected area in a country known more for culture than for conservation.
knit
knit
knit
Extraordinary facts about North America's native bees