DIANE'S CORNER .. Celebrate Skeptics Day
Skeptics Day
encourages you to respect and listen to your inner skeptic, and all of the skeptical people that you know. Not everything can be as good as it sounds, some things are bound to be disappointing, and things can only get worse; right?
homage to david bowie
Word of the Day
Definition:
(noun) A form of government in which the ruler is an absolute dictator (not restricted by a constitution or laws or opposition etc.).
Synonyms:
monocracy, dictatorship
Usage:
The people had philosophical problems with the shogunate, but they had to admit that trade and commerce were flourishing under its rule.
thanks, shelley
Art Created for The New York Times
History
Tucker was a Russian-born American singer and entertainer who began performing vaudeville as a child, singing ragtime melodies in blackface. She later abandoned the makeup but continued in the African-American style, helping popularize the songs of black composers. Known for her racy songs, she enjoyed great success on tour and went on to appear in several stage and movie musicals but was best known as a nightclub torch singer.
| We're Thinking about ADHD All Wrong, Says a Top Pediatrician | |
| --- | --- |

Diagnoses of attention deficit hyperactivity disorder are up around 30 percent compared with 20 years ago
READ MORE:
1794 -
U.S. President Washington
approved a measure adding two stars and two stripes to the American flag, following the admission of
Vermont
and
Kentucky
to the union.
1854 - Anthony Faas of Philadelphia,
PA
, was granted the first U.S. patent for the accordion. He made improvements to the keyboard and enhanced the sound
1928 - Ernst F. W. Alexanderson gave the first public demonstration of television.
1966 - Elizabeth Montgomery's character, Samantha, on "Bewitched," had a baby. The baby's name was Tabitha.
1990 - L. Douglas Wilder of
Virginia
, the nation's first elected black governor, took the oath of office in Richmond.
1997 - Debbie Reynolds received a star on the Hollywood Walk of Fame.
1999 - Michael Jordan (Chicago Bulls) announced his retirement from the
NBA
.
DAILY SQU-EEK
If You Were Born Today,
January 13
You are a determined and driven person who is acutely aware of the need for change. Although you fear change on one level, you rarely let things slide because you know you have to work for the things you want in life, and you don't want to let things slip by. Some of you are a little neurotic, needing to solve problems immediately! However, most of you are simply proactive, hard-working, and wise. You have strong managerial skills. Most of you are highly perceptive and compassionate, and some are downright psychic.

Famous people born today: Orlando Bloom, Julia Louis-Dreyfus, Patrick Dempsey, Rip Taylor.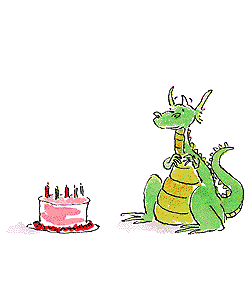 Urban Cowboy
knit
knit
, 0 - 12 mths
knit
knit
knit
crochet
crochet
crochet
crochet
crochet
RECIPE
Tuna Steak with Spaghetti Squash Pancakes
CROCKPOT RECIPE
stephanie o'dea
CRAFTS
Mushroom Pincushion tutorial
CHILDREN'S CORNER
...
PUZZLE
thanks, helen
QUOTE
"what is your name?" in
Ainu [Saru dialect] (Japan) - Erehe mak aye?
CLEVER
EYE OPENER
I Decided To Make
Paper Cut Art My Profession