DIANE'S CORNER .. Celebrate Endangered Species Day
Endangered Species Day
highlights the plight of many at-risk and critically endangered species of wild animals, and highlights ways in which we can alter our behavior in small ways on a daily basis in order to help to protect and save these creatures.
Word of the Day
Definition:
(noun) A social outcast.
Synonyms:
castaway, leper, untouchable
Usage:
The rumors of his traitorous actions were enough to make him a pariah among his peers, though nothing was ever proven.
History
| Diego Marín Aguilera Makes Early Attempt at Flight (1793) | |
| --- | --- |

Inspired by the eagles he saw while out in the fields, Spanish inventor and aviation pioneer Diego Marín Aguilera built a flying machine from wood, iron, cloth, and feathers whose design was based on his observations of birds of prey. His attempt to fly the vehicle was somewhat successful—he reportedly reached a height of about 20 ft (6 m) and glided some distance—but he crash-landed when the device suffered a structural failure.
Born Hugh Romney, Wavy Gravy is a peace activist known for his whimsical hippie appearance and clown persona. After being repeatedly arrested at political demonstrations, he adopted his flamboyant look in the hopes that police officers would be less likely to arrest someone dressed as a clown. Gravy was a master of ceremonies during the first Woodstock Festival and the two subsequent events and is now the official clown of the Grateful Dead.
One of the three major festivals of Kyoto, Japan, the Aoi Matsuri, or Hollyhock Festival, is believed to date from the sixth century. The festival's name derives from the hollyhock leaves adorning the headdresses of the participants; legend says hollyhocks help prevent storms and earthquakes. Today, the festival, which was revived in 1884, consists of a re-creation of the original imperial procession. Some 500 people in ancient costume parade with horses and large lacquered oxcarts carrying the "imperial messengers" from the Kyoto Imperial Palace to the shrines.
| The New Science of How to Quit Smoking | |
| --- | --- |

Studies show that most smokers want to quit. So why are some people more successful at cutting out nicotine than others? The latest studies looking at the brains and behavior of smokers may provide some explanations. Some people may be hardwired to have an easier time giving up their cigarettes, suggests one new trial described in the journal Neuropsychopharmacology.
READ MORE:
1856 - Lyman Frank Baum, author of "The Wonderful Wizard of Oz," was born.
1930 - Ellen Church became the first female flight attendant.
1940 - Nylon stockings went on sale for the first time in the
U.S.
1998 -
Sonny and Cher
received a star on the Hollywood Walk of Fame.
2014 - The National September 11 Memorial Museum was dedicated in New York City.
Dead Yesterday at 89
DAILY SQU-EEK
If You Were Born Today, May 1
5
You are a hard worker who possesses strong values. Motivated by a great need for security, you are organized and cautious for the most, although sometimes restless. You are forthright, saying it as it is, dependable, and trustworthy. You also possess excellent business sense and manage money quite well. Famous people born today: Brian Eno, David Cronenberg, Richard Avedon, Caroline Dhavernas.
Picture of the day

The

southern brown tree frog

(

Litoria ewingii

) is a species of tree frog native to Australia found in a wide range of habitats. Reaching 45 millimetres (1.8 in), this species is generally brown, but green and green-striped

morphs

are also recorded.
New Bee
Photograph by Anand Varma, National Geographic
RECIPE
Waffle Iron Cinnamon Rolls
Just heat up your waffle iron, pop the cinnamon rolls into the wells (one cinnamon roll per waffle), and cook for a few minutes. Keep an eye on it so that the cinnamon sugar doesn't start to burn since it can happen rather quickly (don't ask me how I know that). Easy peasy!
Pure genius, I tell you. You can't beat five minutes from start-to-finish for a special Sunday breakfast. Next time I'm going to try this with my homemade cinnamon roll recipe and see how well it works.
P.S. Sorry for the less than awesome iPhone pics…half of our family is down with a really bad cold and laryngitis, and I didn't have the energy to rush back upstairs for my camera. Eh, it's the idea that matters, right?
CROCKPOT RECIPE
stephanie o'dea
PUZZLE
CHILDREN'S CORNER
.. follow the dots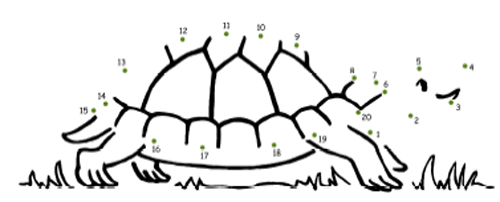 CRAFTS
Beautiful belt made with mismatched buttons

QUOTE
How To Say

Coffee in

Icelandic

: kaffi
CLEVER
Cupcake Liner Idea!
EYE OPENER