DIANE'S CORNER ...

Celebrate World Book Night
thanks for the funnies, Helen
Word of the Day
Definition:

(verb) Leave or give by will after one's death.

Synonyms:
will, leave
Usage:

He bequeathed all his silver to his children.
Idiom of the Day
—

(used before a noun) Dimwitted, foolish, or stupid; of low or stunted intelligence.
History
First Video Uploaded to YouTube (2005)
One of the most well-known examples of meteoric success on the Internet, the highly popular video sharing website YouTube was founded by Chad Hurley, Steve Chen, and Jawed Karim in 2005. The next year, it was acquired by Google for $1.65 billion. Within a few years, more than 25 quadrillion bytes of videos were being streamed from the site each month from myriad sources, amateur and professional alike. However, it all started with a single video, uploaded in April 2005.
Stephen A. Douglas (1813)
Short and heavyset, Douglas was dubbed "the Little Giant" for his oratorical skill. In 1858, he engaged in a number of widely publicized debates with Abraham Lincoln in a close contest for the Senate seat in Illinois. The Democrats nominated Douglas for president in 1860, but a splinter group of Southerners chose a different nominee, which divided the Democratic vote and gave the presidency to Lincoln.
Moors and Christians Fiesta
Moors and Christians
fiestas are celebrated all over Spain, but the Fiesta of
Alcoy
is one of the most colorful. Coinciding with the feast day of St. George, it commemorates the victory of Christians over the Moorish leader al-Azraq in 1276. The fiesta begins on the morning of April 22 with the entry of the Christians; the Moors arrive in the afternoon, dressed in Oriental costumes. On April 23, the relic of
St. George
is carried in procession to the parish church. On the third day, the battle is reenacted, and an apparition of St. George appears on the battlements of the castle.
The Sun's Lost Siblings Could Be Found in Unprecedented 'DNA' Survey of 1 Million Stars - Newsweek
An international team of astronomers has revealed the chemical composition of 350,000 stars in the Milky Way as part of an unprecedented sky-scanning project which could reveal the Sun's lost siblings. This is the first major data release from the ...
READ MORE:
Astronomers release first data from unprecedented million-star survey that could reveal the Sun's lost siblings
1635 - The Boston Public Latin School was established. It was the first public school building in the United States.
1772 - Claude Joseph Rouget de Lisle wrote "La Marseillaise." It is the national anthem of France.
1789 -
U.S. President George Washington
moved into Franklin House, New York. It was the first executive mansion.
1872 - Charlotte E. Ray became the African-American woman lawyer.
1900 - The word "hillbilly" was first used in print in an article in the "New York Journal." It was spelled "Hill-Billie".
1948 - Johnny Longden became the first race jockey to ride 3,000 career winners.
1985 - The
Coca-Cola
Company announced that it was changing its 99-year-old secret formula. New Coke was not successful, which resulted in the resumption of selling the original version.
1988 - Kanellos Kanellopoulos set three world records for human-powered flight when he stayed in the air for 74 miles and four hours in his pedal-powered "Daedalus".
1989 - Kareem Abdul-Jabbar played his last regular season game in the NBA.
1997 - An infertility doctor in California announced that a 63-year-old woman had given birth in late 1996. The child was from a donor egg. The woman is the oldest known woman to give birth.
DAILY SQU-EEK
If You Were Born Today,
April 23
You can be a clever little dickens. This youthful trait is your trademark.
The
23 April birthday personality
is mysterious and imaginative.
People can be considered your weakness. You get joy out of seeing other folks happy. Y
ou are bright and full of talent.
Famous people born today:
1564
William Shakespeare
, English Poet and
playwright
(Romeo and Juliet, Macbeth), born in Stratford upon Avon, (d. 1616) traditionally regarded as his birthdate.
1791
James Buchanan
, 15th
US President
(1857-61), born in Cove Gap, Pennsylvania (d. 1868)
1897
Lester B. Pearson
, 14th
Canadian Prime Minister
(1963-68) (Nobel 1957), born in Toronto, Ontario (d. 1972)
1928 Shirley Temple, American actress famous as a child star in the 1930s (Bright Eyes, Heidi) and diplomat, born in Santa Monica, California (d. 2014)
1954
Michael Moore
, American
filmmaker
(Fahrenheit 9/11, Bowling for Columbine, Sicko), born in Flint, Michigan
READERS INFO
1.
Umlauf Garden Party 2018
Apr 26, 2018 | Austin, TX
Umlauf Sculpture Garden & Museum
|
605 Robert E Lee Rd
Vintage Market Days is THE place to find original art, antiques, vintage clothing, handmade treasures, seasonal plantings and baked goods in Central Denver. Held several times a year in various communities, this three-day event is an opportunity to discover and support the talents, treasures and passions of local vendors.
further information:
UMLAUF Sculpture Garden & Museum
2.
SENE Film, Music & Arts Festival 2018
Apr 24-28, 2018 | Providence, RI
Founded in 2008, the SENE Film, Music & Arts Festival is one of New England's top film festivals. The festival gathers works from across the planet from a plethora of filmmakers and screenwriters. Additionally to the screenings, attendees can check out art exhibits, live music, discussion panels and after parties. Film fans can each find something they like through the many types of film genre on display during the event.
further information:
SENE
3.
Vintage Market Days 2018
Apr 20-22, 2018 | Elkhorn, NE
Chance Ridge Event Center
|
506 Skyline Rd
Vintage Market Days is THE place to find original art, antiques, vintage clothing, handmade treasures, seasonal plantings and baked goods in Central Denver. Held several times a year in various communities, this three-day event is an opportunity to discover and support the talents, treasures and passions of local vendors.
further information:
Home


The Apple Bandai Pippin

is a multimedia technology console designed by

Apple Computer

based on the

Apple Pippin

platform, and produced by

Bandai

. Only 100,000 of the consoles were produced between its 1996 release and 1997 discontinuation. The Bandai Pippin was intended to create an inexpensive computer aimed mostly at playing CD-based multimedia software, especially games, but also functioning as a

thin client

.
Worship
knit
knit
thanks, Rose
Feather & Fan Ribbed Tee
knit
knit
thanks, Sam
PECANS IN THE CEMETERY
On the outskirts of a small town, there was a big old pecan tree just inside the cemetery fence. One day, two boys filled up a bucketful of nuts and sat down by the tree, out of sight, and began dividing the nuts.




'One for you, one for me, one for you, one for me,' said one boy. Several dropped and rolled down toward the fence.





Another boy came riding along the road on his bicycle. As he passed, he thought he heard voices from inside the cemetery, so he slowed down to investigate. Sure enough, he heard, 'One for you, one for

me,one

for you, one for me...'

He just knew what it was. He jumped back on his bike and rode off. Just around the bend he met an old man with a cane, hobbling along.

'Come here quick,' said the boy, 'you won't believe what I heard! Satan and the Lord are down at the cemetery dividing up the souls!'

The man said, 'Beat it kid, can't you see it's hard for me to walk. When the boy insisted though, the man hobbled slowly to the cemetery.

Standing by the fence they heard, 'One for you, one for me. One for you, one for me.'

The old man whispered, 'Boy, you've been

tellin

' me the truth. Let's see if we can see the Lord!


Shaking with fear, they peered through the fence, yet were still unable to see anything. The old man and the boy gripped the wrought iron bars of the fence tighter and tighter as they tried to get a glimpse of the Lord.



At last they heard, 'One for you, one for me. That's all. Now let's go get those nuts by the fence and we'll be done...'



They say the old man had the lead for a good half-mile before the kid on the bike passed him.
crochet ... Mother's Day
crochet
thanks, Vera
crochet
thanks, Nicky
crochet
crochet
RECIPE
CROCKPOT RECIPE
thanks, Dana
SWEETS
ADULT COLORING
CRAFTS
... Mother's Day

CHILDREN'S CORNER
... weaving
thanks, Renee
PUZZLE
right picture, wrongly labeled
Butterfly Fish Purple Jigsaw Puzzle
WORD SEARCH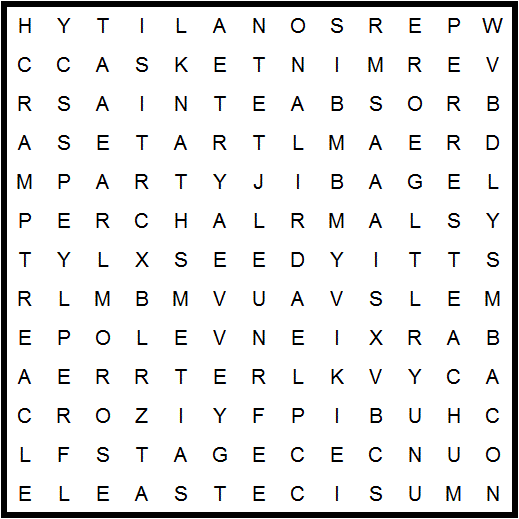 absorb
attach

bacon
bagel
bags

casket

delivery
dream
envelope

feeble
forever

items

least
limit
lists
malt
march
maybe
morose
music

ounce
party
perch
personality
plead
rates
reply
rest

saint
seed
service
slam
smile
stage
table
tank
teach
teat
treacle

vermin
SUDOKU
... hard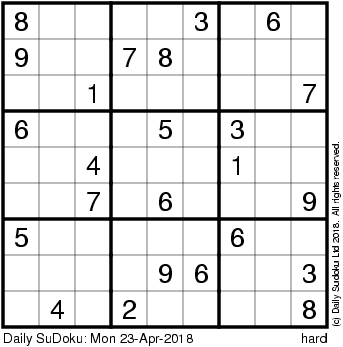 solution: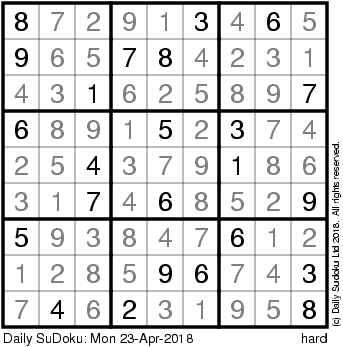 QUOTE
CLEVER
thanks, Sheri
Dryer Sheets
EYE OPENER
13 Ways to Add More Time for Knitting to the Day
Step One: The Big Time Eaters
Television. This is a really good starting point if you need more time. If you can't completely eliminate it, cut it down to only the key shows you enjoy viewing or news you need to hear. Otherwise just power-off this big time waster, or knit while watching TV.
Internet. As we see a replacement of TV entertainment by the internet, it has become a big time consumer quickly. Try to go on an internet diet for a week: cut your time spent online in half. I tried it myself and although it was very hard at the beginning, it really paid off in the end and I got used to it quickly.
Email. Do you really need to check your email every ten minutes? Devote some dedicated time – maybe in the morning and the afternoon – to reading and answering email. Turn off your email client in between, or you will lose your focus on each and every "you've got mail" notification ping sound.
Games. I got totally lost in playing World of Warcraft a while ago, so I know how it is when you're just sucked into a computer game. Cut your gaming time and use the saved time for knitting instead.
Work. Cutting time spent at work is the most difficult challenge for most people. The most effective strategy is to increase productivity to get more things done in less time. If you are feeling really adventurous, read the 4 Hour Workweek by Tim Ferris. If not, consider turning your daily commute into knitting time.
Chores. Beyond just hiring a maid, there are ways you can reduce time from your chores: Cooking meals in advance, keeping things perpetually tidy, maintaining an organizing system to reduce the need for overhauls can all cut down your time usage. Establish habits.
Step Two: Use Gap Time
Knitting. Bring your knitting project with you at all times and get a few minutes of knitting in.
Problems. Solve problems in advance during gap time so you won't waste as much time on them later.
Creativity. I use gap time to come up with new knitting pattern ideas. You can use it to come up with new ideas for work or life – or your next knitting project.
Step Three: Focus
E-mail. Consider an auto-responder for common messages. Use concise yes or no answers for questions that don't need a lengthy explanation.
Reading. If your purpose for reading is information, learn to change your pace from a knowledge absorbing crawl up to a fast skim over unimportant details. Ignore whole chapters and focus first on the ideas that are crucial to understand, especially in textbooks.
Television. If you still watch TV, tape in advance and cut the commercials. You can save up to fifteen minutes from an hour program by doing this.
Final Tip: Prioritize
Reclaim More Time For Knitting