DIANE'S CORNER ... Celebrate National Geographic Day
National Geographic is something we take for granted, which is not surprising considering that it has been around for well over 100 years. The first issue of the magazine was published in 1888, and National Geographic Magazines have been published regularly, once per month, since then. National Geographic Magazine has covered thousands of topics since its inception, from lovely, peaceful Balinese dancers to controversial topics such as the brutal killing of animals by poachers and those convinced of the magical properties of certain animal parts. For almost 130 years, National Geographic magazine has been awakening people's interest in far away, unknown countries, their foods and customs, and above all, those who live there, both human and not. And this is of course why National Geographic is more than deserving of its own day, and we've seen to it that it got one.
National Geographic Magazine was created as a text-oriented publication by the National Geographic society in 1888. Due to the popularity of the segments containing numerous pictures, National Geographic magazine quickly switched to extensive pictorial content. National Geographic Magazine became especially famous for its balanced portrayal of North America compared to the countries behind the iron curtain, downplaying politics to focus on culture, and not avoiding the Cold War topic as many publications tended to do at that time. More recently, National Geographic Magazine has been especially outspoken on environmental issues, such as deforestation and endangered species. National Geographic Magazine has also been praised for its beautiful photography and its book-like quality.
National Geographic Magazines have attained nearly cult status over the years, meaning that even an old, dog-eared issue is considered a collector's item. In that spirit, why not take a trip down to your local thrift store or second-hand bookstore and see if you can find any old National Geographic Magazines? Who knows, they could be worth something someday, and even if they're not, it will be a truly interesting experience to leaf though an old issue and see what was relevant back in the days when it was published. Another interesting way to send this day would be to take your own camera out for a spin—who knows what you'll manage to catch, and maybe you'll discover a hidden talent as well?
Whatever you decide to do, make sure this day is a day you take a moment to admire the world around you, from the smallest things in it to the most enormous…and if you can teach the future generation to do that as well, more power to you. Our planet could use more people who have the same approach to our planet as National Geographic Magazine.
thanks for all the funnies, Shelley
Word of the Day
Definition:

(noun) A photographer who operates a movie camera.

Synonyms:

cameraman

Usage:
The cinematographer won an award for his lush landscape shots, which captured the mood of the film.

Idiom of the Day
—

A continuous period of great success, luck, or fortune; a winning streak.
History
Donna Reed (1921)
Reed was an American film and television actress. In 1946, she starred in Frank Capra's
It's a Wonderful Life
, playing Mary Bailey—the wife of James Stewart's character, George Bailey. She went on to win the 1953 Academy Award for Best Supporting Actress for her role in
From Here to Eternity
and later received a Golden Globe for Best Female TV Star for her performance as Donna Stone in
The Donna Reed Show
.
Mauni Amavasya
Complete silence is observed on the day known to Hindus as Mauni Amavasya. Because bathing during Magha, one of the most sacred Hindu months, is considered to be a purifying act, many Hindus camp out along the banks of the
Ganges River
throughout the month and bathe daily in the sacred river. But the bathing and fasting end with the observance of Mauni Amavasya, a day for worshipping Lord Vishnu and circumambulating the
peepal
(a type of ficus) tree, which is regarded as holy. For many Hindus, the celebration takes place at
Prayag
, where the Ganges, Yamuna, and Saraswati rivers flow together.
Fallout from an Ancient Asteroid Collision Still Rains on Earth
Extraterrestrial objects are constantly bombarding Earth; thankfully the vast majority are microscopic.
READ MORE:
Fallout from an Ancient Asteroid Collision Still Rains on Earth | Astronomy.com
1756 - Composer Wolfgang Amadeus Mozart was born.
1870 - Kappa Alpha Theta, the first women's sorority, was founded at Indiana Asbury University (now DePauw University) in Greencastle,
IN
.
1880 - Thomas Edison patented the electric incandescent lamp.
1926 - John Baird, a Scottish inventor, demonstrated a pictorial transmission machine called television.
1956 - Elvis Presley released "Heartbreak Hotel."
1971 - David Bowie arrived for his first visit to the
U.S.
He did not perform, but received a lot of publicity for wearing dresses in
Texas
and
Louisiana
.
1973 - The Vietnam peace accords were signed in Paris.
1984 - Carl Lewis beat his own two-year-old record by 9-1/4 inches when he set a new indoor world record with a long-jump mark of 28 feet, 10-1/4 inches.
1984 - Wayne Gretzky set a
National Hockey League (NHL)
record for consecutive game scoring. He ended the streak at 51 games.
2010 - Steve Jobs unveiled the Apple iPad.
DAILY SQU-EEK



The Lone Ranger's sidekick's name, Tonto, means "moron/fool/stupid" in Spanish. As a result, in the dubbed Spanish version, the character's name is change to "Toro," meaning "bull."
The United States has been in debt every year in its history except very briefly for about a year around 1835 when the colorful Andrew Jackson was President. A few decades later, the Civil War happened and increased the national debt higher than it had ever been before as a percentage of the United States' gross domestic product (GDP). After the war was over, the debt rapidly fell off to nearly nothing until WWI, which once again saw the national debt rise to Civil War era levels as a percentage of the GDP. Then the Great Depression and WWII happened, the latter seeing the national debt rise to an astounding near 110% of the GDP, a feat the U.S. hasn't come close to matching since, even with the massive public debt today which is a little over 70% the GDP.
German Chocolate Cake isn't German and had nothing to do with the country. It owes its name to American Sam German, who developed a type of dark baking chocolate for the American Baker's Chocolate Company in 1852. Over a century later, a woman by the name of George Clay got her recipe for a cake using "German's Chocolate" published in the Dallas Morning Star on June 3, 1957, under the name "German's Chocolate Cake." General Foods, who now owned the German's Chocolate brand, heavily promoted this recipe. It became a national hit, but not as "German's Chocolate Cake," as it was originally listed. Instead, it soon was called "German Chocolate Cake," helping give rise to the myth that it was invented in Germany.
The first music video ever shown on MTV (yes, they used to show those) was Video Killed the Radio Star by The Buggles on August 1, 1981. When MTV launched on that August day, it was only available to cable subscribers in parts of New Jersey.
According to the Barnhart Dictionary of Etymology, "checkmate" in chess derives from the Persian term "shāh māt," which means something to the effect of "the king is helpless/defeated."
Nick Offerman, better known as Ron Swanson from the Parks and Recreation TV series, is a professional boat builder and has a side business as a wood craftsman. In 2008, he even released an instructional DVD- "Fine Woodstrip Canoe Building with Nick Offerman," offering instructions on how to make your own canoe. He stated in an interview with Wood Magazine in 2010, "When I got into acting in the theater, I was really terrible in the beginning. But because I could build things, they'd put me in their shows when I agreed to build things for the set. Then in Chicago, in the mid-90s, I made a living building scenery."
Pictures of the day
An
infrared photograph
of the
Horsehead Nebula
, a
dark nebula
in the constellation of
Orion
. Located approximately 1,500
light years
from Earth. It is one of the most identifiable nebulae because of the shape of its swirling cloud of dark dust and gases, which bears some resemblance to a horse's head when viewed from Earth.
Dad gets Matching Tattoo of Son's Cancer Scar for Solidarity
"I told him if people wanted to stare, they could stare at both of us"
knit
- CHINESE NEW YEAR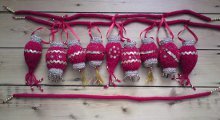 Chinese New Year Lantern
knit
thanks, Clara
knit
thanks, Lisa
knit
knit
- VALENTINE'S DAY
thanks, Sheri
crochet
- CHINESE NEW YEAR
Chinese New Year Monkey - All About Ami
crochet
crochet
thanks, Marge
crochet
crochet
- VALENTINE'S DAY
RECIPE
CROCKPOT RECIPE
SWEETS
thanks, Joanne
2 Minute Brownie
by Hafsah Aamer
Step 1: You will need
For a single serving, you will need:

DRY INGREDIENTS

• 4 tbsp all-purpose flour
• 4 tbsp powdered sugar
• 2 tbsp cocoa powder
• 1/2 tsp baking powder
• less than a pinch of baking soda

WET INGREDIENTS

• 2 tbsp vegetable oil
• 2 tbsp water
Simply grab a microwave-safe cup and put in all
the dry ingredients and mix.
Step 2: Add the wet ingredients
Step 3: Mix and Microwave
Mix with a fork; make sure you reach that gooey state and no
powder is left.

And microwave it for a minute. It depends on the power. So
keep an eye. If it is still gooey
after a minute, give a further
round for 15 seconds or so. Basically, you want to microwave
till when you touch the surface, nothing comes off. And again
be careful not to overcook
ADULT COLORING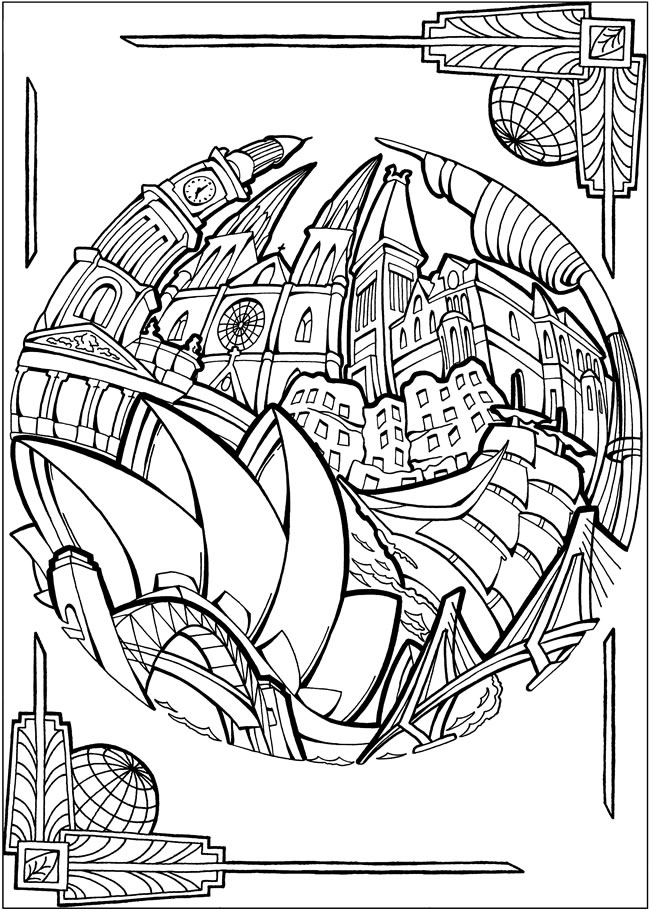 Mini Purse
wesens-art
Remove the cap and cut the bottle as shown in the next photo.
Pierce hole for the snaps and the key chain into the bottle.
Insert the snap and install the key chain.
And you can use it for all other little things too.
Or make it from a bigger plastic bottle!
CHILDREN'S CORNER
... sewing
thanks, Natalie
Weather Station for Kids

PUZZLE
Number Cube Jigsaw Puzzle
CLEVER
thanks, Sheri
Emery Board
Buff away scuffs and stains on suede bags and shoes with this manicure tool.
EYE OPENER
Rarely Seen "Enchanted" Moments of World History

This is what California might have looked like from space in 1851
The graves of a Catholic woman and her Protestant husband, Holland, 1888
Billboards on Times Square, 1900
Bulgarian peasants using an elephant to plow land, 1900
This Model T ascended three flights of steps in Duluth, Minnesota, winning its owner a $100 bet, 1910s
Control room of a submarine in 1918
Two cyclists, Vervaeke and Geldhol, smoking during the 1920 Tour de France
A federal agent searching a wood truck during Prohibition, 1926
Photograph of pilot William C. Hopson of the U.S. Mail Service in winter flying clothing ca. 1926
A couple at the Le Monocle lesbian nightclub, Paris, 1932
An instructor signals through a porthole to a seaman at the bottom of a 15 foot tank, during submarine crew training at the DSEA Instructional Centre at Portsmouth in 1939
Poster in a London travel agency advising people to book their holidays in spite of the tense situation in Europe, 1939
Crash landing of Grumman F6F Hellcat on flight deck of USS Enterprise, November 1943
German soldier after the Battle of Kursk, Russia. Eastern Front, 1943
Marc Riboud's photo of Zazou, the Eiffel tower's painter, Paris, 1953