DIANE'S CORNER ... Celebrate Learn Your Name in
Morse Code Day
Word of the Day
Definition:

(noun) A basin for washing the hands.

Synonyms:
handbasin, washbasin, washbowl
Usage:

The priest washed his hands in the metal lavabo before saying Mass.
Idiom of the Day
—

To force someone to do something he or she does not want to do, especially by the use of threats or intimidation (not necessarily with an actual gun).
vivien leigh
History
Alexander Hamilton (1755?)
Pictured on the US $10 bill, Hamilton was an American Founding Father and the first secretary of the treasury. Differences between Hamilton and Thomas Jefferson led to the rise of political parties, with Hamilton heading the Federalist Party and Madison and Jefferson leading the Democratic-Republican Party. In 1804, Aaron Burr challenged Hamilton to a duel, and though Hamilton opposed the practice and had even lost a son in a duel, he agreed and was mortally wounded.
Twinkle, Twinkle Binary Star to Emerge Our Night Sky in Five Years
In 2022, a new, temporary star of sorts could be added to the night sky. A group of astronomers has predicted that, five years from now, two faraway binary stars currently orbiting each other will collide, creating an explosion so bright that it will be visible to
READ MORE: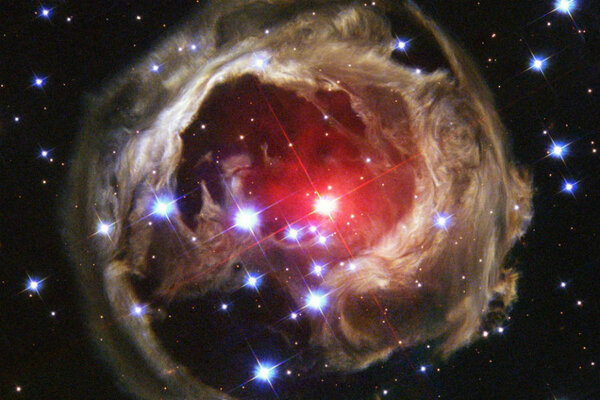 Binary bump: How a new 'star' could appear in our night sky in five years
1569 - England's first state lottery was held.
1770 - The first shipment of rhubarb was sent to the
United States
from London.
1878 - In New York, milk was delivered in glass bottles for the first time by Alexander Campbell.
1902 - "Popular Mechanics" magazine was published for the first time.
1913 - The first sedan-type car was unveiled at the National Automobile Show in New York City. The car was manufactured by the Hudson Motor Company.
1922 - At Toronto General Hospital, Leonard Thompson became the first person to be successfully treated with insulin.
1928 - "Ol' Man River" was recorded by Paul Whiteman and his orchestra. Bing Crosby was the song's featured vocalist. The song is from the Broadway musical, "Showboat".
1958 - "Sea Hunt" debuted on CBS-TV. The show was aired on the network for four years.
1963 - The Whiskey-a-Go-G0 nightclub opened in Los Angeles,
CA
. It is recognized as the first disco in the
U.S.
1964 -
U.S.
Surgeon General Luther Terry released a report that said that smoking cigarettes was a definite health hazard.
1964 - "Ring of Fire" by Johnny Cash became the first country album to top the
U.S.
pop album chart.
1973 - Owners of American League baseball teams voted to adopt the designated-hitter rule on a trial basis
1980 - Nigel Short, age 14, from Bolton in Britain, became the youngest International Master in the history of chess.
1991 - An auction of silver and paintings that had been acquired by the late Ferdinand Marcos and his wife, Imelda, brought in a total of $20.29 million at Christie's in New York.
DAILY SQU-EEK
READER'S INFO
1.
About
2.
Mardi Gras New Orleans
Jan 6 - Feb 28, 2017 | New Orleans, LA
Location
3.
This is why you should make time to be creative everyday, according to science
In a New Zealand study published in The Journal of Positive Psychology, psychologists have found that those who engaged in creative activities on a daily basis experienced what they called an "upward spiral" of positivity in various aspects of their lives.
Researchers conducted the study by asking 658 volunteers to keep a diary everyday for 13 days straight, in which they documented any creativity they exercised that day and their overall mood.
You don't need to devote long hours to get the same benefits — simply taking 30 minutes a day, at least, can reap you the same benefits as those who participated in the study. Beyond the joy of creating something, being creative gives you a sense of purpose that can carry over to other parts of your life.
4.
Pictures of the day

Japanese art collective teamLab have created an incredible floating flower garden installation featuring over 2,300 living flowers in bloom. TeamLab adds: When a viewer gets close to this flower-filled space, the flowers close to the viewer rise upwards all at once, creating a hemispherical space with the viewer at its center.
thanks, bertha
CROCKPOT RECIPE
SWEETS
ADULT COLORING
Funny Doodle Art
CRAFTS
DIY Heat Packs
CHILDREN'S CORNER ... crafting
PUZZLE
Vulture Head Jigsaw Puzzle
CLEVER
KNITTING WORD SEARCH PUZZLES
Knitting The Natural Way
EYE OPENER