DIANE'S CORNER .. Celebrate Find A Rainbow Day
I hope everyone has a wonderful time celebrating this weekend. Ray and I will be staying with family in Toronto for the holidays. We d
on't expect to return until late Monday evening. (when PC, the cat, will be really happy to see your faces! lol)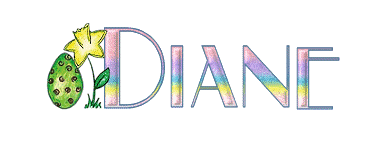 Of course, finding a rainbow is not as easy as it sounds and if you are lucky enough to find yourself outside just after a rainstorm in early April, you may just be able to catch a quick glimpse and even take a snapshot of one of these wonderful natural events.
While the exact origins of this day remain rather obscure, there are many who enjoy cooking colorful foods on this day; treats such as jello and cookies being some of the most common items. So, it appears that there are indeed times when a bit of rain is not necessarily a bad thing!
Word of the Day
Definition:
(adjective) Of such fine texture as to be transparent or translucent.
Synonyms:
filmy, gauzy, sheer, vaporous
Usage:
She wore a hat with a diaphanous veil that did not obscure her features.
History
Our Lady of Fatima is the title given to the Virgin Mary by those who believe that she appeared to three shepherd children at Fátima, Portugal, in 1917, at a time when many young men, including relatives of the children, were fighting in WWI. She reportedly exhorted the children to do penance, and they wore tight cords around their waists and abstained from water on hot days. She also reportedly confided to them three secrets.
Holding Fast
knit
knit
knit, 2 needle, 0 - 24 mths
crochet
crochet
knit, passover
knit
knit
stephanie o'dea
showers which change colors
Word Spy
The Word Lover's Guide to New Words
A celebration of, in the words of Ralph Waldo Emerson, those "wise men [who] pierce this rotten diction and fasten words again to visible things; so that picturesque language is at once a commanding certificate that he who employs it, is a man in alliance with truth." Or something.
Words Spied
Word of the Week
transformer home
n
. A building that appears to be a residential home, but is actually a transformer station for the local power utility.
The "

transformer home

" on Millwood Rd. was designed to closely match the look of its post-war Leaside neighbours. Toronto Hydro added decorative wooden shutters, a crazy-paved walkway, neat little flower beds, even a brick chimney in an effort to hide the building's real purpose. A chain across the driveway is the only obvious modern addition. "People kept parking in there," says a passer-by.

—Chris Bateman, "

The transformer next door

,"

Spacing

, February 18, 2015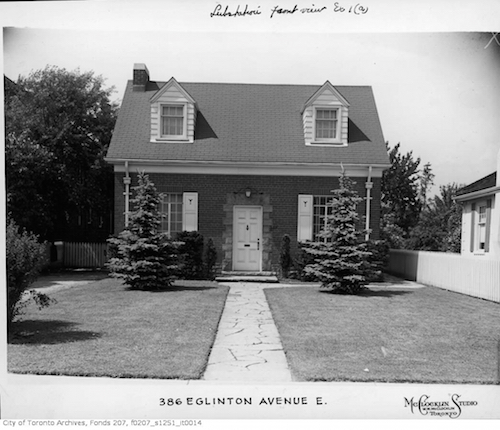 Transformer home — front view.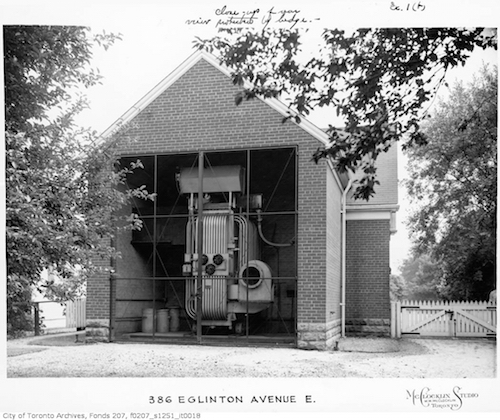 Transformer home — rear view.
Cruft

*

of the Week
brelfie
n
. A selfie taken by a breastfeeding woman (
breastfeeding
+
selfie
). [
The Telegraph
]
*
"Poorly built, possibly over-complex; generally unpleasant" —
The Jargon File
.
Place Words: A Sampler
In The Making of the English Landscape, the historian W. G. Hoskins writes that "behind every generalization, there lies the infinite variety and beauty of the detail; and it is the detail that matters, that gives pleasure to the eye and to the mind, as we traverse, on foot and unhurried, the landscape of any part of England." That detail is, to a layman, often unnamed, so the pleasure it gives is more for the eye than the mind, but we all know the unique gratification that comes with being able to name this flower or that rock formation. Knowing the names of things is a kind of key that opens up a landscape and makes it accessible, even intimate.
The nature writer Robert Macfarlane knows the names of many things and lucky for us he's taken the time to write them down. They appear casually in books such as
The Old Ways
, and apparently more systematically in a book called
Landmarks
, which will be released this week. In
The Guardian
last Friday, he
offered a glimpse
of the new book with a beautiful essay on "place words": the old (sometimes
very
old) words we use to name features of the landscape. It's well worth your time to read in its entirety, but I thought I'd offer just a wee sample of the place words he presents:
ammil

n. The thin film of ice that lacquers all leaves, twigs and grass blades when a freeze follows a partial thaw.
caochan
n
.
A slender moorstream obscured by vegetation such that it is virtually hidden from sight.
cladach
n
.
A stony beach.
fèith
n
.
A fine vein-like watercourse running through peat, often dry in the summer.
pirr
n
.
A light breath of wind, such as will make a cat's paw on the water.
roarie bummlers
n
.
Fast-moving storm clouds.
smeuse
n
.
The gap in the base of a hedge made by the regular passage of a small animal.
Close Quote
There are experiences of landscape that will always resist articulation, and of which words offer only a distant echo. Nature will not name itself. Granite doesn't self-identify as igneous. Light has no grammar. Language is always late for its subject. When I see a moon-bow or a sundog, I usually just say "Wow!" or "Hey!" Sometimes on a mountain, I look out across
scree
and
corrie
,
srón
and
lairig
— and say nothing at all. But we are and always have been name-callers, christeners. Words are grained into our landscapes, and landscapes grained into our words.
—Robert Macfarlane, "

The word-hoard

," The Guardian, February 27, 2015