DIANE'S CORNER ... Celebrate World Party Day
Neckties, Collars, Sleeves, Hats And Crochet Hood For Girls.
Word of the Day
Definition:

(noun) A symptom consisting of the involuntary expulsion of air from the nose.

Synonyms:
sneeze, sneezing
Usage:

John complained that every time he came to visit, my dusty carpet would send him into fits of sternutation.
[Knitting shepherd.]
Idiom of the Day
—

To begin being serious about something; to begin attending to business or work at hand.
Mrs. Hassam, knitting (large).
History
Oscar Wilde's Libel Case Begins (1895)
When the marquess of Queensbury became convinced that his son, Alfred Douglas, was having an affair with Wilde, he began to rail against the author and playwright, publicly accusing Wilde of sodomy, a crime at the time. At Douglas's urging, Wilde sued the marquess for libel. He not only lost the case, but was in turn charged with homosexual offenses and arrested. Wilde was convicted in an internationally notorious trial and served two years hard labor.
Henry Robinson Luce (1898)
One of the most powerful—and controversial—figures in the history of US journalism, Luce founded Time magazine in 1923 with former Yale classmate Briton Hadden. It was the first news-weekly in the US and is now the largest. Luce went on to launch a number of other highly successful magazines, including Fortune, Life, and Sports Illustrated.
Cats Prefer Interacting with People over Food, Study Finds
Cats do care about their humans. Really. According to a new study, cats care about people even more than food. The study took both domestic and sheltered cats and gave them different choices of stimuli.
READ MORE:
Cats Prefer Interacting With People Over Food, Study Finds
1776 -
George Washington
received an honorary Doctor of Laws degree from Harvard College .
1829 - James Carrington patented the coffee mill.
1910 - Alaska's Mt. McKinley, the highest mountain in North America was climbed.
1949 - Dean Martin and Jerry Lewis debuted on radio on the "Martin and Lewis Show". The NBC program ran until 1952.
1953 - "TV Guide" was published for the first time.
1955 -
Fred Astaire
appeared on television for the first time on "The Toast of the Town" with Ed Sullivan.
1979 - Jane Byrne became the first female mayor in Chicago.
1982 - John Chancellor stepped down as anchor of the "The NBC Nightly News." Roger Mudd and Tom Brokaw became the co-anchors of the show.
1993 - The Norman Rockwell Museum opened in Stockbridge, MA.
2008 -
Apple
became the number one music seller in the United States.
DAILY SQU-EEK
1.
2.
THE 2017 AMERICAN ICON ART COMPETITION
Bhotia female, Buddhist, near Lhassa, Tibet.
Pictures of the day
Elliðaey
is one of the
Westman Islands
in Iceland. With an area of 0.45 square kilometres (0.17 sq mi), it is the country's third largest island. It is privately owned and operated by the Elliðaey Hunting Association, and uninhabited, with its sole structure being a hunting lodge constructed in 1953. The island is accessible via a rope on its lower east side, and by boat from the mainland.
Katrina van Tassel.
knit
- EASTER
knit
, toe up
thanks, Leah
knit
thanks, Marcy
knit
knit
Australia Participation - War knitting marathon
crochet
- EASTER
crochet
thanks, Helen
crochet
crochet
RECIPE
thanks, Shelley
Portrait of abolitionist Sojourner Truth, sitting with yarn and knitting needles, 1864.
CROCKPOT RECIPE
Sarah Caswell Angell Chapter D.A.R., Ann Arbor, Mich., Mch. 28th, 1918. War work : hospital garments, knitting, sewing for French children, aviators' vests.
SWEETS
thanks, Gloria
Panna Cotta

Ingredients:
5 fl oz (150 ml) whipped cream (10% fat)
1 package of gelatin powder
2-3 tablespoons sugar
1 vanilla pod
any fresh or canned fruit or jam (optional)
Pour some warm water into a bowl, add the gelatin to it, and let it soften and swell for a few minutes.
Combine the sugar and whipped cream in a saucepan.
Bring the cream-sugar mixture to a boil, stirring until sugar is dissolved.
Сut the vanilla pod in half lengthwise and gently scrape out the seeds. Add the vanilla seeds to the pan with the boiling mixture.
Remove the pan from heat and add gelatin. Stir well and let it cool.
Now it's time to chill the panna cotta. Divide the mixture evenly between the prepared cups and put in the refrigerator for about 4 hours. Meanwhile, you can make some extra stuffing for the dessert: you may use any berries, fruit, or jam. Enjoy!
Young Woman With A Knitted Sweater, Knitted Hat, And Ice Skates.
ADULT COLORING
CRAFTS
Valerie Bergere as Mrs. Delano (knitting) owner of arcade.
CHILDREN'S CORNER
... EASTER Crossword Puzzle
Fence Rope Corner Jigsaw Puzzle
I'd like to be like grandma
WORD SEARCH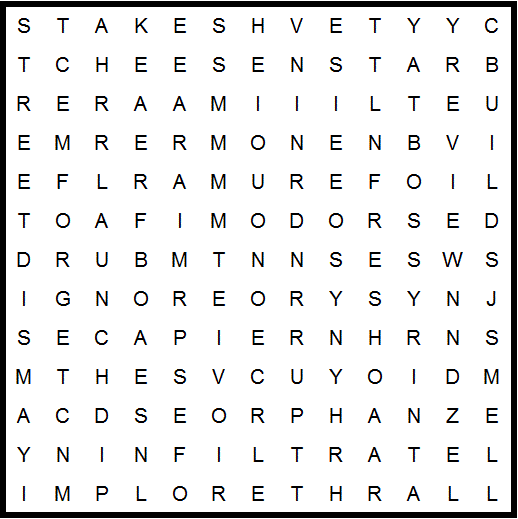 bossy
brats
builds

chart
cheese
community
cream

dismay
dole
drub
fabric
famine
foil
forget
fresh

hands
harmony
horns
ignore
implore
independent
infiltrate

launch
leash
less

mission
moist
never
none

odors
orphan

paces
pier

relay
review
runs
sear
smell
stakes
street

territory
thrall
tore
train
Mrs. Cane, the schoolmaster's wife.
QUOTE
Yellow Rocker
Shepherd Resting On Stilts And Knitting.
CLEVER
EYE OPENER