DIANE'S CORNER ... Celebrate Day of Hope Day
Word of the Day
Definition:

(noun) A monster able to change appearance from human to wolf.

Synonyms:
werewolf, wolfman, loup-garou
Usage:

She thought the novel about the lycanthrope would be silly, but the sad tale about the werewolf's struggles to regain control of his life moved her to tears.
Idiom of the Day
—

To be very nearly, inevitably, or for all intents and purposes lost, departed, defunct, or deceased.
History
US President Franklin D. Roosevelt Forbids Hoarding of Gold (1933)
Executive Order 6102 required US citizens and businesses to turn in all but a small amount of gold to the Federal Reserve in exchange for $20.67 per ounce. It came in the midst of a banking crisis, when the stability of paper currency was in doubt. Consequently, many tried to withdraw their money and redeem it for gold, which was considered safer. However, there simply was not enough gold in the US—or the world—to cover the nation's debts.
Ruth Elizabeth "Bette" Davis (1908)
American screen legend and two-time Academy Award-winning actress Bette Davis made her Hollywood debut in 1931 and, after several flops, won acclaim for her role in 1934's
Of Human Bondage
. Her electrifying performances and intense characterizations of strong women made her a prime box-office attraction between 1935 and 1946, but her popularity declined thereafter. Undeterred, she launched a comeback and continued acting until shortly before her death.
Rama Navami
The Hindu festival of Rama Navami celebrates the birth of Rama, who was the first son of King Dasaratha of Ayodhya. According to Hindu belief, the god Vishnu was incarnated in 10 different human forms, of which Rama was the seventh. Because Rama is the hero of the great religious epic poem, the Ramayana, Hindus observe his birthday by reciting stories from it. They also flock to temples, such as that in Ayodhya in Uttar Pradesh, where the image of Rama is enshrined, and chant prayers, repeating his name as they strive to free themselves from the cycle of birth and death.
Incredible Fish Discovery Stuns Scientists
An incredible new discovery involving a tiny fish that swims in the Great Barrier Reef in the Pacific Ocean near Australia, and can also be found in many home aquariums, could lead to breakthroughs in medicine.
READ MORE:
Incredible fish discovery stuns scientists
1614 - American Indian Pocahontas married English colonist John Rolfe in Virginia.
1806 - Isaac Quintard patented the cider mill.
1827 - James H. Hackett became the first American actor to appear abroad as he performed at Covent Garden in London, England.
1869 - Daniel Bakeman, the last surviving soldier of the U.S. Revolutionary War, died at the age of 109.
1887 - Anne Sullivan taught Helen Keller the meaning of the word "water" as spelled out in the manual alphabet.
1892 - Walter H. Coe patented gold leaf in rolls.
1892 - In New York, the Ithaca Daily Journal published an ad introducing a new 10 cent Ice Cream Specialty called a Cherry Sunday.
Evarts Graham, MD, chief of surgery
1933 - The first operation to remove a lung was performed at Barnes Hospital in St. Louis, MO.
1968 -
Simon & Garfunkel
's single "Mrs. Robinson" was released.
1985 - An estimated 5,000 radio stations around the world simultaneously played the song
"We Are the World"
.
1987 - FOX Broadcasting Company launched "Married....With Children" and "The Tracey Ullman Show". The two shows were the beginning of the FOX lineup.
1993 - Construction began on the Rock and Roll Hall of Fame in Cleveland, OH
1998 - The Akashi Kaikyo Bridge in Japan opened becoming the largest suspension bridge in the world. It links Shikoku and Honshu. The bridge cost about $3.8 billion.
DAILY SQU-EEK
If You Were Born Today,
April 4
2.
3.
Sacramento State Festival of the Arts
Apr 5-9, 2017
California State University, Sacramento
6000 J St,
Sacramento, CA
further information:
Festival of the Arts
4.
International Quilt Festival
Apr 6-8, 2017
The International Quilt Festival is the world's largest annual quilt show, sale and quiltmaking academy. The event takes place in Houston and Chicago and showcases spectacular quilts on display in various special exhibits. Classes, workshops and lectures are offered for all levels of quilting ability at this celebration of quilting, sewing, embroidery and handiwork.
further information:
International Quilt Festival Chicago
5.
Steel City Con
Apr 7-9, 2017
Monroeville Convention Center
209 Mall Plaza Blvd, Monroeville, PA

further information:
Steel City Con - Pennsylvania's premier Comic Con
Pictures of the day
knit
- EASTER
thanks, Dawn
knit
knit
thanks, Marilyn
knit
knit
crochet
- EASTER
Pink Little Lady - amigurumi pattern by Sayjai Thawornsupacharoen
crochet
crochet
thanks, Clara
crochet
thanks, Marge
crochet
RECIPE
CROCKPOT RECIPE
thanks, Marge
SWEETS
CRAFTS
DIY Easter Wreath
CHILDREN'S CORNER
... EASTER paint game
PUZZLE
Peacock 13 Eyes Jigsaw Puzzle
WORD SEARCH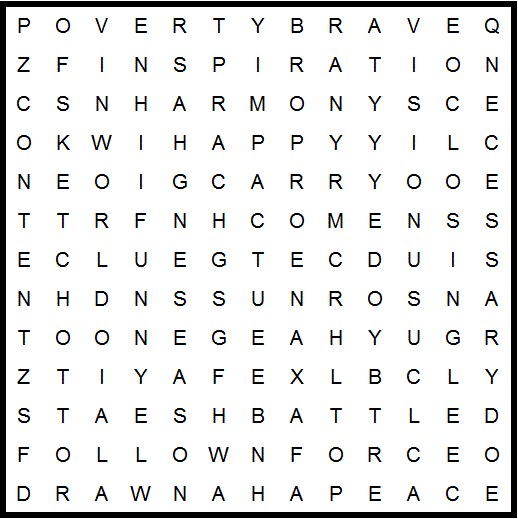 analysis

battle
brave
buns

carry
closing
clue
come
content
could
drawn

extra

fence
follow
force
funny
hand
happy
harmony
heard
house

impact
inspiration

league
mens

necessary
night

peace
poverty

season
seats
sketch
stone
story
sure
swing

tins

vision

world
QUOTE
CLEVER
INTERESTING PRODUCTS
EYE OPENER
The Most Jaw Dropping Photos From History