DIANE'S CORNER ... Celebrate
Pigs In A Blanket Day
Word of the Day
Definition:

(noun) A state of extreme poverty or destitution.

Synonyms:

indigence

, penury, need
Usage:

Two children begged for money on the subway, and their pauperism weighed heavily on the minds of the train's passengers.
Idiom of the Day
—

In, at, or during the period of one's greatest success, power, vigor, etc.
History
Hersheypark Opens in Pennsylvania (1907)
Milton Hershey, founder of the Hershey Chocolate Company, originally created Hersheypark for his employees. Situated along a creek, it was a good spot for boating, picnicking, and enjoying baseball, which is what visitors did on the park's first day in 1907. The next year, the park added its first ride, a carousel. Over the decades, as the park expanded, it grew from a regional amusement to a national attraction.
Sue Taylor Grafton (1940)
A onetime screenwriter, Grafton began writing detective novels after a bitter and protracted custody battle left her daydreaming about the vengeful crimes she would have liked to commit but could not. As a means of escape, she created private detective Kinsey Millhone, the protagonist in a series of alphabet-titled novels such as
A is for Alibi
and
B is for Burglar
. After
G Is for Gumshoe
, she was able to quit screenwriting.
Feast of the Blajini
Among rural people in
Romania
there is a widespread belief in the existence of the
Blajini
, the "Meek" or "Kindly Ones"—a lost race who don't understand the ways of human beings. On the Monday after
Easter Monday
, Romanian women and children throw red Easter egg shells on running streams, since they believe that all the world's streams eventually flow into a single river, alongside of which live the Blajini. Their hope is that the Blajini will find the shells and know it is time to celebrate the Easter feast.
Is It Safe To Eat Moldy Bread?
Like politics and music, the question of whether to eat moldy food can divide families, with relatives' admonishments reverberating in one's head for years.
READ MORE: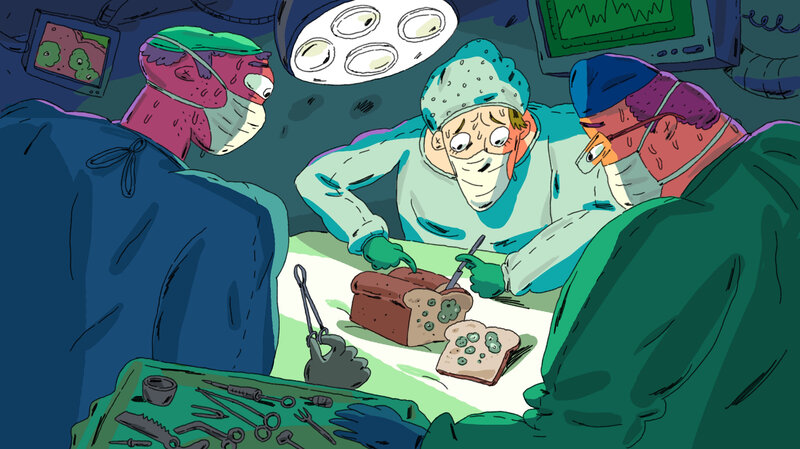 Is It Safe To Eat Moldy Bread?
1800 - The Library of Congress was established with a $5,000 allocation.
1833 - A patent was granted for first soda fountain.
1897 - William Price became the first to be named White House news reporter.
1952 - Raymond Burr made his TV acting debut on the "Gruen Guild Playhouse" in an episode titled, "The Tiger."
1953 - Winston Churchill was knighted by Queen Elizabeth II.
1959 - "Your Hit Parade" aired for the last time. The show had been on since 1935.
1961 - Sandy Koufax of the Los Angeles Dodgers struck out 18 batters becoming the first major-league pitcher to do so on two different occasions.
1973 - Albert Sabin reported that herpesviruses were factors in nine kinds of cancer.
1990 - The space shuttle
Discovery
blasted off from Cape Canaveral, FL. It was carrying the $1.5 billion Hubble Space Telescope.
DAILY SQU-EEK
Pictures of the day
Jesse B. Jackson
was a United States consul and an
eyewitness
to the
Armenian Genocide
. He served as consul in
Aleppo
when the town was the junction of many important deportation routes. Jackson concluded that the policies towards the Armenians were carefully planned to "extinguish the Armenian race". He estimated that a million Armenians had been killed and considered his own survival a "miracle". After the genocide, Jackson led a relief effort and was credited with saving the lives of thousands.
THIS MAKEUP ARTIST CAN TRANSFORM HER FACE INTO A GLITCH IN THE MATRIX
Mimi Choi (@mimles) is a makeup and visual artist from Vancouver, Canada best known for her incredible makeup transformations
knit
knit
thanks, Marcy
crochet
crochet
crochet -
must be translated
crochet
crochet
RECIPE
thanks, Carol
CROCKPOT RECIPE
SWEETS
thanks, Shelley
ADULT COLORING
CRAFTS
CHILDREN'S CORNER ...
crafts
thanks, Rosa
PUZZLE
Sunset Keys Jigsaw Puzzle
WORD SEARCH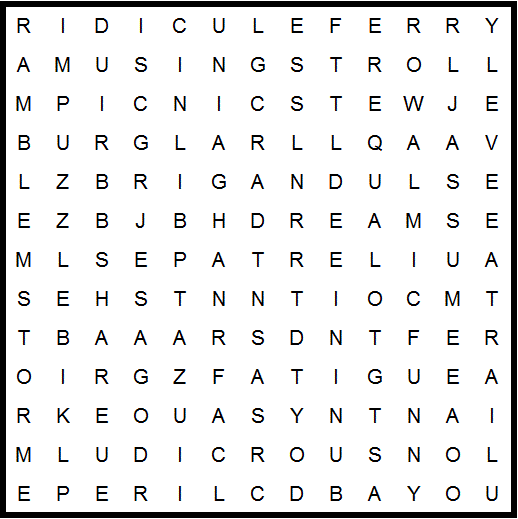 amusing
asphalt
assume

bandit
bayou
betray
brigand
broil
burglar
data
dreams

elegant
equal

fatigue
ferry
funny
gain

hazard

levee
ludicrous

noise
peril
picnics
puzzle

ramble
ridicule
ritual
share
slum
steal
stew
storm
stroll

tapes
tease
tied
trail
QUOTE
Mimi Choi
CLEVER
EYE OPENER