DIANE'S CORNER ... Celebrate Niagara Falls Runs Dry Day
On March 29th, 1848, ice blockages caused rivers to run dry, and reduced the flow of water to such an extent that Niagara Falls' 3,160 tons of water per second flow came to a halt. Locals celebrate with
Niagara Falls Runs Dry Day
, and with plenty of great hotels in the area, it's not hard to come celebrate with them!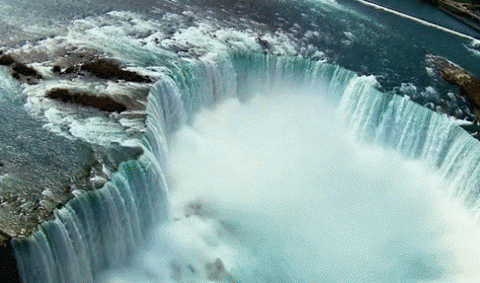 Word of the Day
Definition:

(noun) A formal public statement.

Synonyms:
proclamation, declaration, announcement
Usage:
A long and dramatic drum-roll signaled that a royal annunciation was about to be delivered.

Idiom of the Day
—

It is too worrying or unpleasant for me to think about something that might happen or might have happened.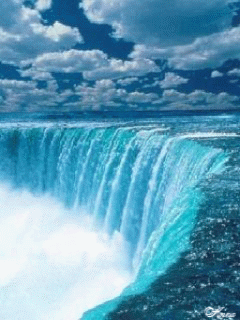 History
Knights of Columbus Established (1882)
The Knights of Columbus is the largest Catholic fraternal service organization in the world. Founded by Father Michael McGivney on the principles of charity, unity, fraternity, and patriotism, the organization's primary purpose was to provide financial aid to members and their families in the event of illness or death. The Knights of Columbus has since donated billions to charity and now has more than 1.8 million members.
Jennifer Capriati (1976)
Capriati's family moved to Florida when she was four years old so she could pursue a tennis career, and by 1990, the 14-year-old had earned over $6 million in endorsements. She became the youngest women's tennis player to win a match at Wimbledon, to reach the semifinals in a Grand Slam event, and to rank in the top ten players. Personal problems—including an arrest—sidelined her as a teen, but she made a successful comeback in her 20s before injuries ended her career.
Boganda Day
In the Central African Republic, Boganda Day marks the anniversary of the death of Barthélémy Boganda, the nation's first prime minister, who died in a plane crash on March 29, 1959. Boganda had been a driving force in the creation of the Central African Republic, which became a self-governing republic in 1958. He was also a leader in the movement to unite black African nations. Boganda Day is a national holiday in the Central African Republic; all banks, official government offices, businesses, and schools are closed.
Scientists Have Turned Spinach Leaves into Beating Human Heart Tissue
Researchers have successfully used spinach leaves to build functioning human heart tissue, complete with veins that can transport blood. To tackle a chronic shortage of donor organs, scientists have been working on growing various tissues and even whole organs in the lab.
READ MORE:
1867 - The British Parliament passed the North America Act to create the Dominion of Canada.
1901 - The first federal elections were held in Australia.
1932 - Jack Benny made his radio debut.
1946 - Fiorello LaGuardia became the director general of the United Nations Relief and Rehabilitation Organization.
1951 - "The King and I" opened on Broadway.
1962 - Jack Paar made his final appearance on the "Tonight" show.
1974 -
Mariner 10
, the
U.S.
space probe became the first spacecraft to reach the planet Mercury. It had been launched on November 3, 1973.
1983 - Erno Rubik was granted a patent for his Magic Cube. (U.S. Patent 4,378,116)
1987 - Hulk Hogan took 11 minutes, 43 seconds to pin Andre the Giant in front of 93,136 at Wrestlemania III fans at the Silverdome in Pontiac,
MI
.
1993 -
Clint Eastwood
won his first Oscars. He won them for best film and best director for the film "Unforgiven."
2010 - In Japan, the Tokyo Skytree tower became the tallest structure in Japan when it reached 1,109 feet.
DAILY SQU-EEK
READERS INFO
1.
2.
Glass Craft & Bead Expo
Mar 29 - Apr 2, 2017
South Point Hotel & Conference Center
9777 S Las Vegas Blvd
Las Vegas, NV
3.
Affordable Art Fair
Mar 29 - Apr 2, 2017
The Metropolitan Pavilion
125 W 18th St
New York, NY
The Affordable Art Fair in New York City is a community art event driven by artists and their work as well as interactive workshops, lectures, tours and exhibits featuring pieces for sale that range from $100 to $5,000. The event has several sister fairs held throughout the world in cities such as Brussels, London, Seoul and Singapore, among others. By gathering numerous artists and art aficionados in a congenial yet captivating environment, the Affordable Art Fair makes for a truly unique event for revelers of all backgrounds seeking to get their creative fix.
further information:
New York | Affordable Art Fair
4.
Interweave Yarn Fest
Mar 30 - Apr 2, 2017
Embassy Suites Loveland
4705 Clydesdale Parkway
Loveland, CO
5.
OLDEST
VESPA SCOOTER WAS UP FOR AUCTION
thanks for the funnies, Barbara
knit
knit
thanks, Sandy
knit
knit
crochet
crochet
crochet
crochet
thanks, Jennifer
thanks, Shelley
CROCKPOT RECIPE
thanks, Marge
SWEETS
ADULT COLORING
CHILDREN'S CORNER
...
coloring mandela (answer upside down)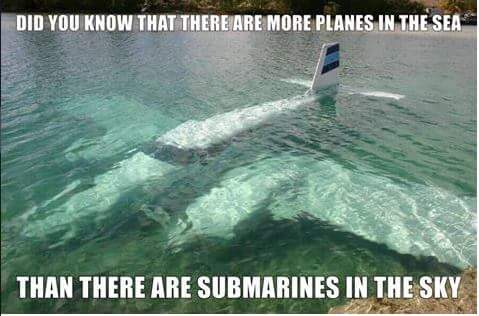 PUZZLE
Black NIght Heron Jigsaw Puzzle
WORD SEARCH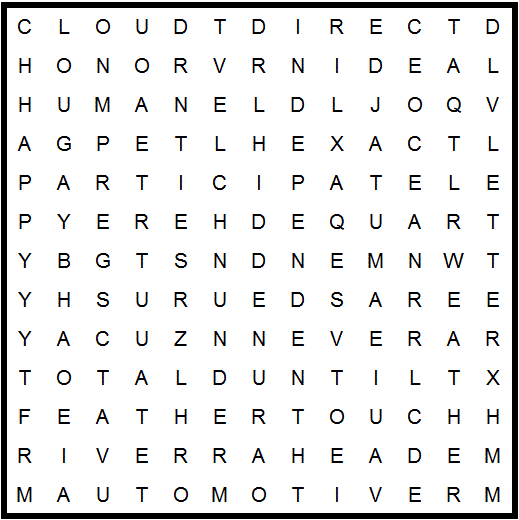 ahead
apart
automotive

better

cloud
come

direct
dote
earth
eras
exact

feather
focus

grill
happy
here
hidden
honor
human

ideal
independent

letter
matter
mend

never

ocean

participate

quart
rare
real
return
river
rued
rune

shield
small
taste
teen
ties
total
touch

under
until

vice

weather
CLEVER
EYE OPENER