DIANE'S CORNER ... Celebrate Limerick Day
Named for the Irish city of Limerick, this much loved verse form was popularized by Edward Lear (not invented alas, but 'popularize' didn't scan…) and could date back as much as five hundred years. Its distinctive metre and AABBA rhyming scheme lend themselves well to nonsense verse, and so Limericks are often childish or obscene. The best ones tend to be both.
There was an Old Man in a tree,
Who was horribly bored by a Bee;
When they said, 'Does it buzz?'
He replied, 'Yes, it does!'
'It's a regular brute of a Bee!'


Word of the Day
Definition:
(adjective) Having great variety; diverse.
Synonyms:
multifaceted, many-sided
Usage:
This famous old French trading post continued to be a rallying point for a multifarious and motley population.
There was an Old Lady of Chertsey,
Who made a remarkable curtsey;
She twirled round and round,
Till she sunk underground,
Which distressed all the people of Chertsey.
Idiom of the Day
—
Additional help or assistance provided by another person.
There was an Old Man with a gong,
Who bumped at it all day long;
But they called out, 'O law!
You're a horrid old bore!'
So they smashed that Old Man with a gong.
History
Hepburn made her Broadway debut in 1928 and became a star with her first film,A Bill of Divorcement, in 1932. She brought a spirited individuality and strength of character to the screen in her roles in films such as Bringing Up Baby, The Philadelphia Story, and The African Queen. She made eight films with her longtime partner Spencer Tracy, eventually starring in 43 films. No actress has ever won more Academy Awards than Hepburn.
This festival is one of the most spectacular events in Hong Kong, celebrated only on Cheung Chau, one of the outlying islands. Three bamboo towers, up to about 60 feet high and covered with sweet pink and white buns, are dedicated to the spirits and intended to placate them. The buns placed highest in the towers are held to be the luckiest, and people climb up in a race to get them. In the highlight of the festival, the images of the temple gods are carried in a procession of lion and dragon dancers and children aged about five to eight, who seem to float above the procession.
| Nasa Releases 56 Patented Space and Rocket Technologies into the Public Domain | |
| --- | --- |

Nasa has released 56 of its patented technologies into the public domain, in a move which could be a great help to private space companies like SpaceX.
READ MORE:
1847 - William Clayton invented the odometer.
1888 - Charles Sherrill of the Yale track team became the first runner to use the crouching start for a fast break in a foot race.
1960 - Frank Sinatra and Elvis Presley appeared on the same TV special and performed the other's hit. Elvis sang "Witchcraft" and Sinatra sang "Love Me Tender."
1965 - "Satisfaction" was recorded by the
Rolling Stones
.
1977 - "Hotel California" earned a gold record for the Eagles.
1978 - The National Oceanic and Atmospheric Administration announced that they would no longer exclusively name hurricanes after women.
DAILY SQU-EEK
If You Were Born Today,
May 12
Personable, friendly, caring, and charming, you are a thoughtful person and can put yourself into almost anyone's shoes. Funny and witty, you have a true way with words and can be quite excellent at writing, promotion, advertising, and the like. You are also good at managing money and coming up with money-making ideas. You are versatile, yet stable and secure. Famous people born today: Florence Nightingale, Katharine Hepburn, Tom Snyder, Yogi Berra, Tony Hawk, Mary Kay Ash, Emilio Estevez.
Picture of the day

The Art of Painting

is a 17th-century

oil painting

on canvas by Dutch painter

Johannes Vermeer

. The painting, often held to be an

allegory

of the art, has a composition and

iconography

that make it the most complex of Vermeer's works.

Walter Liedtke

describes it "as a virtuoso display of the artist's power of invention and execution, staged in an imaginary version of his studio", and Albert Blankert writes that "no other painting so flawlessly integrates naturalistic technique, brightly illuminated space, and a complexly integrated composition".

The Art of Painting

is owned by the

Austrian Republic

and is on display in the

Kunsthistorisches Museum

in

Vienna

.
The High Life
Heather West provides a rainy-day view from the Peak 2 Peak gondola, which spans 2.7 miles between Whistler Mountain and Blackcomb Peak in British Columbia. At its highest point, the Peak 2 Peak is suspended 1,427 feet above the valley floor, earning it a Guinness World Record in 2015 for being the world's highest gondola lift.
There was an Old Person of Chili,
Whose conduct was painful and silly,
He sate on the stairs,
Eating apples and pears,
That imprudent Old Person of Chili.
knit
thanks, sheri
knit
knit
knit, chart
knit
There was a Young Person of Smyrna,
Whose Grandmother threatened to burn her;
But she seized on the cat,
And said, 'Granny, burn that!
You incongruous Old Woman of Smyrna!'
crochet
crochet
crochet
crochet
crochet
There was a Young Lady whose bonnet,
Came untied when the birds sate upon it;
But she said: 'I don't care!
All the birds in the air
Are welcome to sit on my bonnet!'
RECIPE
There was an Old Man on a hill,
Who seldom, if ever, stood still;
He ran up and down,
In his Grandmother's gown,
Which adorned that Old Man on a hill.
CROCKPOT RECIPE
There was an Old Man with a nose,
Who said, 'If you choose to suppose,
That my nose is too long,
You are certainly wrong!'
That remarkable Man with a nose.
SWEETS
...
crockpot
CARAMEL FLAN
There was a Young Lady of Ryde,
Whose shoe-strings were seldom untied.
She purchased some clogs,
And some small spotted dogs,
And frequently walked about Ryde.
CRAFTS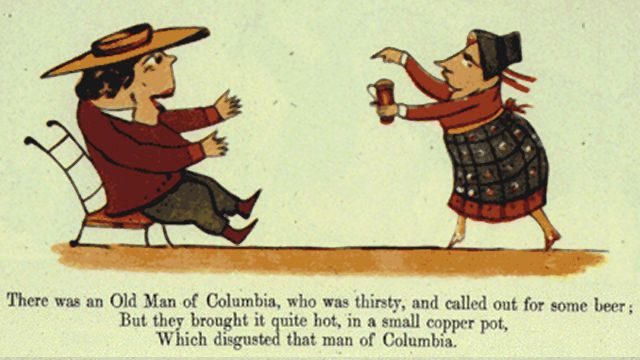 CHILDREN'S CORNER
...
plastic canvas crafts
PUZZLE
There was an Old Man with a beard,
Who said, 'It is just as I feared!
Two Owls and a Hen,
Four Larks and a Wren,
Have all built their nests in my beard!'
QUOTE
CLEVER
Citrus Peel Starter Pot!
This is certainly one of the most awesome gardening hacks you will ever come across! As you may already know, every gardener should have several starter pots where he can plant his seedlings and watch them grow – not only is the starter pot super useful for helping new plants and flowers get the root system they will so much need later on, but they can also serve as a temporary home for plants during winter, especially for those that are highly sensitive to cold. With that in mind, all you need for this awesome citrus peel starter pot is a large lemon that will be carved out – you basically need to turn the lemon into a small pot for your plants, and then allow the lemon peel to create the perfectly acidic environment for the seedling to thrive.
EYE OPENER

7 Vegetables You Should Never Pay For
For many veggies, you can use parts of the food to regrow a fresh batch. Essentially, these are items you may only need to buy once. From then on, you'll be able to keep regrowing them on your own. Even those who live in smaller homes or apartments can grow some of these veggies—you don't need a huge garden to make it work.
Follow these steps to get cheap, healthy produce for free. Since you'll be regrowing from vegetables that you originally purchased, you may want to choose organic options at the store. That way, you can be confident that the veggies you grow from the scraps are also free of pesticides and other chemicals that are sometimes found in commercial crops.
1. Potatoes
You'll need deep, sturdy pots or a garden in order to regrow this vegetable. Leave a potato out until it grows numerous small sprouts, or "eyes." Cube it into two-inch pieces (each piece should have at least a sprout or two) and leave them out for a couple of days. Plant them around four inches below soil level with the sprouts facing up. As the roots appear, add more soil on.
2. Onions
You'll never have to buy onions again once you get your own crop going. Just cut off the root end of the onion—leave about ½ inch connected to the root for the best results. Plant it in a sunny spot with a layer of soil covering it. Keep the soil moist and make sure the environment is warm (if you plant them outdoors, they need to come inside for cooler months). Just keep replanting the root ends for a continuous onion supply.
3. Garlic
It only takes a single clove to get started on growing your own garlic. Plant the clove root-end down in a warm, sunny spot. You'll get new shoots coming out of the top in just a few days. Snip off these sprouts and use them in various dishes, like salads or pastas. They have a delicious flavor that's slightly milder than garlic. The garlic will continue to grow and eventually produce a new bulb. Use a clove from that bulb to repeat the process.
4. Ginger Root
Take a piece of the knobby part of your ginger root and plant it with the smallest buds facing up. Place it in a warm environment with indirect or filtered sunlight. New shoots and roots will begin growing. Wait until it's ready to harvest, then pull out the entire plant and repeat the process with a new piece of ginger root.
5. Carrots
While you can't regrow the actual carrot, you can use scraps to regrow the leafy greens on top, which make an excellent addition to many meals, including salads and sandwiches. Just chop off the top of a whole carrot and place them in a dish with a little water. Set the dish on a windowsill. The greens will slowly grow back out of the top.
6.
7. Lemongrass
As the name implies, lemongrass can be grown with the same methods as regular grass. When you purchase fresh lemongrass, snip off everything but the root. Place that root in a glass jar with a bit of water. Place the glass in a sunny spot indoors. In about a week, you'll see some growth from your roots. That means it's time to transfer the root to some soil in a pot. Place the pot outside in a sunny spot. When the grass is about 10 or 12 inches high, snip off what you need and leave the roots in place. They'll continue to regrow to provide a continuous supply of lemongrass.
Making your own vegetables doesn't have to be time-consuming or complicated. Make it something you can do with your kids on a slow weekend. Even if you only grow just a few of these veggies at home, you'll save money every time you go to the grocery store and enjoy fresh, healthy vegetables for free.