DIANE'S CORNER ... Celebrate Cartoonists Day
Cartoonists Day
celebrates the anniversary of the publishing of the first ever colour cartoon,
The Yellow Kid
in 1895. Now cartoons are a core component of many newspapers, publications and printed media, and have had (and continue to have) a huge impact on our culture.
Word of the Day
Definition:
(noun) An odd, whimsical, or stubborn notion.
Synonyms:
oddity, queerness, quirk
Usage:
He is perhaps the sanest man and has the fewest crotchets of any I chance to know.
Idiom of the Day
—
To make discoveries, insights, or progress due to the discoveries or previous work of great minds that have come before.
History
| Grand Opening of New York City's Carnegie Hall (1891) | |
| --- | --- |

Carnegie Hall has long been the most famous concert hall in the US. Admired for its beauty and superb acoustics, it was designed in a Neo-Italian Renaissance style by architect William Burnet Tuthill and was endowed by industrialist Andrew Carnegie at the insistence of conductor Walter Damrosch. Pyotr Tchaikovsky was the guest of honor at its opening. The venue was slated for demolition in the 1950s but was saved by a public outcry.
Kodomo-no-Hi is a national holiday in Japan that was known as Boys' Day from the 9th century, but became a day for both boys and girls in 1948. Today, the day is observed largely with family picnics. Households with sons erect tall bamboo poles outside the home and attach streamers in the shape of carp for each son. The carp supposedly represents the strength, courage, and determination shown in its upstream journeys. The festivities are part of Golden Week, which also includesGreenery Day and Japan Constitution Memorial Day.
| This Newly-Found "Manx Comet" Is Missing Its Tail. Why? | |
| --- | --- |

Is that an asteroid-like comet? A comet-like asteroid? A space rock with a bit of a split personality, born near Earth, has found its way back home, according to a new study published on Friday in the journal Science Advances.
READ MORE:
1809 - Mary Kies was awarded the first patent to go to a woman. It was for technique for weaving straw with silk and thread.
1904 - The third perfect game of the
major league
s was thrown by Cy Young (Boston Red Sox) against the Philadelphia Athletics. It was the first perfect game under modern rules.
1917 - Eugene Jacques Bullard becomes the first African-American aviator when he earned his flying certificate with the French Air Service.
1926 - Sinclair Lewis refused a 1925 Pulitzer for "Arrowsmith."
1936 - Edward Ravenscroft received a patent for the screw-on bottle cap with a pour lip.
1955 - "Damn Yankees" opened on Broadway.
It ran for 1,019 performances.
1961 - Alan Shepard became the first American in space when he made a 15 minute suborbital flight.
DAILY SQU-EEK
If You Were Born Today, May 5

Determined and often stubborn, you have ambition and can work hard for what you want. You are multi-talented and somewhat restless. While you value stability, you crave stimulation and create new challenges for yourself to reach, which keeps your life in a state of flux. You are a good conversationalist, quite amorous, and especially attractive and magnetic. Famous people born today: Karl Marx, Tammy Wynette, Tyrone Power, Chris Brown, James Beard.
Wild Beauty in Big Sur
The exoticism of Big Sur, California, is on vivid display in this colorful photo submitted by Israel De Alba. It's little wonder that many American artists—writers Henry Miller and Jack Kerouac, and photographer Ansel Adams included—were inspired here.
knit
, MOTHER'S DAY
knit
knit
knit
knit
crochet
, MOTHER'S DAY
crochet
crochet
crochet
crochet
don martin, mad magazine
RECIPE
CROCKPOT RECIPE
SWEETS
, CROCKPOT
CRAFTS
CHILDREN'S CORNER
... Cinco de Mayo
PUZZLE
QUOTE
CLEVER
EYE OPENER
Spinning Yarn In the Grave
rovingcrafters
Its usually only the whorl that survives the centuries/millennia in the grave. The wooden shaft is almost always, but not quite always, long gone by the time the grave is uncovered. So what we today have as evidence of ancient spinning usually looks like this:
A Neolithic Spindle whorl found in Worcestershire County, England
Roman Era spindle whorl made from lead
Fortunately for us there have been lots of these spindle whorls recovered in graves all over the world so not all were lost through ignorance and avarice. And by the mid 20th century, archaeologists finally started taking an interest in ancient textiles, and women, and domestic crafts, and all sorts of other stuff from our past that didn't involve swords and gold.
A Bronze Age Spindle Whorl from Tipperary, Ireland
In Neolithic times, the spindle whorls are made stone. At least those that have survived are. By the bronze age we begin to see a mix of stone and baked clay whorls. In Prehistoric textiles, Elizabeth Barber explains that in the excavation of the City of Troy "the sequence begins in the 7th millennium with a few flat, round perforated stones" and in the Early Bronze Age there is "an explosion of baked clay whorls". One excavator records that 8000 to 10,000 whorls were found in Troy II, which is believed to be the Troy that Homer spoke of in his epic tale.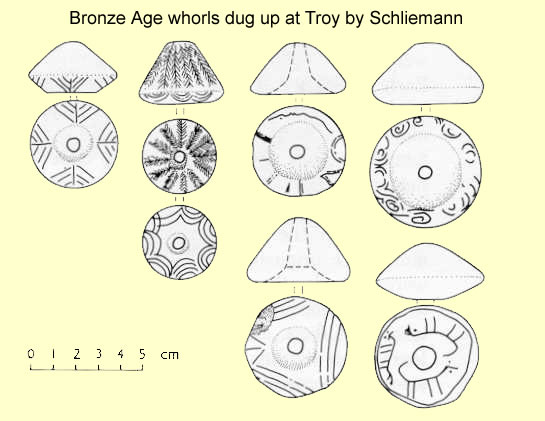 (image from Colchester Treasure Hunting club)
Yep, thousands upon thousands of spindle whorls in Troy, and more, thousands more, have been found across Europe, Asia and Africa. And nearly all of them were found in the graves of females. Young girls who died before child-bearing age went to the afterlife with spindles. Mothers, grandmothers, and ancient old crones that probably enjoyed terrorizing all the youngsters in their final days, they all went as spinners into the grave.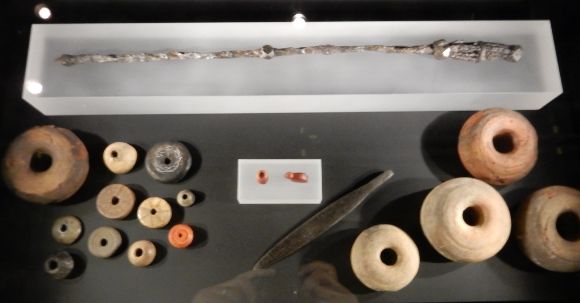 A collection of female Viking grave goods: spindle whorls on the right, loom weights on the left, weaving sword in the center
Which makes me wonder if I'm going to need my spinning wheel when I'm dead. I wonder if there is a mortuary anywhere in America that would bury it with me. I'm also wondering what fiber from my fiber stash I should take into my grave when I go. Maybe I should take it all. Life is short but the afterlife is really, really long isn't it? Yeah, I think I'd better take all of it just to be safe.