DIANE'S CORNER ... Celebrate Weed Appreciation Day
Weeds are flowers too, once you get to know them.
– A. A. Milne
History of Weed Appreciation Day
Word of the Day
Definition:

(noun) An indifference to pleasure or pain.

Synonyms:

stolidness

Usage:

With the stoicism of the brutes who had raised him he endured his suffering quietly.
Idiom of the Day
—

To mind or take charge of a location during the time in which it is unattended by another.
History
Vikings Capture Paris (845 CE)
Ragnar Lodbrok was a Norse hero of the Viking Age whose life—which was spent largely invading one country after another—has been mixed with myth in many legendary accounts. One of his favorite tactics was to attack Christian cities on holy days, as he did in 845, when he arrived in Paris on Holy Saturday with 120 ships. By some accounts, he accepted a tribute of 7,000 pounds of silver from French King Charles the Bald in exchange for sparing the city.
Henry Schoolcraft (1793)
Schoolcraft was a geologist, geographer, and ethnologist noted for his studies of Native American cultures as well as for his discovery of the source of the Mississippi River in 1832. His extensive relations with Native Americans—including his marriage to an Ojibwa woman—led to his appointment as an Indian agent, and he negotiated a treaty with the Ojibwa in 1836 that ceded much of their land to the US.
Spy Wednesday (Holy Wednesday)
The Wednesday before Easter Sunday is the day on which the disciple
Judas Iscariot
made the deal to betray Jesus. In order to arrest Jesus without exciting the populace, Judas led the Jewish priests to the
Garden of Gethsemane
, near Jerusalem, where Jesus had gone at night to pray with the other disciples after the
Last Supper
. Judas identified Jesus by kissing him and addressing him as "Master." For this he was paid 30 pieces of silver, the price of a slave in the Old Testament.
Short Bursts Of Exercise May Be As Beneficial As Regular Workouts In Extending Life
One of my college classmates once decided that to focus on his studies he didn't have time to exercise. So he would sprint everywhere he went at full speed. To the bathroom. To dinner. To class. To the library. To dates (which wasn't often). Would such ...
READ MORE:
Short Bursts Of Exercise May Be As Beneficial As Regular Workouts In Extending Life
1797 - Nathaniel Briggs patented a washing machine.
1885 - The Salvation Army was officially organized in the
U.S.
1908 - Automobile owners lobbied the
U.S.
Congress, supporting a bill that called for vehicle licensing and federal registration.
1910 - The first seaplane took off from water at Martinique, France. The pilot was Henri Fabre.
1917 - During World War I the Women's Army Auxiliary Corps (WAAC) was founded.
1947 - The American Helicopter Society revealed a flying device that could be strapped to a person's body.
1963 - Sonny Werblin announced that the New York Titans of the American Football League was changing its name to the New York Jets. (
NFL
)
1967 - Raymond Burr starred in a TV movie titled "Ironside." The movie was later turned into a television series.
1974 - A streaker ran onto the set of "The Tonight Show starring Johnny Carson."
1979 - A major accident occurred at Pennsylvania's Three Mile Island nuclear power plant. A nuclear power reactor overheated and suffered a partial meltdown.
1990 - Jesse Owens received the Congressional Gold Medal from
U.S. President George H.W. Bush
.
Self-portrait by Rembrandt, 1665.
2002 - The exhibit "The Italians: Three Centuries of Italian Art" opened at the National Gallery of Australia.
DAILY SQU-EEK
READERS INFO
1.
2.
DC National Cherry Blossom Festival 2018
Mar 20 - Apr 15, 2018 | Washington, DC
Over 70,000 people flock to Washington, D.C., every year to view the cherry blossoms that bloom throughout the city in the springtime. The National Cherry Blossom Festival celebrates this yearly occurrence in commemoration of the gift of Japanese cherry trees to Washington, D.C., by Tokyo City Mayor Yukio Ozaki in 1912. Presented as a symbol of the growing relationship between the two countries, this gift eventually resulted in 3,750 trees being planted around D.C. In addition to the beautiful pink blossoms, the festival features attractions such as colorful balloons, beautifully decorated floats, a parade and marching bands from different states around the country. The opening ceremony takes place in the National Building Museum and is immediately followed by an abundance of cultural events for guests to enjoy including a sushi and sake celebration, various art exhibits, fashion shows and live performances.
further information:
Homepage - National Cherry Blossom Festival
3.
Cuban Sandwich Festival 2018
Mar 30 - Apr 1, 2018 | Tampa, FL
Ybor City: HCC
|
1320 E Palm Ave
Every food deserves its own day. The Cuban-style sandwich, or simply Cubano, is a ham and cheese sub that has won over the hearts of millions of Americans. Each year, the cities of Ybor City and Tampa put on a fabulous Cuban Sandwich Festival in its honor. The highlight of the festival is the Cuban Sandwich Making Contest, where several local restaurants and epicureans compete to make the tastiest sandwiches, which are judged by a group of celebrity chefs and of course, festivalgoers. It also hosts a variety of live music and dance performances and art exhibitions throughout the two-day event.
further information:
7TH ANNUAL INTL CUBAN SANDWICH ART & FOOD FESTIVAL: SAT, MARCH 31ST & SUN, APRIL 1ST, 2018
4.
Lantern Light Festival 2018
Mar 29 - Apr 1, 2018 | Vallejo, CA
Solano County Fairgrounds
|
900 Fairgrounds Dr
further information:
San Francisco (Bay Area) – Lantern Light Festival – A Night of Massive Chinese Lanterns
Picture of the day
Virgin of the Rocks
is a title given to two paintings by
Leonardo da Vinci
, which depict the
Madonna
and
Christ Child
with the infant
John the Baptist
and an angel in a rocky setting. The version generally considered the
prime version
hangs in the
Louvre
in Paris; the other, shown here, is held by the
National Gallery
in London. Although the paintings are similar in many ways, they differ in the gaze and right hand of the angel. as well as the colors, the lighting, the flora, and the way
sfumato
is used.
SPRING EQUINOX IN CHICAGO
knit, Easter
knit
thanks, Denna
knit
knit
knit
Aslaug Scarf
crochet
thanks, Helen
crochet
thanks, Marge
crochet
crochet
thanks, Shelley
CROCKPOT RECIPE
thanks, Ella
SWEETS
1 cup walnuts nuts

6 tablespoons raw cacao powder

2 tablespoons organic pure maple syrup

1/2 cup organic raw cocoa butter, tempered

2 1/2 cups Medjool dates, pitted

4 tablespoons raw almond butter

1/2 cup dried organic cranberries

1/2 cups dried organic strawberries
In a high-quality food processor, add your nuts, and dried fruit. Blitz the ingredients together until well chopped but not minced. Remove from food processor. Set aside.

Add the dates, tempered cocoa butter, cocoa powder, almond butter, and maple syrup to your food processor.

Blend until a smooth dough forms and the mixture no longer sticks to he sides of your device.If you find that the mixture is too dry, you can add a date or two more. If you find the mixture too sticky, blitz up a couple more nuts and add it to the fruit-nut mixture, until you are able to touch the dough without it sticking to your fingers.

Add the dough to your fruit-nut mixture. Fold together evenly.

Spoon the dough out onto a piece of parchment paper or pan and press it into a large square about 1/2 an inch thick completely around.

Place your pan of brownies in the refrigerator for 1 hour or until firm and set.

Cut the brownie into 16-25 pieces. Remember, these are rich and a little goes a long way!

These brownies can be stored in an airtight container at room temperature for 2 weeks, and last about a month in the fridge, and up to a year frozen. If frozen, thaw for one hour before eating.
ADULT COLORING
CRAFTS
, Cross Stitch
thanks, Jeri
CHILDREN'S CORNER
... art
PUZZLE
correct picture, wrong label
Butterfly Fish Purple Jigsaw Puzzle
WORD SEARCH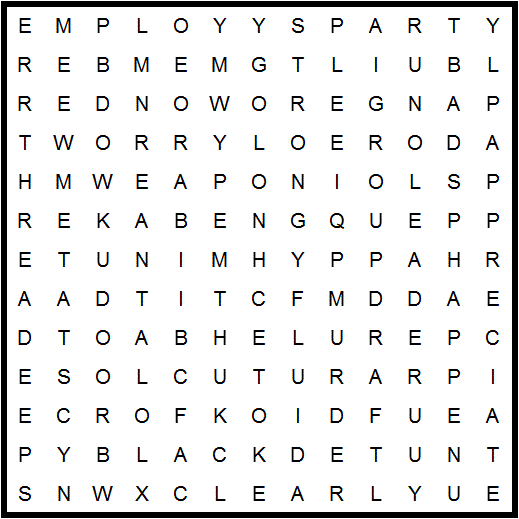 adore
anger
aped
appreciate

bake
black
brood
built
clearly
close
doubt
draft
duet

employ

fluid
force

group
happen
happy
heard

leader
loin
lure

member
minute
money
murder

party

right

speed
state
strong
technology
think
thread

wait
weapon
wonder
wore
worry
SUDOKU
... very hard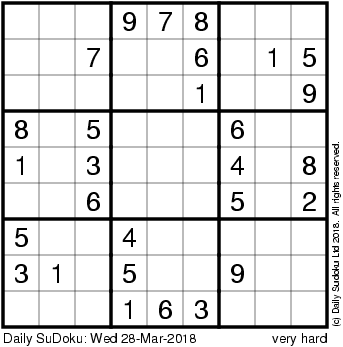 solution: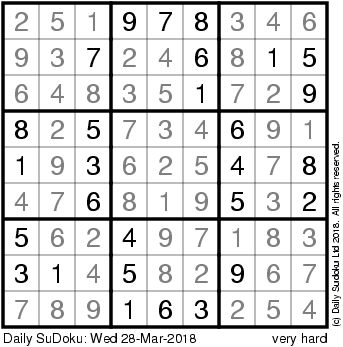 QUOTE
thanks, Sheri
CLEVER
EYE OPENER
thanks, Agnes