DIANE'S CORNER ... Celebrate Simplicity Day
Word of the Day
Definition:

(adjective) Planning prudently for the future.

Synonyms:
foresighted, long, longsighted, prospicient
Usage:

The presidential candidate spoke about his farsighted policies that would stabilize the economy for years to come.
Idiom of the Day
—

It does no good to get upset over a bad decision or unfortunate event that has already come to pass and cannot be changed.
History
Oscar Hammerstein II (1895)
The grandson of an opera impresario of the same name, Hammerstein studied law before beginning the theater career that made him one of the foremost songwriters in the US. In the early 1940s, he began a prolific and successful collaboration with Richard Rodgers that resulted in plays like
The King and I
,
The Sound of Music
, and the Pulitzer Prize winners
Oklahoma!
and
South Pacific
.
Tomatoes Can Turn Plant-Eaters into Cannibals, Study Shows
Plants are often seen as taking a passive role in their environments, just hanging out and soaking up the sunlight. But that impression is wrong—plants have many sophisticated ways of influencing their environment...
READ MORE:
Tomato plants can turn caterpillars into cannibals
1862 - The U.S. Congress authorized the Medal of Honor.
1870 - The first rotary can opener with a cutting wheel was patented by William W. Lyman.
1912 - The first foreign-made film to premiere in America, "Queen Elizabeth", was shown.
1954 - U.S. President Dwight D. Eisenhower proposed a highway modernization program, with costs to be shared by federal and state governments.
1957 - The U.S. surgeon general, Leroy E. Burney, reported that there was a direct link between smoking and lung cancer.
1960 - Manufacturing began for the
Etch A Sketch®
.
1982 - "E.T.: The Extra-Terrestrial" broke all box-office records by surpassing the $100-million mark of ticket sales in the first 31 days of its opening.
1984 - Democratic presidential candidate Walter F. Mondale named U.S. Rep. Geraldine A. Ferraro of New York to be his running mate. Ferraro was the first woman to run for vice president on a major party ticket.
DAILY SQU-EEK
If You Were Born Today,
July 12

READERS INFO
1.
Outfest Los Angeles LGBT Film Festival 2017
Jul 6-16, 2017 | Los Angeles, CA
Outfest Los Angeles showcases films from all over the world spotlighting the LGBT experience while celebrating the power of storytelling. Works shared at the festival are thematically diverse and range from feature-length films to shorts to documentaries and foreign flicks. There are also sneak previews, drag showcases and other special events. Screenings take place at multiple venues across the city, and there pre and post-screening receptions as well as official after parties.
further information:
Outfest Los Angeles
2.
Knysna Oyster Festival 2017
Jul 7-16, 2017 | Knysna, South Africa
near the Oyster Festival Grounds
|
24B Saffron Ln
The Knysna Oyster Festival is a popular sport and lifestyle festival in South Africa with over a hundred events taking place over ten days. This family-friendly event has a whole host of athletic events including marathons, a one-mile swimming race, canoe races and golf. There are also cooking competitions, whisky tastings, live music, gourmet food and of course, oysters. The Wine Festival & Night Market showcases some of South Africa's premier winemakers, and tastings are available as well as delectable food and wine pairings.
further information:
Knysna Oyster Festival
3.
Bartholomew County 4-H Fair 2017
Jul 7-15, 2017 | Columbus, IN
Bartholomew County Fairgrounds
|
750 West 200 S
Held in Columbus, Indiana, the Bartholomew County 4-H Fair is a summer event, which emphasizes traditional 4-H ideals by including events focused on the agriculture, livestock and food industries. The nine-day fair showcases various animal shows, a pageant to crown the 4-H Fair Queen, food demonstrations and a tractor contest.
further information:
Bartholomew County 4H Fair
Pictures of the day
The constellation
Virgo
('the virgin') as depicted in
Urania's Mirror
, a set of constellation cards published in London c. 1825. Virgo is one of the twelve constellations of the
zodiac
, and the second largest of the
88 modern constellations
. Aside from its brightest star,
Spica
, the constellation also contains the quasar
3C 273
(the first quasar discovered) and several
galaxy clusters
.
knit
knit
knit
knit
knit
crochet
thanks, Sharon
crochet
crochet
crochet
crochet
RECIPE
thanks, Shelley
CROCKPOT RECIPE
SWEETS
thanks, Anita
ADULT COLORING
CRAFTS
thanks, Helen
CHILDREN'S CORNER
... paper dolls (ponies)
PUZZLE
WORD SEARCH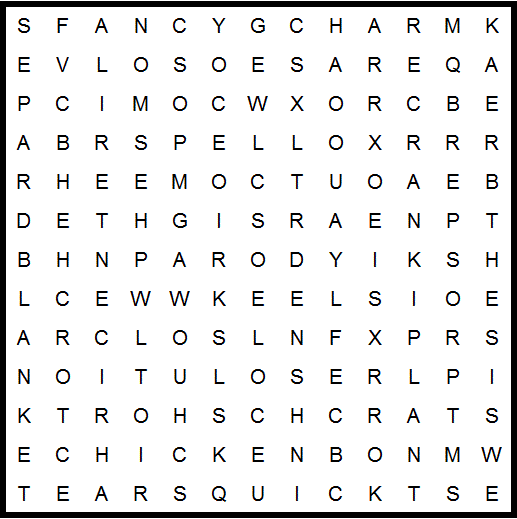 abroad

bees
blanket
break

center
charm
chicken
clown
comic
crank
dens
drapes

erase
exist

fancy
frame

goose
house

nearsighted

online
outcome

parody
plant
prosper
quick

resolution
riot

short
sleek
solve
spell
starch
store
tears
thesis
torch

year
yell
QUOTE
CLEVER
Quiz: What's Your Ideal Spontaneous Travel Destination?
Tunis
EYE OPENER
Unusual uses for baby oil
Weird and wacky things you never knew it could do…
Remove that build-up of ear wax by tipping your head to one side and dripping a few drops of baby oil into your ear canal. Repeat on the other side and place some cotton wool into your ears to stop any dripping.
Leave for an hour or so and the wax should have softened up allowing you to gently clean your ear out with a tissue. For really stubborn wax gently heat the oil up before use.
Forget about expensive cleaning kits, you can clean your chrome-plated carbon steel golf club heads with just a few drops of oil on a cloth and a good polish.
Who needs WD40 when a good dollop of baby oil on a cloth will do the same thing! Silence those squeaky door and bed hinges today.
Before you head outside on a cold day, rub a generous amount of baby oil into your skin. The oil helps to close your pores and insulate your body so you'll feel that bit more toasty under those layers.
Make your own mosquito repellent that's safe to use on the little ones (avoid face and hands). In an empty spray bottle, mix baby oil with a couple of drops of Dettol. It works a treat!
Got a tough adhesive plaster on your skin? Rub some baby oil on and around it and it will gently lift off without any pain. It's also fantastic for removing any annoying gummy residue.
Apply a small amount of baby oil around the ring and twist it gently until it comes off. FYI: this little trick works on most body parts that are stuck.
Add a few drops of baby oil to a dry cloth and gently buff your leather handbags and shoes. It'll create a nice shine and inject some moisture.
If you have a key that's difficult to get into the keyhole, just wipe a bit of baby oil onto the key and turn it in back and forth a few times. It'll be nice and smooth for years to come.
If you've got chewing gum stuck in your hair or any surface come to think of it, saturate it with baby oil and leave for a few minutes. You'll be able to wipe or comb away the gum easily.
You'll wonder how you lived without this multi-tasking wonder.
You can spend a fortune on fancy bath oils or your can just splash some baby oil into your bath for peachy soft skin. Add a few drops of your favourite essential oil in with it and you won't notice the difference – promise.
Be careful coming out of the bath, it'll be extremely slippy and you don't want to hurt yourself.
Did you know only oil and medicine can actually penetrate the layers of your skin? So it's no surprise that body oils are the buzz of the beauty world. They can be ridiculously expensive though, especially when baby oil can perform just as well.
Apply a generous amount to your body and massage in from your toes to your neck working in large circular movements towards your heart. You'll have deliciously soft and silky skin afterwards.
We've all heard the horror stories about face wipes stripping your skin of moisture so how about trying skin-loving baby oil instead? It can remove stubborn mascara, foundation and more while also loading your skin up on moisture.
Just squeeze some onto cotton wool pads and remove make up. Then give your face a good wash with cold water.
If your skin gets extremely dry during the Winter, don't splash out on new skincare products promising false miracles. Just top up your body cream with a few drops of baby oil for an added moisture boost.
Hard soles? I hear you. Get to work on hard skin with a pumice stone or foot file then give them a good scrub. Cover your feet with baby oil, pop some socks on overnight and in the morning you'll wake up to super smooth skin.
Ditch expensive body scrubs and make one yourself! Mix either Epsom salts, salt flakes or brown sugar with a few teaspoons of baby oil and drops of your favorite essential oils et voilà – a beautiful scrub that will leave your skin baby soft.
Keep nail polish from going anywhere but your nails. Apply a little around the edge of your nail using a cotton wool bud so when your nails are dry you can wipe away the oil and any excess nail polish with complete ease.
Can't find your lip balm? Apply some baby oil to your lips for instant relief and a nice shiny finish.
Uses for baby oil around the home
…cheap and cheerful yet full of amazing cleaning properties.
Add a tiny amount of baby oil to the knot and rub it between your thumb and forefinger. The oil should grease up the chain and untangle the knot in no time.
Got a stuck zip that simply won't budge? Apply a small amount of baby oil to a cloth and give it a rub on both sides of the zip and it'll get moving in no time.
Get rid of dust on wooden furniture by applying a small amount of oil to a cleaning rag and wiping in circular motions. Go over with a second cloth for a dust-free, sparkling surface.
If your shredder is finding it tough to get through all that paper, the motor probably needs an oiling. Saturate a few sheets of paper with oil and leave to dry for a few minutes. Pop them through the shredder and it will be smooth shredding from here on in.
Make those grubby chrome appliances shiny and fingerprint free by applying some baby oil to a damp cloth and giving it a thorough clean. Finish with a clean cloth and they'll soon look mirror-like.
Wash your hands with warm water and soap then saturate a cotton wool pad or face towel with baby oil. Rub the cotton wool pad or towel over the area of skin where the paint is and reapply until it's all been removed.
To avoid soap scum in the shower, apply a very light layer to the shower walls. This will prevent any scum build-up and cut down your cleaning time!
You'll need some kitchen roll, baby wash, shampoo or soap shavings, and some baby oil.