DIANE'S CORNER ...
Celebrate Cosmopolitan Cocktail Day
Cosmopolitans are probably one of the most famous cocktails out there, where people can go out at night and enjoy and fun night dancing, laughing, and singing in clubs. If you love cosmos, then you'll love Cosmopolitan Day. This drink has been making the rounds for a while, and it highlights the 90's as one of the best drinks of its time. Let's check out Cosmopolitan Day!
thanks for the 'Beyond the Bulbs' photos (Part 2), Patty
Word of the Day
Definition:

(noun) Someone who educates young people.

Synonyms:

educator

Usage:

My grandfather was a born pedagogue; it gave him great pleasure to impart information.



Idiom of the Day
—

An execution by hanging or lynching carried out by a mob of people outside the process of the law.
Suicidal Passenger Brings Down Pacific Air Lines Flight 773 (1964)
In early May, Francisco Gonzales—a disturbed former member of the Philippine Olympic sailing team—bought a gun and life insurance and began talking about killing himself. He followed through on his threat during a flight to San Francisco, but he did more than just end his own life; he took the lives of all 44 people on board by shooting both the pilot and co-pilot, causing the plane to crash. Cockpit security regulations changed after this tragedy.
Rabindranath Tagore (1861)
Tagore was a Bengali poet, philosopher, artist, writer, and composer whose works reshaped Bengali literature and music in the late 19th and early 20th centuries. His writings, which often exhibit rhythmic lyricism, colloquial language, and philosophical contemplation, received worldwide acclaim. He became Asia's first Nobel laureate when he received the Nobel Prize for Literature in 1913. Knighted by the British government in 1915, Tagore resigned the honor four years later.
Birthday of Tagore
This date commemorates the birth of Rabindranath Tagore (1861-1941), the great poet, philosopher, social reformer, dramatist, and musician of Calcutta, India. In 1913, he was the first non-European to win the Nobel Prize for literature. Tagore's birthday is celebrated with a festival of his poetry, plays, music, and dance dramas. There are discussions at schools and universities of his ideas on education and philosophy, and screenings of films based on Tagore's short stories and novels made by filmmaker and Calcutta native, Satyajit Ray.
Meet InSight: The Mission To Measure Marsquakes and Unlock Red Planet
Even while tucked away in a testing lab in Colorado, the instrument picks up the sloshing of the oceans thousands of miles away. That's the kind of sensitive equipment that's about to go to Mars, where NASA's next mission will dig into the mysterious history ...
READ MORE: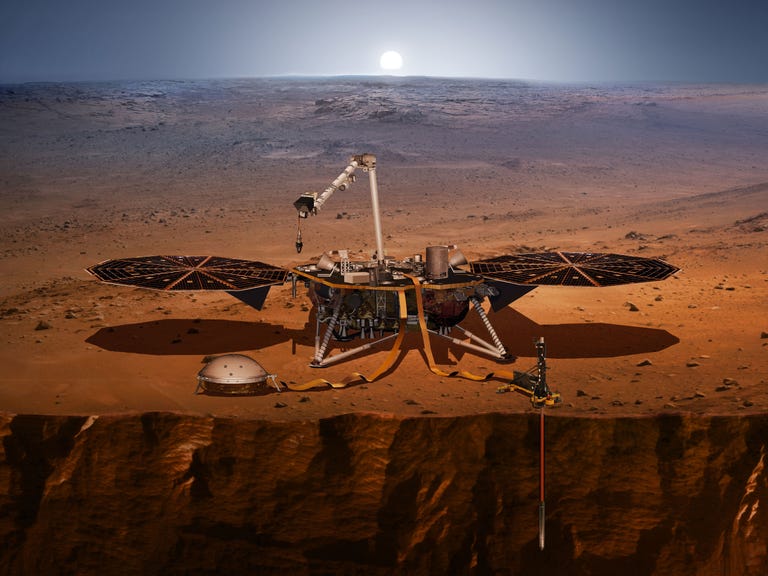 1663 - The first Theatre Royal was opened in London.
1789 - The first U.S. Presidential Inaugural Ball was held in New York City.
1824 - Beethoven's Ninth Symphony was performed for the first time.
1847 - The AMA (American Medical Association) was organized in Philadelphia,
PA
.
1940 - Winston Churchill became British Prime Minister.

1941 - Glenn Miller and His Orchestra recorded "Chattanooga Choo Choo."


1945 - Germany signed unconditional surrender ending World War II. It would take effect the next day.
1968 - Reginald Dwight decided to change his name to Elton John.
1977 - Rookie Janet Guthrie set the fastest time on opening day of practice for the Indianapolis 500. Her time was 185.607.
1982 - Diana Ross received a star on the Hollywood Walk of Fame.
1994 - The Edvard Munch painting "The Scream" was recovered after being stolen 3 months earlier from an Oslo Museum. This version of "The Scream", one of four different versions, was painted on paper.
1998 - Leeza Gibbons received a star on the Hollywood Walk of Fame.
1999 - Jerry Moss received a star on the Hollywood Walk of Fame.
DAILY SQU-EEK
1748
Olympe de Gouges
[Marie Gouze], French
playwright
and
revolutionary
(Declaration of the Rights of Woman and of the Female Citizen), born in Montauban, France (d. 1793)
1812
Robert Browning
, English
poet
(Pied Piper), born in London, England (d. 1889)
1840
Pyotr Ilyich Tchaikovsky
, Russian
composer
of the late-Romantic period (1812 Overture, Swan Lake), born in Votkinsk, Russia (d. 1893)
1901
Gary Cooper
, American
actor
(Sgt York, High Noon), born in Helena, Montana (d. 1961)
1909
Edwin Land
, American
inventor
of instant photography and co-founder of the Polaroid Corporation, born in Bridgeport, Connecticut (d. 1991)
1919
Eva Perón
[Evita], Argentine First Lady (1946-52) actress, suffragette, unionist and humanitarian who was inspiration for A.L. Webber's musical "Evita", born in Los Toldos, Argentina (d. 1952)
1933
Johnny Unitas
,
NFL quarterback
(Balt Colts, San Diego); one of the greats, born in Pittsburgh, Pennsylvania
1950
Tim Russert
, American television
journalist
and host of NBC's Meet the Press, born in Buffalo, New York (d. 2008)
1.
Las Vegas San Gennaro Feast 2018
May 9-13, 2018 | Las Vegas, NV
The San Gennaro Feast in Las Vegas, Nevada, is a smorgasbord of authentic Italian cuisine and live entertainment. The five-day event features top chefs and restaurants from the region serving up delectable eats and boasts carnival attractions, musical performances from locally and nationally touring acts, arts and crafts, pony rides and a petting zoo.


further information:
San Gennaro Feast | Italian Food Festival, Las Vegas
2.
Brown Bag in Bienville Square 2018
May 9, 2018 | Mobile, AL
Bienville Square
|
150 Dauphin St
In Bienville Square, lunchtime is peppered with good friends and smooth tunes. Of course, you'll want to eat and listen to music more than once. The good news is that Brown Bag happens several times a week, so your belly will be full and your ears will be pleased. Local jazz, country and pop musicians, among other favorites, will rock the stage while you're scarfing down your meal.


further information:
Welcome to City of Mobile Special Events
3.
Memphis in May International Festival 2018
May 7-13, 2018 | Memphis, TN
The Memphis in May International Festival in Memphis, Tennessee, is an all-encompassing celebration of a different country each year. The festival has multiple events taking place over the month of May. The Beale Street Music Festival is a three-day party featuring an eclectic array of contemporary and legendary artists in the realms of soul, rock and blues. Past headliners include Ed Sheeran, Aretha Franklin, Beck, Van Morrison, Cee-Lo Green and The Black Keys. The World Championship BBQ Cooking Contest features pitmasters, chefs and teams from around the world vying for cash prizes and bragging rights. International Week is a cultural celebration that spotlights a different country every year, showcasing food and entertainment from that country. The month closes with the Great American River Run Half Marathon and 5K followed by 901Fest, celebrating all things Memphis.


further information:
Memphis in May International Festival | Official Website
Pictures of the day
An ultraviolet image of the
Cygnus Loop
, a large
supernova remnant
in the constellation
Cygnus
. Different parts of the loop emit
electromagnetic radiation
in different ranges, including visible light for the arcs known collectively as the
Veil Nebula
. The complete loop is only revealed through radio, infrared, and X-ray images.
Quiet morning after raining for whole night in Xingping, Yangshuo.
knit
knit
knit
, vintage
knit
knit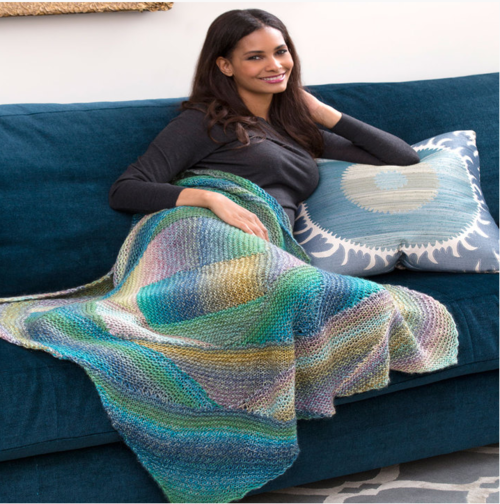 Spiral Lapghan
RECIPE
thanks, Joanne
CROCKPOT RECIPE
SWEETS
thanks, Shelley
ADULT COLORING
CRAFTS
CHILDREN'S CORNER
... art
PUZZLE
right picture, wrong label
Ferocactus Buds Jigsaw Puzzle
WORD SEARCH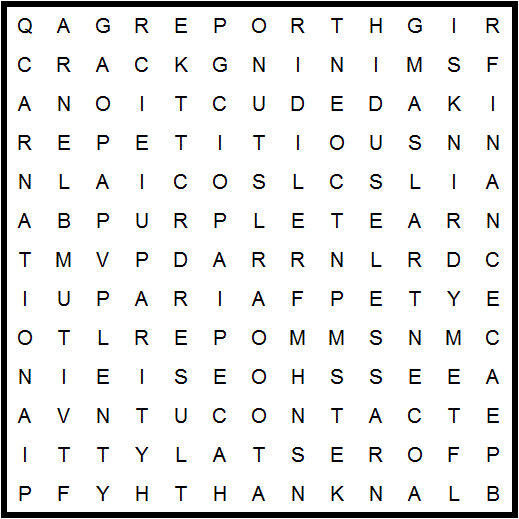 ails
audio

blank

carnation
central
complain
contact
crack
dalia
deduction
dollar
drink

fair
finance
forest
mining
mope

parity
parts
peace
piano
plenty
purple
repetitious
report
result
right

saucer
shoes
social
stun
tear
thank
tumble

useless
SUDOKU
... easy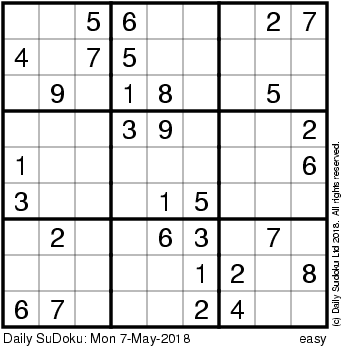 solution: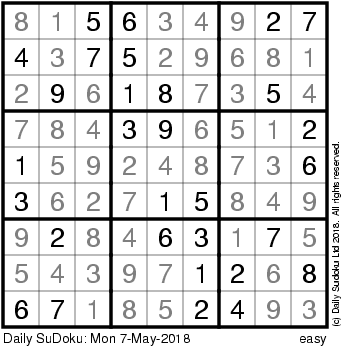 QUOTE
CLEVER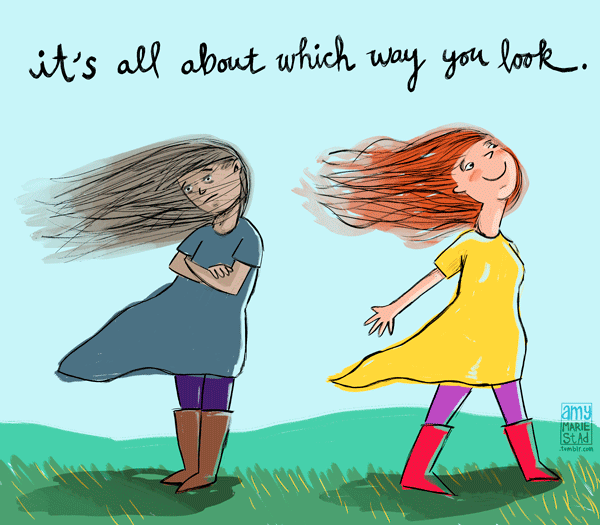 EYE OPENER