DIANE'S CORNER ... Celebrate Earth's Rotation Day
The earth rotates on its axis and one full rotation takes 24 hours to complete. We'd be very surprised if you didn't already know that, but what you may not know is that the speed of the earth's rotation can change from day to day and year to year. So a true solar day is not exactly 24 hours, but the variations are a matter of seconds. A mean solar day is based on the yearlong average, but the basic concept of a solar day itself is the length of time for the earth to complete one full rotation on its axis.
History of Earth's Rotation Day


In 1851, the French physicist Léon Foucault demonstrated how the earth rotates by suspending a lead-filled brass ball from the top of the Panthéon in Paris. This device, now known as the Foucault Pendulum, showed that the plane of the swing of the pendulum rotated relative to the Earth's own rotation. Foucault Pendulums can now be found in science museums across the globe. Isaac Newton discovered gravity but he did not actually explain the cause behind it, merely that it exists as a force. The earth's rotation is the cause for gravity and Foucault's pendulums demonstrated this. Earth's Rotation Day honors Foucault's first public demonstration and from what we could find it has historically been celebrated on the anniversary of that occasion. That being said, we're less clear on who first marked the occasion of Earth's Rotation Day or when they decided to do it. It probably didn't happen in Foucault's lifetime, but we can't be completely certain either way.
Word of the Day
Definition:

(verb) To speak or shout derisively; mock.

Synonyms:
scoff, flout, gibe, barrack
Usage:

The crowd jeered at the speaker, and she ran offstage in tears.
Idiom of the Day
—

To incarcerate someone in prison forever or indefinitely.
History
Crazy Horse's Last Stand: The Battle of Wolf Mountain (1877)
At the Battle of Little Bighorn in 1876, American Indian forces led by Crazy Horse and Sitting Bull soundly defeated US Lt. Col. George Custer in what would come to be known as "Custer's Last Stand." Six months later, Crazy Horse made a final stand of his own. At Wolf Mountain in Montana, he and his men engaged US Cavalry forces in harsh winter weather, despite being outnumbered, weak, and starving.
Carl Ransom Rogers (1902)
An influential American psychologist, Rogers is best known for having developed the technique of nondirective therapy, in which therapists refrain from offering advice or interpretation so as to allow clients to talk freely. By the 1960s, his method had been widely adopted, and Rogers became one of the best-known professionals in his field. His books include 1961's On Becoming a Person.
St. Gudula's Day
St. Gudula (or Gudule) is the patron saint of Brussels, Belgium. According to legend, Satan was so envious of her piety and influence among the people that he often tried to extinguish her lantern as she returned from midnight mass. But as she prayed for help, an angel would re-light the candle. Her relics were moved to Brussels in 978. Since 1047 they have remained in the church of St. Michael, thereafter called the St. Michael and St. Gudula Cathedral . Her feast day is observed with great solemnity in Brussels, particularly at the cathedral that bears her name.
19000-pound space station falling "uncontrolled" back to Earth
It's pretty common for old satellites and other "space junk" to come falling back down to Earth. But while hundreds of pieces of debris come down each year, scientists are nervously watching a 19,000-pound Chinese space station's course because its ...
READ MORE:
19,000-pound Chinese space station falling "uncontrolled" back to Earth
1642 - Astronomer Galileo Galilei died in Arcetri, Italy.
1790 - In the
United States
, George Washington delivered the first State of the Union address.
1838 - Alfred Vail demonstrated a telegraph code he had devised using dots and dashes as letters. The code was the predecessor to Samuel Morse's code.
1853 - A bronze statue of Andrew Jackson on a horse was unveiled in Lafayette Park in Washington,
DC
. The statue was the work of Clark Mills.
1856 - Borax (hydrated sodium borate) was discovered by Dr. John Veatch.
1886 - The Severn Railway Tunnel, Britain's longest, was opened.
1929 - William S. Paley appeared on CBS Radio for the first time to announce that CBS had become the largest regular chain of broadcasting chains in radio history.
1935 - The spectrophotometer was patented by A.C. Hardy.
1957 - Jackie Robinson announced his retirement from major league baseball in an article that appeared in "LOOK" magazine.
1958 - Bobby Fischer, at the age of 14, won the United States Chess Championship for the first time.
1962 - Leonardo da Vinci's
Mona Lisa
was exhibited in America for the first time at the National Gallery of Art in Washington,
DC
. The next day the exhibit opened to the public.
1975 - Ella Grasso became the governor of Connecticut. She was the first woman to become a governor of a state without a husband preceding her in the governor's chair.
1997 - Mister Rogers received a star on the Hollywood Walk of Fame.
2009 - In Egypt, archaeologists entered a 4,300 year old pyramid and discovered the mummy of Queen Sesheshet.
DAILY SQU-EEK
If You Were Born Today, January 8
You have a strong sense of purpose and responsibility. You easily feel guilty and are often found weighing pros and cons, as you are able to see both sides to any situation. While you are sensitive and naturally retiring, you are also very aware of your reputation and image, and you will rise to most challenges. Others might not know that you have a competitive streak, and you can be quite stubborn.

Famous people born today: Elvis Presley, David Bowie, Stephen Hawking, Soupy Sales, Sarah Polley.
thanks, Lyn
1.
Breckenridge Ullr Fest 2018
Jan 6-13, 2018 | Breckenridge, CO
Some people flinch in horror at the thought of snow, and some cities in the southern United States shut down completely when there's a quarter inch of it. Breckenridge, Colorado, loves its snow so much that it has an entire festival devoted to this glorious white powder. Skiers, snowboarders and casual snow lovers don Viking hats in honor of Ullr, the god of winter, while they play in the snow. There's an endless number of things you can do in the snow, and that Viking hat will make it that much more cool.
further information:
Breckenridge Ullr Fest | GoBreck
2.
Hwacheon Sancheoneo Ice Festival 2018
Jan 6-28, 2018 | Hwacheon, South Korea
Hwacheon Riverside
|
Hwacheon, South Korea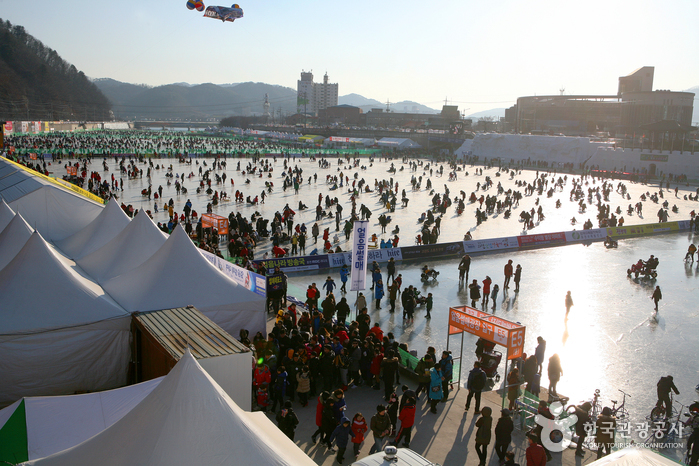 Welcome to a chilly winter getaway at the Hwacheon Sancheoneo Ice Festival, located Hwacheon county in South Korean Gangwon-do. Since 2003, this Korean cultural celebration has attracted over a million visitors to come play, engage, and learn among the ice and snow. Featuring a plethora of attractions including ice fishing, snow sledding, barehand fish-catching, ice-sculpting, Winter Villages and much more. Attendees can expect to be immersed in fabulous winter wonderland that reaches across the city limits and gets the whole family involved.
further information:
Hwacheon Sancheoneo Ice Festival (얼음나라 화천산천어축제) | Official Korea Tourism Organization
3.
Pennsylvania Farm Show 2018
Jan 6-13, 2018 | Harrisburg, PA
The Farm Show Complex & Expo Center
|
2300 N Cameron St
The Pennsylvania Farm Show is an annual exhibition featuring thousands of animals and agricultural and commercial displays spotlighting traditional farming practices. Around 500,000 guests travel from all over the country to attend the farm show every year. The festival showcases more than 7,000 animals, 2,000 agricultural exhibits, 300 competitions and 400 commercial exhibits over the course of seven days. Guests can attend culinary and wine competitions, participate in interactive livestock shows and browse the many local vendors.
further information:
PA Farm Show
Pictures of the day
Jaffa Clock Tower
is a
clock tower
on
Yefet Street
at the northern entrance of
Jaffa
, an ancient city now part of
Tel Aviv
. The tower, which was constructed by the
Ottoman Empire
between 1900 and 1903, is made of
limestone
. It incorporates two clocks, as well as a plaque commemorating the Israelis killed in the battle for the town in the
1948 Arab–Israeli War
.
Neon Salesman's Sample Case from the 1930s
Just imagine the wow factor people must have had when the person opened the case
thanks, Sheri
Snowflake Sweater
thanks, Maddy
Welted Rib Stitch
Skill:

easy
Multiple of 6 sts + 4
Note:

slip stitches purlwise.
Row 1 (RS):

*k4, sl 2 wyif; rep from * to the last 4 sts, k4.


Row 2:

k1, sl 2 wyif, k1, *k3, sl 2 wyif, k1; rep from * to the end.
crochet
thanks, Helen
Rippled - a crochet skirt in many sizes!
crochet
thanks, Sharon
crochet
crochet
crochet
Crochet Rainbow Hat
RECIPE
thanks, Shelley
CROCKPOT RECIPE
thanks, Tina
SWEETS
thanks, Heide
ADULT COLORING
thanks, Helen
thanks for the winter funnies, Patty
CHILDREN'S CORNER
... crafts
thanks, Jill
PUZZLE
Fruit Salad Jigsaw Puzzle
WORD SEARCH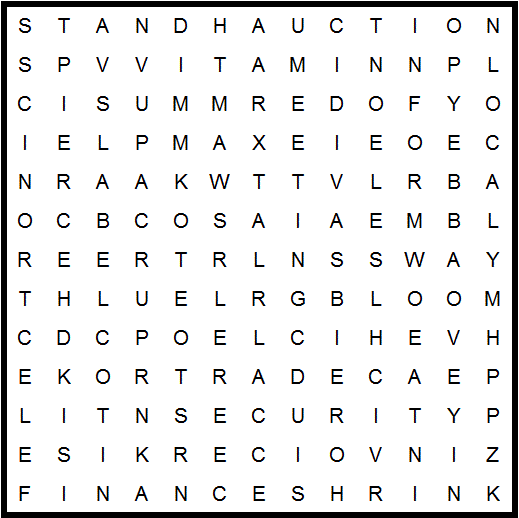 abbey
area
auction

bloom

check

derby
electronics
example

finances

however

inform
internal
invoice
label
live
local

meeting
music

operation

peace
pierce
security
shrink
sleep
stand
stroll
stuck
swam
sway
trade
tree

vehicle
vitamin

world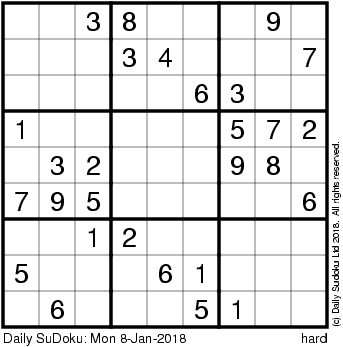 solution: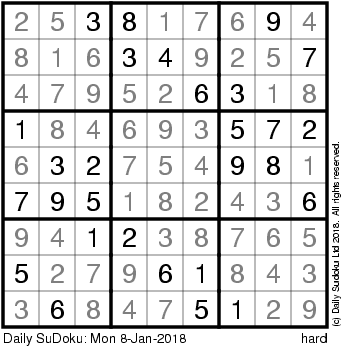 QUOTE
CLEVER
thanks, Sally
EYE OPENER
The 20 Most Expensive Photos Sold at Auction (As of 2017)
As one of the more "recent" art forms, photography's popularity in the art market has grown and grown, with the highest amount paid for a photograph sticking at $838,000 in 1999 until being bumped off the top spot 4 years later with a sale of $922,488, and then again 2 years later when the first million-dollar photograph was sold for $1,248,000.
Ever since, the auction houses of Sotheby's and Christie's have vied for the title of 'the most expensive photograph' as photography's popularity continues to grow as a smart investment.
#20. Cindy Sherman, Untitled 92 1981
Chromogenic color print. Sold at Christie's New York in November 2013: $2,045,000
#19. Man Ray, Portrait of a Tearful Woman 1936
Hand-coloured Gelatin Silver print. Sold at Christie's New York in May 2017: $2,167,500
#18. Cindy Sherman, Untitled Film Still 48
Chromogenic color print. Sold at Sotheby's New York in November 2014: $2,225,000
#17. Unknown, "Billy the Kid" (Fort Sumner, New Mexico) 1879
Tin-type. Sold at Brian Lebel's Old West Show & Auction in June 2011: $2,300,000
#16. Andreas Gursky, Paris, Montparnasse 1993
Chromogenic color print. Sold at Sotheby's London in October 2013: $2,416,475
#15. Andreas Gursky, Chicago Board of Trade 1997
Chromogenic color print. Sold at Sotheby's London in June 2013: $2,507,755
#14. Man Ray, Noire et Blanche, 1926
Silver print. Sold at Christie's Paris in November 2017: EUR 2,688,750
#13. Cindy Sherman, Untitled 153 1985
Chromogenic color print. Sold at Phillips New York in November 2010: $2,770,500
#12. Cindy Sherman, Untitled 96 1981
Chromogenic color print. Sold at Christie's New York in May 2012: $2,882,500
#11. Andreas Gursky, Los Angeles 1998
Chromogenic color print. Sold at Sotheby's London in February 2008: $2,900,000
#10. Edward Steichen, The Pond – Moonlight 1904
Gum Bichromate print over Platinum. Sold at Sotheby's New York in February 2006: $2,928,000
#9. Cindy Sherman, Untitled Film Still 48
Chromogenic color print. Sold at Christie's New York in May 2015: $2,965,000
#8. Richard Prince, Untitled (cowboy)
Ektacolour Print. Sotheby's New York May 2014: $3,077,000
#7. Andreas Gursky, Chicago Board of Trade 1997
Chromogenic color print. Sold at Sotheby's London in June 2013: $3,298,755
#6. Andreas Gursky, 99 Cent II Diptychon 2001
Chromogenic color print. Sold at Sotheby's London in February 2007: $3,346,456
#5. Jeff Wall, Dead Troops Talk 1992
Transparency in Lightbox. Sold at Christie's New York in May 2012: $3,666,500
#4. Gilbert & George, To Her Majesty 1973
Gelatin Silver print. Sold at Christie's London in June 2008: $3,765,276
#3. Cindy Sherman, Untitled 96 1981
Chromogenic color print. Sold at Christie's New York in May 2011: $3,890,500
#2. Richard Prince, Spiritual America 1981
Ektacolor print. Sold at Christie's New York in May 2014: $3,973,000
#1. Andreas Gursky, Rhein II 1999
Chromogenic color print. Sold at Christie's New York in November 2011: $4,338,500