DIANE'S CORNER ... Celebrate the Celebration of Life Day
Celebration Of Life Day

is when we take a step back and truly appreciate our children and grandchildren. Granted, some may do this on an everyday basis, but it's an opportunity to look at our young ones' lives from a different angle, think about what it is that makes them truly special, and of course, to lavish treats upon them if we so wish, be it an ice cream or a trip to Disneyland.
It can be easy to forget that our children and grandchildren are people in their own right. You've helped them to discover themselves over the years, but you can't take all the credit. Their life choices are ultimately down to them; sometimes they'll do you proud, and other times, as is the case with us all, they'll make mistakes. So be the one who's there to offer congratulations, or encouragement to pick themselves up when they fall. And above all else, as cheesy as it may sound, show that you love them.
thanks for this funny, Heide
Word of the Day
Definition:

(adjective) Arousing or provoking laughter.

Synonyms:
amusing, comic, comical, funny, laughable, mirthful
Usage:

The dramatic performance's unintentionally trite and risible dialogue drew hearty laughs from the audience.
Idiom of the Day
—

To put one's own needs, concerns, or responsibilities before those of anyone else.
History
Swiss Guard Arrives at the Vatican (1506)
Though various units of Swiss Guards have existed throughout history, the most famous unit—and the only one remaining—is responsible for the safety of the Pope. Known for their colorful uniforms, the guards must be single, Swiss, and Catholic and must have completed Swiss military training. The first 150 Swiss mercenaries were invited to the Vatican during the reign of Pope Julius II.
Pierre Gassendi (1592)
As a priest and a professor, Gassendi lectured on theology in his native southeastern France. However, as a philosopher, scientist, and astronomer, he was compelled to try to reconcile his scientific beliefs with the teachings of the church. Dissatisfied with the teachings of Aristotle, he came to espouse empiricism and atomism, the belief that tiny, indestructible particles form the basic building blocks of the entire universe.
Vasant Panchami
Vasant Panchami is a festival of spring, celebrated throughout India among Hindus and Sikhs at the end of January or in early February. People wear bright yellow clothes, the color of the mustard flower that heralds the onset of spring, and mark the day with music, dancing, and kite-flying. In Shantiniketan, West Bengal, the festival is celebrated with special lavishness in honor of Sarasvati, the Hindu goddess of learning and the arts. Her images are taken in procession to rivers to be bathed, and books and pens are placed at her shrine.
Do Lobsters Feel Pain? Here's What Science Has To Say
Switzerland is the latest country to ban the boiling of live lobsters for cooking. As a result, cooks and chefs in the country are now obliged to stun the animal before placing them in boiling water. Now the question that most people are probably asking is ...
READ MORE:
1666 - Shah Jahan, a descendant of Genghis Khan and Timur, died at the age of 74. He was the Mongul emperor of India that built the Taj Mahal as a mausoleum for his wife Mumtaz-i-Mahal.
1874 - A patent was issued to Samuel W. Francis for the spork.
1879 - James Shields began a term as a
U.S.
Senator from
Missouri
. He had previously served
Illinois
and
Minnesota
. He was the first Senator to serve three states.
1901 - Queen Victoria of England died after reigning for nearly 64 years. Edward VII, her son, succeeded her.
1930 - In New York, excavation began for the Empire State Building.
1947 - KTLA, Channel 5, in Hollywood,
CA
, began operation as the first commercial television station west of the Mississippi River.
1966 - The Beach Boys recorded "Wouldn't It Be Nice
1968 - "Rowan & Martin's Laugh-In", debuted on NBC TV.
1973 - Joe Frazier lost the first fight of his professional career to George Foreman. He had been the undefeated heavyweight world champion since February 16, 1970 when he knocked out Jimmy Ellis.
1983 - Bjorn Borg retired from tennis. He had set a record by winning 5 consecutive Wimbledon championships.
1987 - Phil Donahue became the first talk show host to tape a show from inside the Soviet Union. The shows were shown later in the year.
1997 - The
U.S.
Senate confirmed Madeleine Albright as the first female secretary of state.
2002 - Marc Chagall's work "Study for 'Over Vitebsk" was found at a postal installation in Topeka, KS. The 8x10 oil painting is valued at about $1 million. The work was stolen a year before from the Jewish Museum in New York City.
2003 - It was reported that scientists in China had found fossilized remains of a dinosaur with four feathered wings.
DAILY SQU-EEK
If You Were Born Today, January 22
You are highly intelligent, although your viewpoints are not always understood and your thinking is often far ahead of its time. Easily bored and quickly distracted, you can be impatient at times if others are not as quick or clever as you. While broad-minded overall, you can also be quite stubborn in your thinking. Work and daily routines need to change, even in small ways, in order to keep you interested and challenged. Many of you have a strong travel itch. Famous people born today: John Hurt, Graham Kerr, Francis Bacon, Diane Lane, Sam Cooke, Michael Hutchence, Linda Blair.
READERS INFO
1.
Gem & Jam 2018
Jan 25-28, 2018 | Tucson, AZ
A small music festival paired with one of the largest gem and mineral shows in the world. The thought alone will make you think they've lost their marbles, but Gem & Jam reflects the magical energy of the precious stones and crystals on display in the nearby Tucson Convention Center. The wildly colorful venue is chock-full of unforgettable music performances, mind-blowing visuals and, of course, the most breathtaking discoveries to emerge from the Earth.
further information:
Home - Gem & Jam Festival 2018 - Music Festival in Tucson, AZ
2.
Downtown Anaheim Certified Farmers' Market & Craft Fair 2018
Jan 25, 2018 | Anaheim, CA
Center Street Promenade between Clementine Street and Anaheim Boulevard
|
S Lemon St & W Center Street Promenade
Since its inception in 1995, the Downtown Anaheim Certified Farmers' Market has been the go-to spot for locals to buy directly from certified California growers. Live music, delicious eats and agricultural exhibitions offer additional entertainment for festival goers.
further information:
Downtown Anaheim Certified Farmers' Market & Craft Fair – Downtown Anaheim Association
3.
Arizona Fine Art Expo 2018
Jan 12 - Mar 25, 2018 | Scottsdale, AZ
Arizona Fine Art EXPO
|
26540 N Scottsdale Rd
This is nothing like a third-grade art class where little kids pick up a paintbrush, slap it around a white piece of construction paper and call it art. The Fine Art Expo in Scottsdale, Arizona, brings nationally recognized artists as well as up-and-coming creatives to showcase their artistic endeavors. While you're browsing every gallery's collection of paintings, sculptures, ceramics and more, you'll have the opportunity to purchase whatever piece blew your mind the most.
further information:
14th Annual Arizona Fine Art EXPO, 2018
Pictures of the day
A 14th-century Korean hanging scroll in gold and color on silk depicting
Kṣitigarbha
, a
bodhisattva
primarily revered in
East Asian Buddhism
. He is usually shown as a
Buddhist monk
with a
halo
around his shaved head, a
staff
to force open the gates of hell, and a
wish-fulfilling jewel
to light up the darkness. In East Asian Buddhism, Kṣitigarbha is known for his vow to take responsibility for the instruction of all beings in the
six worlds
between the death of
Gautama Buddha
and the rise of
Maitreya
, as well as his vow not to achieve
Buddhahood
until all
hells
are emptied. He is therefore often regarded as the bodhisattva of hell-beings.
knit
thanks, Jennifer
knit
thanks, Emily
knit
Save the baby whales! pattern by Sargantana Formenterenca
knit
Bonnet Camponesa (knitting pattern in english)
knit
(Italiano) Modello del lunedi #7 "Antibiotico" di Mariagrazia Berno realizzato con Amore
YOUR DUCK IS DEAD
thanks, Barbara
A woman brought a very limp duck into a veterinary

Surgeon. As she laid her pet on the table, the vet

Pulled out his stethoscope and listened to the bird's

After a moment or two, the vet shook his head and

Sadly said, "I'm sorry, your duck, Cuddles, has

The distressed woman wailed, "Are you sure?"

"Yes, I am sure. Your duck is dead," replied the

"How can you be so sure?" she protested.. "I mean

You haven't done any testing on him or anything.

He might just be in a coma or something."

The vet rolled his eyes, turned around and left the

Room. He returned a few minutes later with a black

Labrador Retriever. As the duck's owner looked on

In amazement, the dog stood on his hind legs, put his

Front paws on the examination table and sniffed the

Duck from top to bottom. He then looked up at the

Vet with sad eyes and shook his head.

The vet patted the dog on the head and took it out

Of the room. A few minutes later he returned with

A cat. The cat jumped on the table and also delicately

Sniffed the bird from head to foot. The cat sat back

On its haunches, shook its head, meowed softly and

Strolled out of the room.

The vet looked at the woman and said, "I'm sorry,

But as I said, this is most definitely, 100% certifiably,

The vet turned to his computer terminal, hit a few keys

And produced a bill, which he handed to the woman..

The duck's owner, still in shock, took the bill. "$150!"

She cried, "$150 just to tell me my duck is dead!"

The vet shrugged, "I'm sorry. If you had just taken my

Word for it, the bill would have been $20, but with the

Lab Report and the Cat Scan, it's now $150."
crochet
thanks, Rosa
crochet
thanks, Gabby
crochet
crochet
crochet


RECIPE
thanks, Winnie


CROCKPOT RECIPE
thanks, Helen

SWEETS
thanks, Shelley


ADULT COLORING
... Valentine's Day


CRAFTS
thanks, Jeri





CHILDREN'S CORNER
... Valentine's Day


PUZZLE
Tulip Orange Jigsaw Puzzle


WORD SEARCH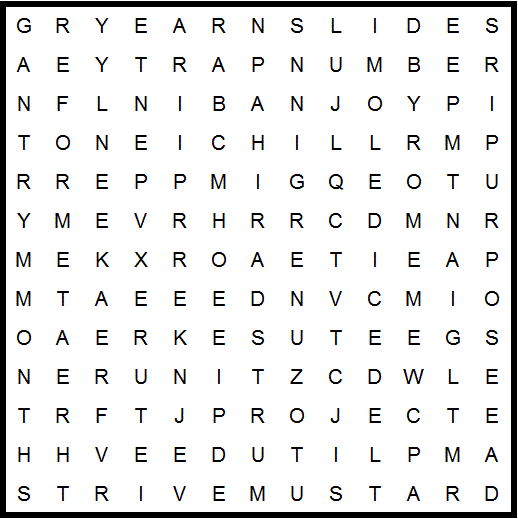 amplitude
banjo

chill
decide

electricity
elephant
exert

freak
gantry
giant
globe

keen

memory
mole
month
mustard
number

party
pent
pied
precedent
produce
project
purpose
reform

serve
slides
strike
strive
strum
threat
tone
tram

vermin

yearns


SUDOKU
... very hard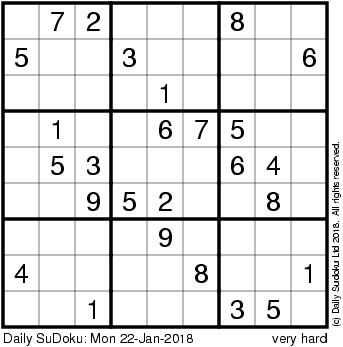 solution: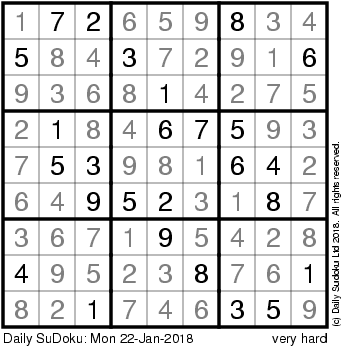 QUOTE


CLEVER
EYE OPENER
Game Names and Their Fun-Filled Origins
mentalfloss
We have many games to while away long days, but where do these words like poker and hopscotch come from? Here's the etymological past of some pastimes enjoyed by young and old.
1. POKER
The ultimate origin of the word poker, first attested in 1832 in American English, holds its cards close to its chest. According to one popular theory, poker comes from a similar German card game called Poch or Pochspiel, based on the verb pochen. Pochen literally means "to knock," evidently referring to the way Poch players would rap the table when passing on a bid. It also figuratively means "to boast or brag," highlighting the importance of bluffing in the game. Further upping the etymological ante, the English word poke is related to German's pochen and an earlier version of the game was called brag during the early 1700s.
2. BRIDGE
The trick-based game of bridge has a reputation for its difficulty—and so, too, the origin of its name. Emerging in the record in the latter half of the 1800s, bridge appears to be an alteration of biritch, a term historically associated with Russian whist. (The two games are indeed very similar.) As there's evidence for early forms of bridge in the Middle East, some etymologists have connected biritch to the Turkish bir-üç, "one-three," supposedly describing a part of game play where one player shows their hand while the other three make tricks on it.
3. PINOCHLE
The origin of pinochle is also a bit blurry. Attested in the 1860s, this trick-and-meld card game was popularized by German immigrants in the United States. This leads some scholars to root the word in the German Binokel, borrowed from the French binocle, "spectacles," especially the pince-nez. (Binocle comes from the Latin for "two-eyed," source of the English binoculars.)
What could this card game have to do with glasses? In the game, the combination of the Jack of Diamonds and Queen of Spades is itself called a pinochle. These two cards traditionally featured the royal faces in profile—and thus showing only two eyes, or binocle. Another suggestion notes the game was historically played with two decks. These explanations, though, have some etymologists rubbing their eyes.
4. BACKGAMMON
What is the gammon in the ancient board game of backgammon? And what is the back for that matter? The gammon seems to come from the Middle English gamen, source of the modern "game," while back apparently describes how playing pieces have to reenter, or go back to, the board if the opponent knocks them out of play. First evidenced in the mid-1600s, backgammon was usually called tables between the early 14th and 18th centuries.
5. TIC-TAC-TOE
Speaking of backgammon, the name of this children's grid of X's and O's may be a playful extension of tick-tack, an old version of backgammon, whose name apparently imitates the sound of the pieces on the board. For similar reasons, tic-tac-toe (also spelled tick-tack-toe) may instead take its name from the sound of pencil on slate, a way the game was originally played. First evidenced in the late 1800s, earlier—and equally onomatopoeic—terms include tip-tat-toe and tit-tat-toe. In the UK, the game is known noughts and crosses, after its O's and X's.
6. AND 7. CHESS AND CHECKERS
The word chess made its opening move on the English language as early as 1300, borrowed from the French name for the game, eschec—also the source of checkers. And you thought chess was hard.
The French eschec ultimately comes from the Persian shah, "king," referring to the most important piece in chess. Adopted into Arabic, shahwas used in the phrase shah mat, literally "the king is dead," which yielded the French eschec mat, and then the English checkmate, which ends the game. The Barnhart Dictionary of English Etymology, it's worth noting, maintains that Arabic confused the Persian mata, "to die," with mat, "to be astonished," making checkmate, more accurately, "the king is stumped."
The French eschec became the English check, first used in the early 1330s for the call made in chess when a player has threatened the opponent's king. The action of checking in chess inspired a host of metaphorical extensions in English, including check's senses of "stop" and "examine." A bank check, incredibly, also comes from chess, originally a kind of receipt used to check forgery or alteration in the 1790s.
Related to eschec is eschequier, French for "chessboard," which became checker in English, chequer in the UK. The earliest use comes in the 1170s, naming a table on which accounts were reckoned. Such tables, as it goes, were historically covered in cloth whose pattern resembled a chessboard. Checker went on to name the game of chess (1290s), then its signature board of 64 squares alternating in color (1330s). On the basis of this board, American English adopted checkers as early as the 1710s for the game, which UK players know as draughts. The distinctive pattern of a chessboard also explains checkered.
8. HOPSCOTCH
The hop in this schoolyard jumper is clear enough, but what about the scotch? Taking the earlier forms of scotch hoppers (1670s) and hop-scot(1780), the scotch in hopscotch is an old term for "score" or "notch," referring to the lines scratched into the ground to form the boxes of the game. Scotch, no relation to Scotland, was also used in the expression out of all scotch and notch, or "without limits."
9. TIDDLYWINKS
The Oxford English Dictionary (OED) first attests the name of this game, which involves carefully flicking little disks into a cup, in 1857. The game itself began in Victorian parlors, but as for its name? It may just be nonsense, with tiddly as baby talk for "little." The OED does find, however, a tiddlywink in 1844, meaning an "unlicensed bar or pawnshop." This tiddly was slang for "alcoholic drink" or "slightly drunk." Based on the game, tiddlywinks went on as expression for something "trivial" or "insignificant."
10. DIBS
If you call dibs on something (e.g., the last slice of pizza or the next round of tiddlywinks), you are claiming a right to it before anyone else does. This colloquial saying may originate from a children's game known as dibs, which was played much like jacks—except it used sheep knucklebones. These bones were called dibstones (1690s), later shortened to dibs (1730s). The pronged shape of modern jacks may even imitate the knobs of sheep's knuckles. As for the origin of dib, it may be a variant of dab, "to tap lightly," an action central to the game. The "first claim" sense of dibsemerges in the 1920 or '30s, possibly reinforced by the 19th-century slang term dibs, "money" or "portion," shortened from division.