DIANE'S CORNER ... Celebrate Monkey Day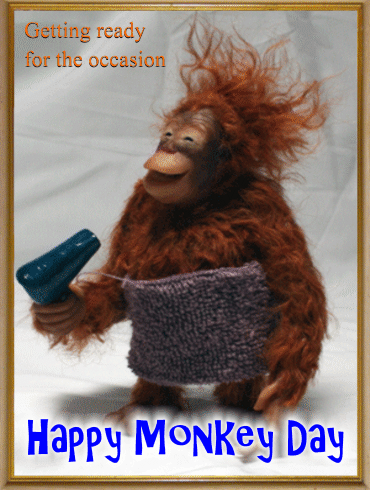 Monkeys are interesting creatures – cute, mischievous, and sometimes downright obnoxious (anyone who disagrees has obviously never had their laundry torn down by a family of primates when it's hanging to dry). Many species of primates are also endangered, and then there are questions of animal rights and the usage of primates in medical research. That's why there's Monkey Day, a day that's been dedicated to raising awareness about non-human primates.
Back in 2000, Casey Sorrow was an art student at Michigan State University, and he ended up writing "Monkey Day" on his friend's calendar as a prank. But then they actually celebrated the occasion with other art students at MSU, and Sorrow later started collaborating with fellow MSU student on the Fetus-X comic strip, where the holiday was mentioned and popularized. Since then, Monkey Day has been observed internationally as a day to celebrate primates (including monkeys, but also apes, lemurs, and tarsiers).
Sorrow himself still does much to promote the holiday and the cause of primate welfare, and in addition to the Monkey Day website, he also maintains a "Monkeys in the News" blog which discusses primate-related news around the world and comes out with a list of the top ten primate-related news stories from the past year every Monkey Day.
Observing Monkey Day
You could simply dress up in a monkey costume and play the part, because there are some people who do just that for Monkey Day and even hold competitions for it. Or you could spend the day at the zoo, because many zoos around the world do hold special celebrations for Monkey Day. Some of these events focus on educational events about monkeys, while others do things like auction off artwork created by chimps and performing intelligence tests on primates.
So when Monkey Day comes around, get out there and do it proper, by monkeying around!
thanks, Patty
Word of the Day
Definition:

(noun) Amends or reparation made for an injury or wrong.

Synonyms:
expiation, satisfaction
Usage:

But Adam could receive no amends; his suffering could not be cancelled; his respect and affection could not be recovered by any prompt deeds of atonement.
Idiom of the Day
—

To cease living with one's parents; to strike out on one's own.
minimal splash
History
First Group of Explorers Reaches South Pole (1911)
Norwegian explorer Roald Amundsen had been planning for a trip to the North Pole until he heard that someone had beaten him to it. Instead, he and his team set sail for Antarctica. There, they spent nearly a year preparing for the final two-month trek that made them the first people to reach the South Pole. With good equipment and plenty of sled dogs, the team was extremely well prepared compared to other polar expeditions of the day, some of which ended badly.
Margaret Chase Smith (1897)
Smith served as her husband's secretary following his election as a US representative. After he died in 1940, she was elected to finish his unexpired term, becoming Maine's first congresswoman. Noted for her integrity and independence, she joined the Senate in 1948 and continued to be reelected until 1972. In 1950, she gave her famed "Declaration of Conscience" speech opposing the actions of Senator Joseph McCarthy.
Third Night of Hanukkah
Hanukkah
commemorates the successful rebellion of the Jews against the Syrians in the
Maccabean
War of 162 BCE, but the military associations are played down. What is really being celebrated is the survival of Judaism. Jewish families today celebrate this holiday by lighting a special
Hanukkah menorah
, a candelabrum with holders for eight candles, one for each day of celebration, plus a ninth, the shammash, used to light the others. A special prayer is recited during the lighting, and while the candles burn it is a time for songs and games, including the four-sided toy called the dreidel.
Scientists Discover Grass Species With Intriguing 'Salt And Vinegar' Chip Flavor
If I spot a blade of interesting-looking grass, my first inclination isn't to wonder what it tastes like. But a group of researchers in Australia recently stumbled upon two new species of grass with a peculiar flavor that some liken to a favorite snacking combo: salt and vinegar chips.
READ MORE:
Scientists Discover Grass Species With Intriguing 'Salt And Vinegar' Chip Flavor
1798 - David Wilkinson of Rhode Island patented the nut and bolt machine.
1799 - The first president of the
United States
,
George Washington
, died at the age 67.
1819 -
Alabama
joined the Union as the 22nd state.
1900 - Professor Max Planck of Berlin University revealed his revolutionary Quantum Theory.
1901 - The first table tennis tournament was held. It was a the London Royal Aquarium.
1903 - Orville Wright made the first attempt at powered flight. The engine stalled during take-off and the plane was damaged in the attempt. Three days later, after repairs were made, the modern aviation age was born when the plane stayed aloft for 12 seconds and flew 102 feet.
1962 - The
U.S.
space probe
Mariner II
approached Venus. It transmitted information about the planet's atmosphere and surface temperature.
1977 - "Saturday Night Fever" premiered in New York City. My grandmother danced in the afternoons at a club in Brooklyn. One day, out of the blue, Travolta asked her to dance in order to practice some dance moves for the upcoming movie!
1980 - Yoko Ono called for a 10-minute silent vigil around the world for John Lennon, her husband, who was shot to death six days earlier. Over 100,000 people went to Central Park in New York to honor the request. You, too can visit Strawberry Fields which is located on the West Side.
1984 - Howard Cosell retired from the
NFL
's Monday Night Football.

Leaving work one day, on the way to the subway home, Cosell was crossing the street with me. He tipped his cane at me. Then I realized who he was! lol
1985 - Wilma Mankiller became the first woman to lead a major American Indian tribe as she formally took office as principal chief of the Cherokee Nation of
OKlahoma
.
1986 - The experimental aircraft
Voyager
, piloted by Dick Rutan and Jeana Yeager, took off from
California
on the first non-stop, non-refueled flight around the world. The trip took nine days to complete.
1995 - AIDS patient Jeff Getty received the first-ever bone-marrow transplant from a baboon.
1999 - Charles M. Schulz announced he was retiring the "Peanuts" comic strip. The last original "Peanuts" comic strip was published on February 13, 2000.
DAILY SQU-EEK
If You Were Born Today, December 14
You are a spirited, sensitive, and intelligent person who has a true spirit for adventure, yet a down-to-earth side to you that is unmistakable. Enterprising and ambitious, you are also very versatile, sometimes to the point of leaving a trail of unfinished projects and endeavors behind you! You need to experiment and mix things up a little in order to feel like you are truly living. Intensely curious, you never stop learning. Because you are easily bored, there are times that you have the urge to stir up a bit of controversy just to get some sort of debate started. Others find you fascinating and multi-talented. Famous people born today: Patty Duke, Nostradamus, Margaret Chase Smith, Jane Burkin.
READERS INFO
1.
Lost Pines Christmas 2017
Nov 23 - Dec 25, 2017 | Bastrop, TX
The annual Lost Pines Christmas of Bastrop, Texas, is a unique celebration of Christmas and the historic Bastrop community. Guests are invited to participate in a variety of family activities over the four-day weekend including ice skating at the Winter Wonderland, food and wine tastings in the Culinary District, carriage rides, stargazing and a Historic Homes Tour.
further information:
Lost Pines Christmas
2.
Christmas Village in Baltimore 2017
Nov 23 - Dec 24, 2017 | Baltimore, MD
West Shore Park
|
501 Light St
Imagine walking through a little village, thousands of twinkling lights strung up all around you, the smell of sweet gingerbread wafting through the air, and the sound of laughter and soft holiday music filling your ears. That warm feeling that washes over you is exactly what you'll get at the Christmas Village in Baltimore. Spend the holiday season in the village getting all of your shopping done and eating as much delicious food that your stomach can take!
further information:
Home
3.
Charlotte Christmas Village and Christkindlmarkt 2017
Nov 23 - Dec 24, 2017 | Charlotte, NC
Romare Bearden Park
|
300 S Church St
The Charlotte Christmas Village and Christkindlmarkt is a true holiday gem. Uptown in the Romare Bearden Park you'll find a traditional German-inspired market sure to bring out all of the warm and fuzzy feels. Take a walk through the village, browse all that the vendors have to offer, and try some of the delicious German treats. The Queen City definitely doesn't disappoint when spreading the Christmas cheer!
further information:
A Charlotte Christmas Event
Pictures of the day
A
witch doctor
of the
Shona people
in Zimbabwe, August 1989. Among the Shona, witch doctors, or
n'anga
, are known as healers who use a combination of herbs, medical/religious advice, and spiritual guidance to heal people. Traditionally, they are believed to have the religious power to tell fortunes, and to change, heal, bless or even kill people.
ABOVE THE POLAR BEAR
Dear future generation, I hope we will still be able to see the Arctic wildlife as we do now. It is threatened as the environment is changing. I was able to witness many scenes of wildlife and I can guarantee you this is the most beautiful thing I have ever seen. Here the polar bear might be interpreted as holding back the sea ice melting. Incredible and unique shot 6 meters above a polar bear in Nunavut, Baffin area during wildlife reportage in Nunavut and Greenland during summer 2017.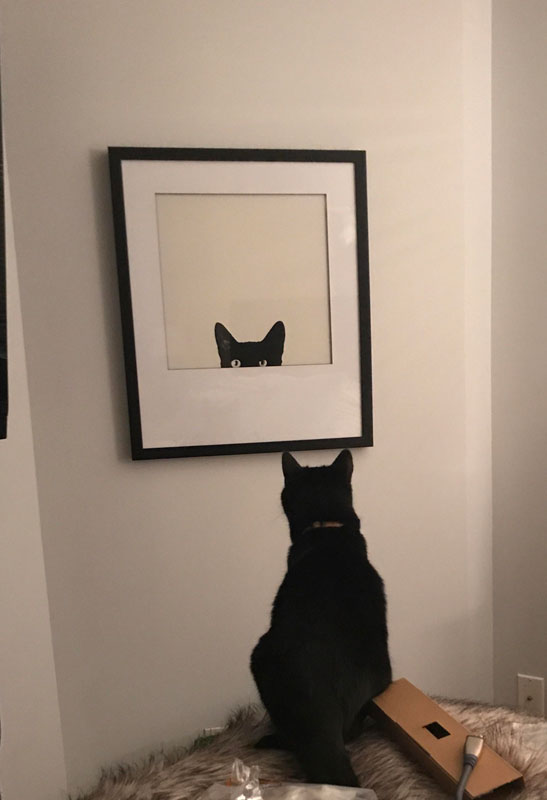 knit
, Christmas
knit
thanks, Sandy
knit
thanks, Nancy
knit
knit, Christmas ornament
thanks, Fern
thanks, Rosa
crochet

, Christmas ornament
RECIPE
thanks, Shelley
SPAGHETTI WITH FRIED EGGS
6 tablespoons extra virgin olive oil or lard
2 large cloves garlic, lightly smashed and peeled
Freshly ground black pepper
Freshly grated Parmesan or pecorino cheese, optional.
1. Bring a pot of salted water to the boil. Start the sauce in the next step, and start cooking the pasta when the water boils.
2. Combine garlic and 4 tablespoons of the oil in a small skillet over medium-low heat. Cook the garlic, pressing it into the oil occasionally to release its flavor; it should barely color on both sides. Remove the garlic, and add the remaining oil.
3. Fry the eggs gently in the oil, until the whites are just about set and the yolks still quite runny. Drain the pasta, and toss with the eggs and oil, breaking up the whites as you do. (The eggs will finish cooking in the heat of the pasta.) Season to taste, and serve immediately, with cheese if you like.
CROCKPOT RECIPE
thanks, Dana
12 Make-Ahead Slow Cooker Freezer Meals
thanks, Gloria
thanks for the Christmas funnies, Shelley
ADULT COLORING
CRAFTS
... Christmas embroidery
gazette94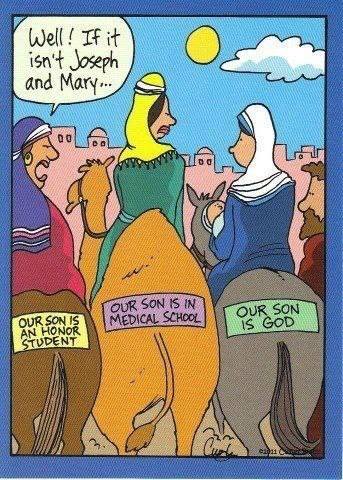 CHILDREN'S CORNER
... Christmas craft
thanks, Lucy
Toilet Roll Santa (Nikolo)
PUZZLE
Jawbreakers and Scoop Jigsaw Puzzle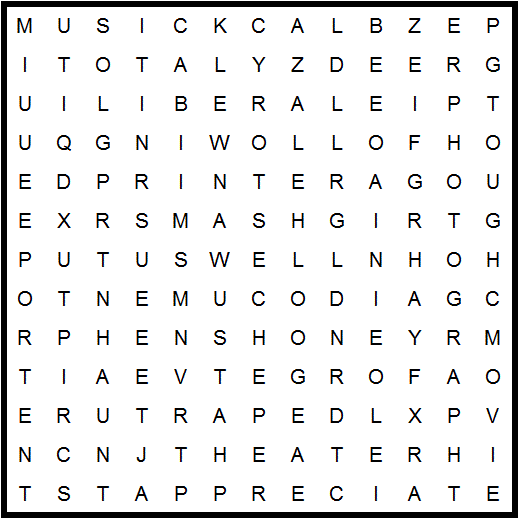 appreciate
avenue

black

coral

departure
document
drums
extent

following
forget

greed
hats
haunt
hens
honey

liberal
light

movie
music
orange

peer
photograph
portent
printer
prior
script
smash
story
swell

theater
thing
total
tough
SUDOKU
... hard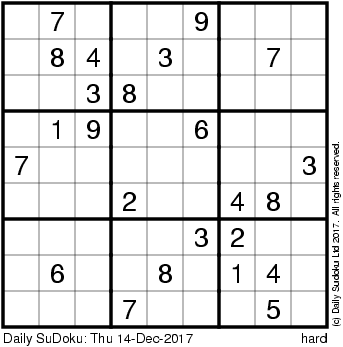 solution: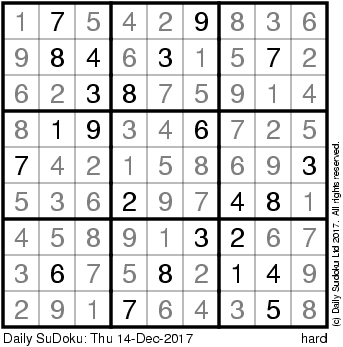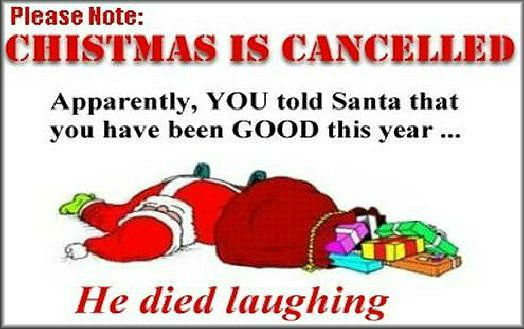 QUOTE
CLEVER
Craft Your Own Ugly Sweater
EYE OPENER
George Carlin's Views on Aging


Do you realize that the only time in our lives when we like to get old is when we're kids? If you're less than 10 years old, you're so excited about aging that you think in fractions.

'How old are you?' 'I'm four and a half!' You're never thirty-six and a half. You're four and a half, going on five! That's the key.

You get into your teens, now they can't hold you back. You jump to the next number, or even a few ahead.

'How old are you?' 'I'm gonna be 16!' You could be 13, but hey, you're gonna be 16! And then the greatest day of your life
!
You become 21. Even the words sound like a ceremony. YOU BECOME 21. YESSSS!!!

But then you turn 30. Oooohh, what happened there? Makes you sound like bad milk! He TURNED; we had to throw him out. There's no fun now, you're Just a sour-dumpling. What's wrong? What's changed?

You BECOME 21, you TURN 30, then you're PUSHING 40. Whoa! Put on the brakes, it's all slipping away. Before you know it, you REACH 50 and your dreams are gone..

But wait!!! You MAKE it to 60. You didn't think you would!

So you BECOME 21, TURN 30, PUSH 40, REACH 50 and MAKE it to 60.

You've built up so much speed that you HIT 70! After that it's a day-by-day thing; you HIT Wednesday!

You get into your 80's and every day is a complete cycle; you HIT lunch; you TURN 4:30; you REACH bedtime. And it doesn't end there. Into the 90s, you start going backwards; 'I Was JUST 92.'

Then a strange thing happens. If you make it over 100, you become a little kid again. 'I'm 100 and a half!'
May you all make it to a healthy 100 and a half!!
HOW TO STAY YOUNG

1.
Throw out nonessential numbers.
This includes age, weight and height. Let the doctors worry about them. That is why you pay 'them.'

2.
Keep only cheerful friends.
The grouches pull you down.

3.
Keep learning.
Learn more about the computer, crafts, gardening, whatever, even ham radio. Never let the brain idle. 'An idle mind is the devil's workshop.'
And the devil's name is Alzheimer's.


4.
Enjoy the simple things.


5.
Laugh
often, long and loud. Laugh until you gasp for breath.

6.
The tears happen.
Endure, grieve, and move on. The only person, who is with us our entire life, is ourselves. Be ALIVE while you are alive.

7.
Surround yourself with what you love
, whether it's family, pets, keepsakes, music, plants, hobbies, whatever. Your home is your refuge.

8.
Cherish your health:
If it is good, preserve it. If it is unstable, improve it. If it is beyond what you can improve, get help.

9.
Don't take guilt trips.
Take a trip to the mall, even to the next county; to a foreign country but NOT to where the guilt is.

10.
Tell the people you love that you love them
, at every opportunity.

AND ALWAYS REMEMBER
:
Life is not measured by the number of breaths we take,
but
by the moments that take our breath away
..