DIANE'S CORNER ... Celebrate World Kindness Day
World Kindness Day isn't just about adopting all the children from your local orphanage – it's about the little gestures of kindness too. Helping others can restore a sense of humanity, not to mention giving you that warm fuzzy glow inside.
Kindness Day
was born when a collection of humanitarian groups came together on November 13, 1997 and made a "Declaration of Kindness". Likewise, on
World Kindness Day
everyone is encouraged to make a similar declaration. Donating books, food or clothes to your local community is a great way to celebrate. However, pledging to commit just one act of kindness is no less worthwhile: hold the door open for a stranger, compliment your neighbor on their collection of garden gnomes, let your partner have control of the TV remote for the evening.
However you decide to celebrate remember that the best thing about World Kindness Day is that it doesn't cost a thing!
thanks the the "Bridge of Flowers" pics, Patty, Photographer
Word of the Day
Definition:

(noun) A woman who wears clothes to display fashions.

Synonyms:

model

Usage:

She longed to become a mannequin and preened for hours before going out in public.
Idiom of the Day
—

In many small fragments.
History
Nevado del Ruiz Erupts in Colombia (1985)
When ash began to fall on the Colombian town of Armero, local authorities assured residents that it was safe to stay put, despite geologists' warnings to the contrary. It had been more than 140 years since the last serious eruption of the Nevado del Ruiz, known to residents as "the Sleeping Lion." That night, a lahar—a massive flow of mud and debris—swept down the side of the erupting volcano, destroying Armero.
Saint Augustine of Hippo (354 CE)
Augustine was bishop of Hippo, a Roman city that is now Annaba, Algeria. In his early 30s, he converted to Christianity, gave up his position as professor of rhetoric, became a bishop, and turned his home into a monastery. He served for more than 40 years. While he lay dying, Vandals destroyed his city but spared his library. His writings, which include
Confessions
and
De Civitate Dei
, deeply influenced Western Christianity.
Feast of St. Frances Cabrini
The first American citizen to be proclaimed a saint of the Roman Catholic Church,
Francesca Xavier Cabrini
(1850-1917) was born in Italy. She founded the Missionary Sisters of the Sacred Heart in 1880, and went on to establish orphanages, schools and hospitals in many American cities, as well as in Europe and South America. She was
canonized
on July 7, 1946. Her feast day is commemorated in many places, but particularly at
Mother Cabrini High School
in New York City, in whose chapel she is buried, and at every establishment of the Missionary Sisters of the Sacred Heart.
Ancient Wolf-Size Otter Had Bizarrely Strong Bite
Six million years ago, a hundred-pound otter was on the prowl somewhere in the swampy wetlands of what's now southwestern China.
READ MORE:
Ancient Wolf-Size Otter Had Bizarrely Strong Bite
1789 - Benjamin Franklin wrote a letter to a friend in which he said, "In this world nothing can be said to be certain, except death and taxes."
1805 - Johann George Lehner, a Viennese butcher, invented a recipe and called it the "frankfurter."
1927 - The Holland Tunnel opened to the public, providing access between New York City and New Jersey beneath the Hudson River.

(As a child, I used to wave to all the workers you would see in the tunnel as we drove by. That is no longer deemed healthy so no one walks through the tunnel, no waving)
1961 - The Tokens' "The Lion Sleeps Tonight" was released.
1968 - The Beatles' animated movie "Yellow Submarine" premiered in the
U.S.
1971 - The U.S. spacecraft
Mariner 9
became the first spacecraft to orbit another planet, Mars.
1977 - The comic strip "Li'l Abner" by Al Capp appeared in newspapers for the last time.
1995 - Greg Maddux (Atlanta Braves) became the first
major league
pitcher to win four consecutive Cy Young Awards.
2009 - NASA announced that water had been discoved on the moon. The discovery came from the planned impact on the moon of the Lunar Crater Observation and Sensing Satellite (LCROSS).
DAILY SQU-EEK
If You Were Born Today, November 13
You are wise beyond your years, and your eyes reflect this wisdom. The outward expression of your personality is strong and determined, although this hides a very emotional and sensitive nature. Success may come later in life, simply because in youth, you are inclined to more daydreaming than action. You may come across as sarcastic and even tough, but you are a thoughtful and kind person with a love of knowledge, justice, and truth. You also have a well-developed sense of humor. Famous people born today: Whoopi Goldberg, Richard Mulligan, Robert Louis Stevenson, Jimmy Kimmel, Chris Noth, Garry Marshall, Gerard Butler, Frances Conroy.
1. CELESTIAL EVENT TONIGHT:
November 13
-
Conjunction of Venus and Jupiter.
A spectacular conjunction of Venus and Jupiter will be visible in the evening sky. The two bright planets will be extremely close, appearing only 0.3 degrees apart. Look for this impressive pairing in the Eastern sky just before sunrise.
2.
3.
Dickens on Cypress Creek Christmas Market 2017
Nov 15-18, 2017 | Spring, TX
Cypress Creek Christian Church
|
6823 Cypresswood Dr
The Dickens on Cypress Creek Christmas Market is a Victorian-inspired market with almost a hundred booths. Vendors and attendees are encouraged to dress in their finest Victorian garb while shopping for crafts, clothing, collectibles and antiques. The free event also offers a raffle with proceeds going to the Cypress Creek Community Chorale.
further information:
Dickens on Cypress Creek Christmas Market
4.
Book Festival of the MJCCA 2017
Nov 4-19, 2017 | Atlanta, GA
Marcus JCC Atlanta
|
5342 Tilly Mill Rd
Atlanta's Book Festival of the MJCCA is a huge literary event spanning fifteen days and featuring authors, celebrities, journalists and scholars. There are multiple opportunities for book lovers to interact with authors including panel discussions, meet and greets, book signings and readings. Gallery exhibitions showcase work from solo artists as well as touring shows from a national network of galleries and museums. There are several activities for children and teens, too, so there's something for everyone to enjoy!
further information:
The 26th Edition of The Book Festival of the MJCCA | Open to All!
Picture of the day
The
Danish West Indian daler
was the currency of the
Danish West Indies
between 1849 and 1917, and of the
United States Virgin Islands
between 1917 and 1934. The coin shown here is a ten-daler gold coin issued in 1904, the only year such coins were minted. Also struck that year were gold coins worth four daler.
Lahinch, Ireland
A woman takes a selfie during storm Ophelia
knit
thanks, Rae
knit
thanks, Judith
knit
knit
knit, Christmas ornament
crochet
thanks, Gabby
crochet
thanks, Adele
crochet
crochet
crochet, Christmas ornament
RECIPE
... Thanksgiving Doggie Style
CROCKPOT RECIPE
thanks, Shelley
SWEETS
\
CRAFTS
CHILDREN'S CORNER
...
color your recipe
PUZZLE
(this is similar but not the exact picture)
Reflection Fall Lake Jigsaw Puzzle
WORD SEARCH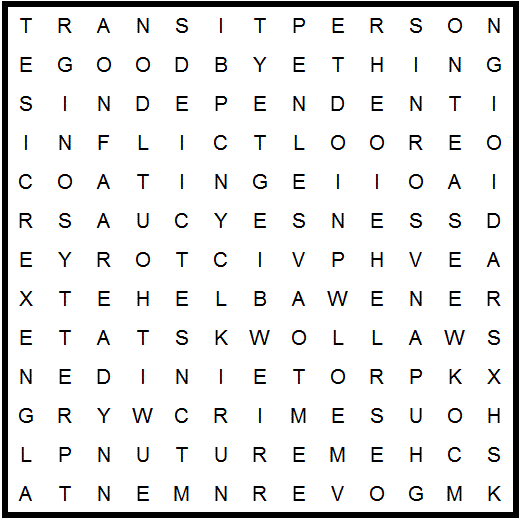 believe
boos

coating
crime
curl

dare
dine
exercise

goodbye
government

house

independent
inflict
noise
nuture

person
pretty
protein

radio
ready
renewable
sale
saucy
scheme
sense
speak
state
swallow
tease
thing
transit

victory

without
SUDOKU
... easy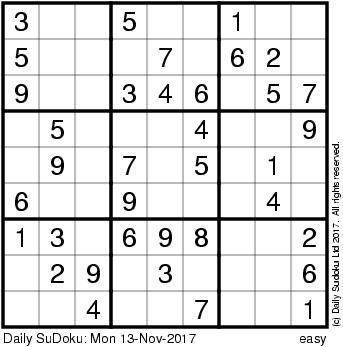 solution: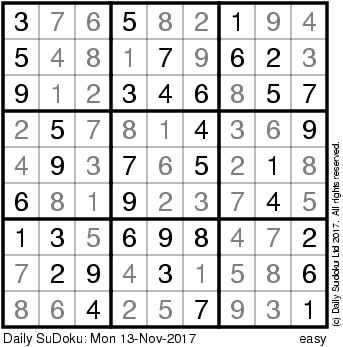 QUOTE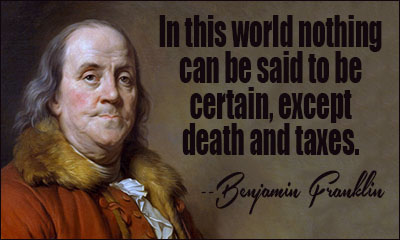 CLEVER
Crystallized
Honey? No Problem!
Fun fact! Honey has an eternal shelf-life, which means – you could store it in your pantry for years on end! But if you find that your honey has gone into a

crystallized

state, you can get it back to its liquid form by removing the lid and placing it in the microwave on 50% power for two minutes.
EYE OPENER
thanks, Helen
Biodiversity Reclamation Suits: Extinct Bird Costumes for Urban Pigeons Crocheted by Laurel Roth Hope
When first engaging with these crocheted bird suits by artist Laurel Roth Hope, it's not without a bit of whimsy and an immediately appreciation for her skill with yarn and needle. The colorful one-of-a-kind sweaters are each designed to fit a standard urban pigeon, complete with a hood retrofitted with eye and beak holes. While the project isn't without a bit of humor, its warning is particularly dire: each suit represents an extinct bird species and highlights the futility of restoring lost biodiversity. The works are purposely displayed on hand-carved pigeon mannequins to suggest that animals we most abhor are often the ones most capable of thriving within a human-made environment.