DIANE'S CORNER ... Celebrate International Sloth Day
Word of the Day
Definition:

(verb) To set loose (a mass of ice). Used of a glacier or iceberg.

Synonyms:

break up

Usage:

From the deck of the ship, we saw the magnificent glacier calve, sending massive shards of glassy ice into the waters below.
Idiom of the Day
—

In an idle, awkward, and/or out-of-place state; being ignored, abandoned, or left to wait awkwardly. Primarily heard in UK.
History
1803 - The
U.S.
Senate approved the Louisiana Purchase.
1873 - A Hippodrome was opened in New York City by showman Phineus T. (P.T.) Barnum.
1892 - The city of Chicago dedicated the World's Columbian Exposition.
1910 - A baseball with a cork center was used in a
World Series
game for the first time.
1955 - "No Time for Sergeants" opened on Broadway at the Alvin Theatre. The show starred Andy Griffith and Don Knotts made his Broadway debut. The last show was on September 14, 1957.
1957 - Walter Cronkite began hosting "The 20th Century." The show aired until January 4, 1970.
1962 - The Four Seasons released "Big Girls Don't Cry."
1968 - Jackie Lee Bouvier Kennedy married Aristotle Onassis.
1973 - The Sydney Opera house officially opened.
1979 - The John F. Kennedy Library in Boston was dedicated.
1993 - Attorney General Janet Reno warned the TV industry to limit the violence in their programs.
2003 - A 40-year-old man went over Niagara Falls without safety devices and survived. He was charged with illegally performing a stunt.
2009 - European astronomers discover 32 exoplanets.
DAILY SQU-EEK
READERS INFO
1.
TONIGHT'S CELESTIAL EVENT:
Oct 20/21:
Orionid Meteors
further information:
Orionid meteor shower peak tonight! | EarthSky.org
2.
State Fair of Texas 2017
Sep 29 - Oct 22, 2017 | Dallas, TX
State Fair of Texas
|
3921 Martin Luther King Junior Boulevard
If you enjoy the traditional fair atmosphere of carnival rides, livestock shows, live music and fried food, the State Fair of Texas is for you! The fair begins the end of September and runs for 24 straight days with a long list of attractions. It remains the only fair in the country to host an auto show, complete with a test drive track. The State Fair of Texas is also known for its unique fried food selection including deep fried oreos, twinkies and peanut butter among others. Live music comes from approximately 85 different performances over the 24 day fair period. There are 17 shopping areas at various locations throughout the fair featuring electronics, household products, agriculture products, clothing, travel, children's toy, food, health and beauty and unique handmade arts and crafts. Big Tex has been the fair mascot since 1952. Standing 55 feet tall at the entrance, he greets visitors with a 'Howdy, folks' in his well recognized southern drawl. Gates open at 10 a.m. daily until 9 p.m. Sundays through Thursdays. Friday and Saturday night it is open until 10 p.m.
further information:
Fair Hours - State Fair of Texas
3.
Hunt Club Farm Harvest Festival 2017
Sep 29 - Oct 29, 2017 | Virginia Beach, VA
Hunt Club Farm
|
2388 London Bridge Rd
Just because summer is over doesn't mean the fun-filled days must stop. Autumn is a great time to celebrate. The leaves turn gorgeous shades of orange, brown and yellow. Your kids are back in school. Pumpkin flavored beers and lattes are everywhere. And, it's time for the Hunt Club Farm Harvest Festival. The event features carnival rides, a petting farm, live music, pony rides and much more.
further information:
Hunt Club Farm - Virginia Beach, VA | Hunt Club Farm of Virginia Beach, Hampton Roads offers Farm Fun for Everyone! From the Petting Farm to the Halloween Festival, we have it all!
PICTURES OF THE DAY
Curug Cipendok
is a waterfall located near
Purwokerto
,
Central Java
, Indonesia. Measuring 92 m (302 ft) in height, it is one of the area's highest waterfalls. The site, which hosts a campsite and lake, is one of the more popular tourist destinations in the
Banyumas
area.
knit
thanks, Rae
knit
thanks, Jennifer

knit
knit
knit
crochet
crochet
thanks, June
crochet
crochet
crochet
RECIPE
CROCKPOT RECIPE
SWEETS
, Halloween
thanks, Sharon
ADULT COLORING
, Halloween
CRAFTS
, H

alloween
MINI PUMPKIN UNICORNS
CHILDREN'S CORNER
... Halloween
musely
PUZZLE
Oak Art Jigsaw Puzzle
WORD SEARCH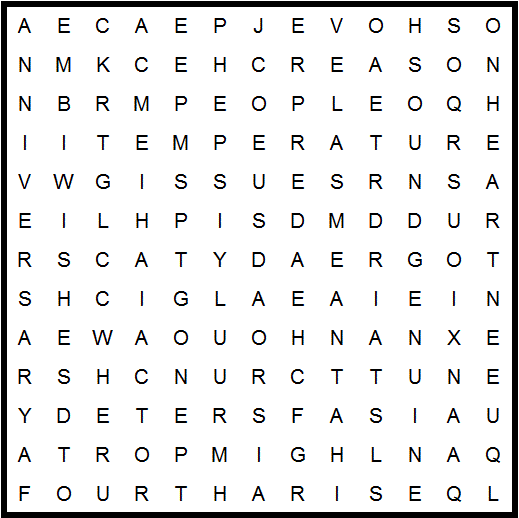 actor
anniversary
anxious
arise

check
cold
crunch

deter
fourth
frugal

genuine
gone

hard
header
heart

import
issue
lime
line
local

meant

night

pardon
peace
people
queen

ready
reason
residential
roads

sale
scan
scat
shove
sound
space
stair

temperature
tint
tune

vicious

wishes
SUDOKU
... medium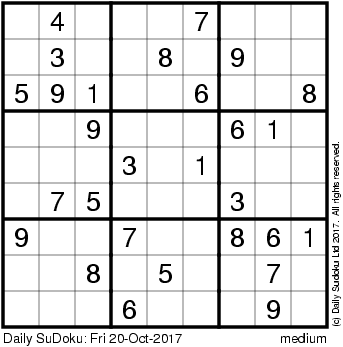 solution: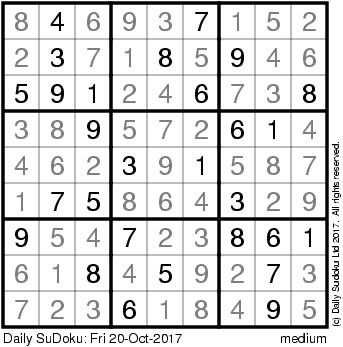 QUOTE
CLEVER
EYE OPENER
Some explored the unknown, some made scientific breakthroughs, some are working to save the world. All are pioneers whose names should be more well-recognized.
---
Kalpana Chawla
Astronaut (1961–2003)
---
Dijanna Figueroa
Oceanographer
---
Florence Bascom
Geologist (1862–1945)
---
Rose E. Frisch
Biologist (1918–2015)
---
Inez Fung
Professor of Atmospheric Science